Nakivo Backup and Replication 9.3 has been released today. This new release added support for Oracle RMAN. You can protect Oracle databases with NAKIVO Backup & Replication, which sends commands to the Oracle's RMAN client and triggers it to perform the required operations. The backup of Oracle is simpler and faster via a single pane of glass.
RMAN is a native built-in tool in Oracle for backups. It takes care of performance and the consumption of space while performing database backup or recovery.
Nakivo has a fast and responsive HTML user interface. You can install Nakivo Backup and Replication on Windows, Linux, physical or virtual machine, and also on certain popular NAS devices such as Synology or Netgear (There Is a full list of supported devices at Nakivo here).
Most of modern NAS comes with dual-core or quad-core CPUs so there should not be any performance hit for the NAS to perform some backup work on the top of the usual NAS work. This allows backup optimization and according to Nakivo, increase backup speed up to 2x (you bypass CIFS and NFS network protocols).
With Nakivo installed on a nas device you have the hardware, backup software, storage, deduplication, and backup to cloud (backup copy directly to AWS or Azure)  clouds in a single box.
Quote:
NAKIVO Backup & Replication v9.3 Beta features Backup for Oracle RMAN, allowing you to control database protection and recovery from a single pane of glass. You can also automate Oracle database backup operations with the advanced scheduling options that our solution offers to save time and effort.
Nakivo Backup and Replication 9.3 Features
Oracle RMAN protection – integration with RMAN to backup and restore Oracle DBs.

Uses native Oracle backup tools
Automates backups with schedule
Simplified administration
High performance
Check Nakivo 9.3 here.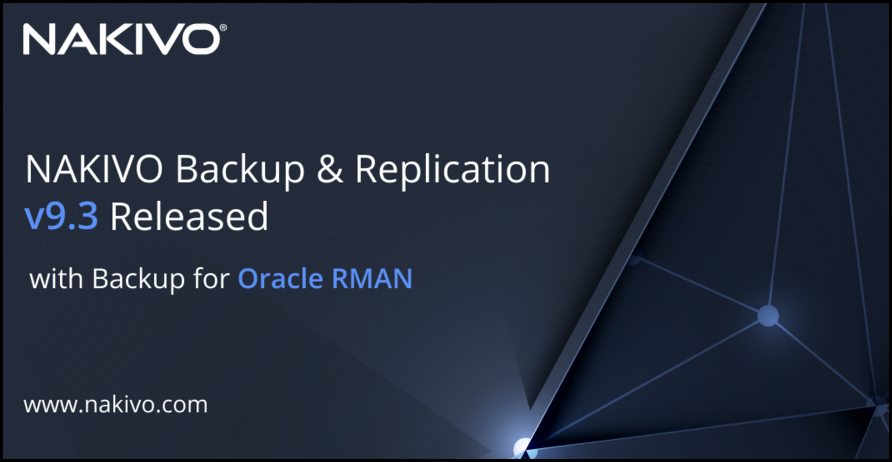 More Features of Nakivo Backup
Office 365 backup – allows Office 365 users to backup their data, their emails, their notes, calendar events etc etc. The restoration of individual items or whole mailbox is possible directly to the same mailbox or into a different mailbox.
Native Backup to Tape – Tape backup remains one of the most reliable and cost-effective means for long-term data retention to this day. NAKIVO Backup & Replication provides a complete tape management solution and supports LTO 3 and later tape libraries, standalone tape drives, and AWS VTL.
Physical Linux Server Backup – NAKIVO Backup & Replication can back up Linux-based servers. This feature extends the solution's platform coverage which already includes support for virtual (VMware, Hyper-V, Nutanix AHV), physical (Windows Server) and cloud (AWS EC2) servers.
Hyper-V 2019 Support – NAKIVO Backup & Replication v9.0 fully supports Microsoft Hyper-V 2019.
Policy Driven Data Protection allowing you to automate of backup job creation. It allows you to define a way to identify existing VMs and automatically base jobs from those parameters set in the policy definition.
Nakivo can backup physical servers and then export the disks as VMDK or VHD or VHDX.


You can P2V (physical to virtual) from backup into a virtual machine (VM). It means that the backup of your physical hardware can be recovered and started up as VMs.
********************************************************************

NAKIVO Backup & Replication provides data protection for the following platforms:
AWS EC2
Microsoft Hyper-V 2019, 2016, 2012R2, 2012
Nutanix AHV 5.10 (LTS)
Physical Windows Server 2019, 2016, 2012R2, 2012, 2008R2
VMware vSphere v4.1 – v6.7
You can get Nakivo 15 days trial (and you can extend this period if you want to, by e-mail).
More about Nakivo on ESX Virtualization:
More from ESX Virtualization
Stay tuned through RSS, and social media channels (Twitter, FB, YouTube)