There is a new Atlantis Community Experts that I'm part of! It's an absolute surprise as I haven't asked to be part of it or haven't filled any online form or something like that. I wanted to share the news with our readers. You can find the link to the Atlantis Experts page here. You too can become one of the members and you can find out how later in this post. But first, let's explain what it is and few words about Atlantis computing.
Atlantis computing has started to be known in the VDI space where they have had a very efficient and performant product called Atlantis ILIO where desktops running in RAM are super fast (the product still exists). Note that there is also a free version of the ILIO product that allows you to provision up to 10 virtual desktops in the ILIO datastore, or up to 25 XenApp sessions. Atlantis USX, however, took over and IS the product which suits to all workflows, not only VDI. If you remember, Nutanix has also started to be known in the VDI space ….
Atlantis software is available for download and deployment on the top of vSphere (on existing infrastructures), but Atlantis is also partnering with hardware vendors in order to produce a full package (hardware + software) to introduce a first economically viable All-Flash Hyper-converged solution called Atlantis HyperScale. 
One of the advantages that comes in mind is that you don't have to wipe everything out to start hyper-scale, but Atlantis can slip-in by leveraging existing space on your local and shared datastores, and create a pooled datastore. This isn't the case for VMware VSAN for example where all the disks have to be wiped out in order to pool those resources into a single datastore.
Readers of my blog might remember Atlantis Computing from several of my posts I've done about the architecture, lab deployment and their All-Flash hardware updates allowing to deploy also in an SMB environments. Obviously, my lab isn't a production hardware so if you're reading those posts, think about that.


Atlantis computing posts on ESX Virtualization:
Atlantis Community Experts
The members…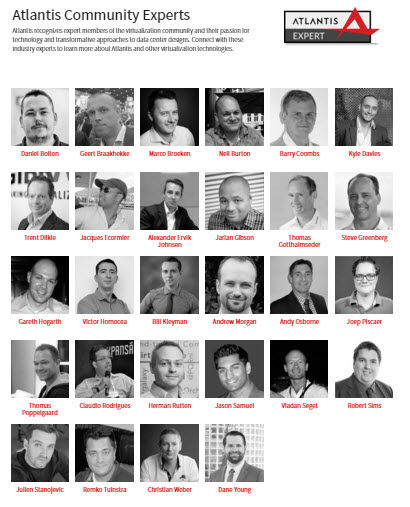 The New Atlantis Community Experts is a community of experts which share the news.
Quote from the blog:
The Atlantis Community Program provides a great opportunity for the Atlantis Community Expert (ACE) to connect Atlantis colleagues, fellow community peers and more. Atlantis Community Experts (ACE) receive insights into Atlantis products while they engage with Atlantis colleagues to provide feedback, share their notes from the field and present as advocates in the community. ACEs help shape the modern workspace and programmable Datacenter by providing valuable feedback on product strategy and future roadmap. "Feedback is the breakfast of champions." – Ruben Spruijt, CTO Atlantis Computing
What are the benefits
Atlantis Community Experts are passionate community leaders who've demonstrated commitment to share real-world knowledge and technical expertise with the community, customers and Atlantis. Benefits for ACEs are:
Exclusive webinars with Atlantis product teams for insights and discussions on current and future products
Direct touch with executives, product groups, CTO office and leading architects via private channel
Access to NFR software and demo environment
Increase personal brand & industry recognition (ACE Member Page)
Exclusive access and influence on Atlantis products and direction
Technical communities play a vital role in the adoption and improvement of Atlantis technology and helping our customers and partners achieve great things with our USX and HyperScale products.
How to become an ACE? 
We evaluate the contribution of each nominee and its impact to online forums, social media, blogs, whitepapers, articles, conferences and user groups on a yearly basis. New candidates are reviewed periodically. Want to be an ACE and join this great group of passionate ACEs please email [email protected] and give some background what you do and why we should consider you as ACE.
Source: Atlantis Computing Blog Post and Atlantis PR.