Just to let you know that it's now possible to get certified on vSphere 5.5. VMware has released new certification exam yesterday which allows to pass an exam based on vSphere 5.5. So the new certification exam VCP550,  is based on VMware vSphere 5.5 but earns you still a VCP5-DCV certification only. The same certification as you would get if you have passed the "old" exam based on vSphere 5.0/5.1. So both exams earns you VCP5-DCV, there is not a VCP 5.5 diploma…
The new exam makes more sense (IMHO) for people thinking of passing VCP, sure. Not for folks that are already VCP 5. The exam has an additional content which is due to new features introduced in vSphere 5.5. If I would be in a position to pass a VCP then I would probably go for it. It might be more difficult, because needs the additional knowledge of the features introduced in the 5.5 release, but for a long run this exam makes more sense.

Download the exam blueprint or request exam authorization here. You might want to check out my VCP page for some study guides and resources to start with,  but you'll need to sit a VMware class in order to get the certification.
The VMware Certified Professional 5 – Data Center Virtualization (VCP5-DCV) Exam tests candidates on their skills and abilities installing, configuring and administering a VMware vSphere 5 environment. Successful candidates demonstrate mastery of these skills and abilities.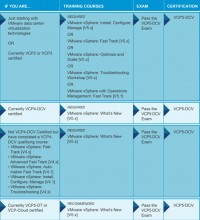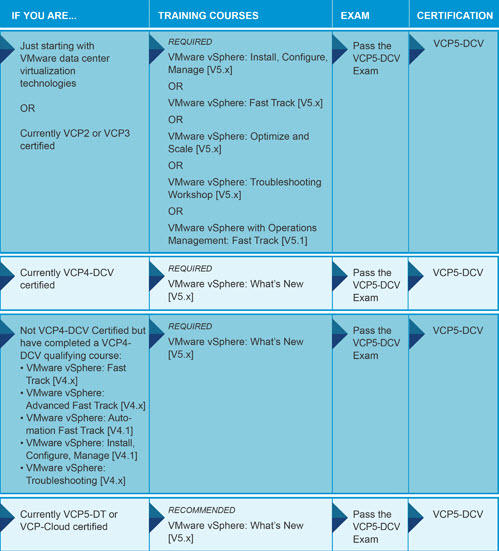 The roadmap to became VCP could be resumed like this with a roadmap presented on the image by VMware Education (not updated yet with the new VCP550):
Attend a qualifying VMware authorized course.
Gain hands-on experience with VMware vSphere 5.
Pass the VCP5-DCV (VCP510 or VCP550) Exam.
The knowledge and hands on experience is necessary, but getting a homelab  is pretty cheap today if you don't want to have multiple physical boxes. If you're on a budget, two solution can be used to effectively learn towards VCP, VCAP exams:
Nested lab with VMware Workstation – a PC with lots of RAM, VMware workstation. Running some nested ESXi hosts
Nested lab with ESXi – single ESXi whitebox which is accessed through a management workstation (usually a second PC or laptop).
You can find plenty of resources on this blog concerning home lab setup and nesting ESXi. (Now even with VMware Tools for ESXi!).  And also creating an ISO image with those tools "baked in" –  How-to Build a custom ISO with VMware tools for Nested ESXi. With all those resources, and a homelab, you can make it and became VMware certified.
A shameless plug, I even wrote a detailed guide to build nested VMware vSphere environment on a PC or laptop with limited resources. Stay tuned for updates…