Today I'd like to talk about a Zerto which brings free protection for 10 VMs during a whole year. This is very good news for IT admins, enthusiasts, and VMware folks willing to protect their data. This not only allows you to do thorough testing within a POC environment but also gets a hand and learns this technology without very short-time limited software..
Update: This offer is no longer available.
I have reviewed many of Zerto's features on this blog in the past so regular readers know that Zerto does not use hypervisor snapshots as other backup and data protection vendors. Zerto's replication and backup solution is quite different from other backup vendors. It does not use hypervisor's snapshots.
As you know, VMware Disk Development Kit (VDDK is) used with vSphere Storage APIs for Data Protection (VADP) to develop backup and replication software solutions. So snapshots used during backup and replication operations are used by many, if not all, vendors.
However, there is a strong impact on the underlying array and the other VMs in the environment. VMs running on lower-end arrays starts to perform poorly during the backup windows and if this backup window is too wide due to large data sets being backed up, production might be impacted.
This is because we are snapshotting VMs and moving around more data in an ineffective way. The snapshot technology itself has been around since virtualization has started. VDDK and VADP have been improved and fixed by VMware many times.
Zerto, however, does not use snapshots. Zerto's Appliance (VRA) is able to tap into a virtual machine's IO stream causing no overhead or performance problems compared to traditional hypervisor snapshots. It captures and copies the IOs from a particular VM to the remote site where a journal system keeps those data sorted for 30 days right now at maximum.
Zerto uses Elastic Journal allowing you to have short and long-term retention of your VMs. The elastic journal is a continuous stream of recovery points with search and recovery across data, files or VMs from any point in time from 7 seconds to 7 years.


Protection against Ransomware with Zerto
If you know when the ransomware struck, you would be able to recover to a state seconds before an attack.
There is a good post on Zerto's website showing a 7 points that are important when fighting with ransomware. One of the points is immutability. You know, when you "tell" your backups that nobody can delete them, even you…. -:)
Quote from the post:
Immutable data copies – As ransomware may target backup or replica copies, it is possible that even remote recovery data could be targeted by ransomware. Zerto provides the option for immutable replicas that cannot be encrypted nor corrupted by ransomware and are always available for recovery. When all hope seems lost, immutable recovery data can always save the day.
Zerto replicates VMs from one site to another. You can test easily in the lab by setting 2 ESXi hosts and replicating VMs between them. You can have a "spare" ESXi placed in a remote site, in another room or in the cloud. (Yes, Zerto support cloud replication and backup too).
You can have multiple destination replication to be set as well. From your main site you replicate to a remote location and at the same time, from the main site, you replicate to a secondary location. You can protect a VM from Site A and replicating to Site B and C at the same time. You can do that with Zerto's function called one-many replication. 
One-To-Many replication works by protecting VMs in multiple Virtual Protection Groups (VPGs), each with individually definable SLAs and the option to replicate the VPG to a different target platform.
Zerto Long-term Retention
Zerto's Long-term Retention enables storing data for extended periods, defining Retention policies, and restoring the data with granularity down to the VM level. You can define the target on which to keep the data, and for how long to retain the data, in accordance with your organization's needs and regulations. Each VPG has its own Retention Policy. You can select a specific point in time to perform a VPG-level or VM-level data restore. Configuring Long-term Retention is part of defining a VPG.
Repositories
There are many different storage types of supported and backup appliances:
HPE StoreOnce
ExaGrid
Dell EMC Data Domain
Other De-duplicated Storage Appliance
Network share
SMB and NFS are supported right now, other protocols will be added.
Enhanced Retention Settings – Retention settings can now be configured for Long Term Retention per VPG. The available Retention periods are:
Daily Incremental Retention
Weekly and Monthly Full or Incremental Retention. Either Weekly or Monthly Retentions must be set to Full.
Yearly Full Retention
Check out Zerto's website here for further details.
How to estimate the size required for indexing?
Storing the index for 100 restore points (incremental or full) will consume between 5-10% roughly of the original VM size.
Zerto Compatibility
Zerto is compatible with many VMware and Hyper-V version, as well as vCloud Director. Here is a screenshot that shows all the different versions support.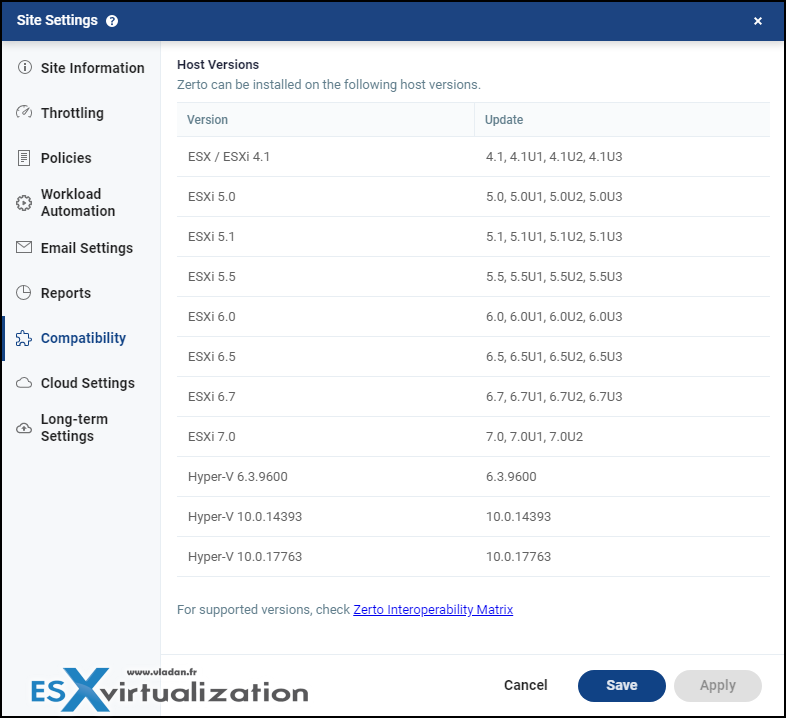 Instant Restore
Zerto 9 includes instant file restore from your long-term retention (LTR) repository so that you can easily restore files or directories by downloading them or by restoring them directly into their original location from that repository. In addition, Zerto 9 expands its restore capability to instantly restore a single VM from a checkpoint in the local or remote journal without affecting journal history. Preserving the journal checkpoints allows you to revert to other points in time for the same VM if the selected restore point does not meet requirements.
Zerto is a powerful DR solution that is simple to set up, test and use. You can also use Zerto to migrate our VMs between data centers and cloud providers.
More about Zerto on ESX Virtualization Blog:
More posts from ESX Virtualization:
Stay tuned through RSS, and social media channels (Twitter, FB, YouTube)