Zerto 9 added more features for resiliency, security, and automated VM protection. The Zerto Virtual Replication software is maturing but still innovating to integrate more public cloud offerings and enhance the backup capabilities of the product.
Version 9 of Zerto also introduces a possibility to backup your VMs to any cost-effective S3 compatible storage, whether on-premises or cloud, such as Cloudian. There is a new virtual private group (VPG) that allows easy configuration and management of journal repositories for local backup of VMs.
The software has had also some improvements over the analytics reporting for backup where you can also perform of health check to see the status, data usage, and duration. You can test Zerto in two ways – download FREE trial or test online lab (without downloading anything).
Zerto 9 Features
Zerto Backup and Disaster Recovery for Kubernetes – Always-on replication provides continuous protection for automated, nondisruptive recovery of containerized applications within and between clusters, datacenters, or clouds.
Zerto Backup for SaaS, powered by Keepit –
Disaster recovery for AWS across regions, availability zones (available in beta)
NEW Cloud platforms for backup
NEW Backup capabilities
Quote from the announcement of the v9 page:
Zerto 9's new advanced features help you defend against ransomware, including immutability and automation, as well as new cloud data management and protection capabilities for end users and managed service providers. Zerto uses always-on CDP to keep data backed up in real time and protect systems with minimal data loss and downtime in the event of a malware attack.
Immutability: The need to have a secondary copy of your backup data most likely offsite, that can't be modified and protected against malicious activity, is critical. In Zerto 9, we have introduced immutability for AWS, with the ability to store your backups in AWS using the Object Lock API, and the immutability settings for your backup data can now be managed within the Zerto user interface. Zerto users can set how long backups can remain unaltered to safeguard backups to the cloud from malicious deletion or modification of data, such as from ransomware.
Instant Restore: Zerto 9 includes instant file restore from your long-term retention (LTR) repository so that you can easily restore files or directories by downloading them or by restoring them directly into their original location from that repository. In addition, Zerto 9 expands its restore capability to instantly restore a single VM from a checkpoint in the local or remote journal without affecting journal history. Preserving the journal checkpoints allows you to revert to other points in time for the same VM if the selected restore point does not meet requirements.
Automated VM protection: To take the worry out of missing any VMs that should be protected and ensure complete data protection across your entire environment even when new VMs get added, we have added to Zerto 9 automated VM protection. Using native vSphere tags, servers can now be instantly added to virtual protection groups (VPGs) without any manual configuration. You can quickly protect workloads with new or existing protection groups and apply existing SLA rules, including pre-validation and alerts.
Cloud tiering for Amazon S3 and Azure: To provide more cost-effective and secure archive storage, Zerto 9 introduces the ability to tier long-term retention cloud data into Amazon S3 Glacier and Azure Archive classes. You can easily define retention policies for storing and migrating LTR backups from hot or cool storage into more cost-effective and secure archive storage in Azure and AWS. Zerto leverages native APIs to tier backups from S3-IA to Glacier in AWS, and from cool blobs to archive blobs in Azure.
Configuration and usage with VMware on Google Cloud are nearly identical to a user's on-premises VMware environment. You can replicate VMware VMs between on-prem and Google Cloud, but also between different Google Cloud regions.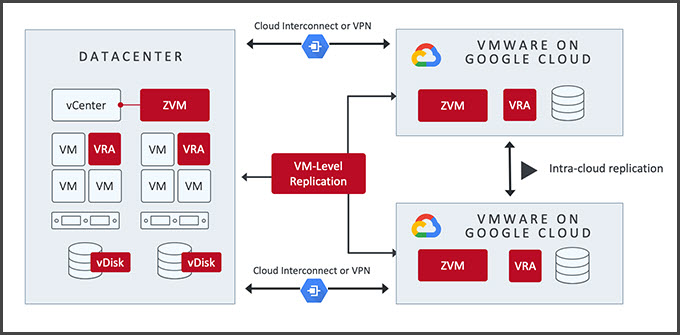 Screenshot from Zerto's installation…..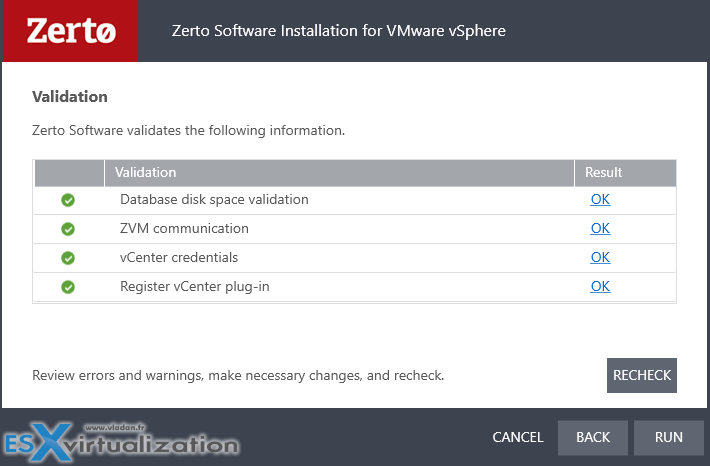 With Zerto, you can not only replicate your VMs to another location, but you also have a backup so you can restore full VMs or individual files. Back in the old days, you could only go back in time like 30 day, however since Zerto 7.5 things changed.
Elastic Journal allows to recover VMs from older dates (previous releases were limited to 30 days only) from back in time, so you can recover backed up (or archived) VM from 20 years back if you need to. The elastic journal combines the short and long-term retention into a continuous stream of recovery points with search and recovery across data, files or VMs from any point in time.
With the different backup possibilities, you also have a Grandfather-Father-Son backup strategy.  The product has become a hybrid backup product allowing you to not only replicate your VMs without an overhead and with very low RTO but also keep your long-term backup at the different repository for years.
Zerto Has some advantages over other data protection vendors:
RPOs of seconds
No impact to production because it does not use snapshots like traditional backup programs.
Simple workflow for rapid RTOs on day-to-day recovery scenarios.
Failover, failback and testing are all automated
Check Zerto's Website here and download a trial.
More from ESX Virtualization
Stay tuned through RSS, and social media channels (Twitter, FB, YouTube)