Every software solution has its own best practices. Admins must follow those best practices for VMware, Microsoft or other vendors and all software solutions including software-defined storage solutions, do have their best practices. Today we'll be talking about StarWind Virtual SAN Best Practices.
As you know, StarWind Virtual SAN has been for a while and it proved to be one of the most cost-effective solutions for different architectures providing either shared storage for virtualized infrastructure, redundant storage for backup infrastructure, or being used as Hyper-Converged Infrastructure (HCI) solution.
StarWind Virtual SAN is software-based storage and as such, any misconfiguration or non-respecting of requirements is "paid" by performance hit or the environment at risk. That's why the following best practices are important for any environment.
By respecting best practices you not only obtain a resilient storage solution with a minimum of 2 hosts but at the same time, you also get good performance out of the box. StarWind High Availability (HA) relies on redundant network links between the StarWind hosts to ensure storage resilience.
Yes, StarWind only needs 2 hosts where other solutions also needs a third host. It's done by design.
StarWind Virtual SAN for VMware is now distributed as a Linux VM (VSA) with pass-through disks, and pass-through NICs to achieve the best possible performance. StarWind VSAN which pulls the local storage of each host and creates a shared storage pool. 
What is StarWind HA?
Some of you who do not know StarWind might need to hear this before being convinced. StarWind HA relies on redundant network links between the StarWind hosts to maintain storage resilience. Those links are used for monitoring and failures. If any of the nodes fail or stop processing requests properly, the failover is instantly initiated from the client OS/Hypervisor side.
StarWind has also an internal heartbeat mechanism, which ensures proper storage path isolation in the event of synchronization network failures and prevents so-called storage "split-brain".
Below you can see that different NICs carries on different traffic for different service. Heartbeat, synchronization etc.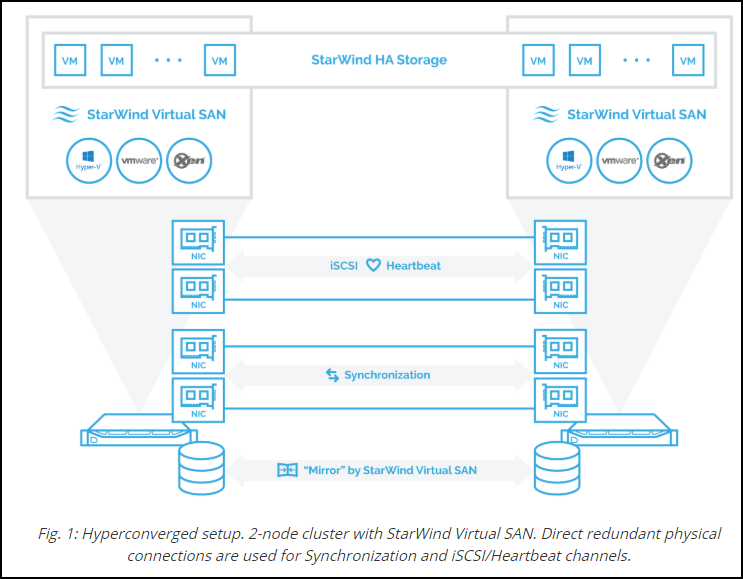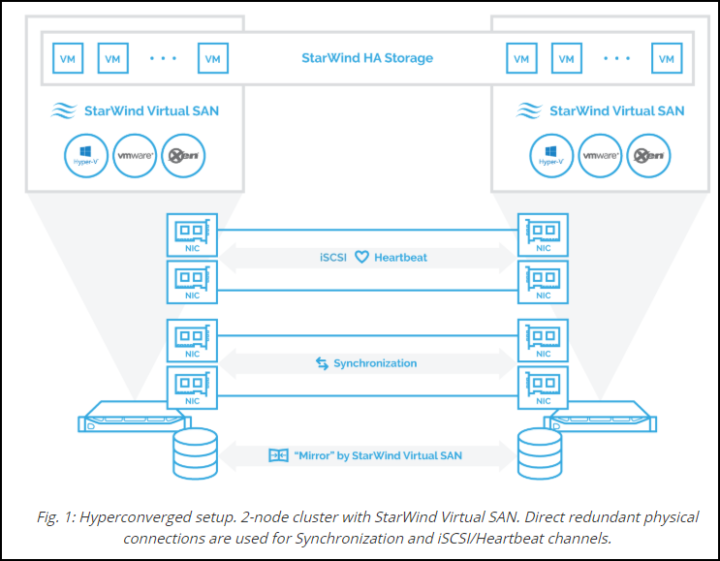 As you can see, you don't even need a switch for 2-nodes direct-connect configuration. Same as for VMware vSAN direct-connect scenarios.
Design Considerations
Hosts – you should have redundant and hot-swap parts available ahead of time. Hardware fails. Hardware RAID cards should be identical across clusters. In fact, StarWind recommends using the identical storage configuration across HA SAN cluster. This includes RAID controllers, volumes, and settings, as well as OS-level partitioning.
Storage – you have two options and it depends which types of workloads you'll be running:
FLAT image file architecture – traditional data layout on the disks. The storage used for the general purpose.
Log-Structured File System (LSFS) architecture – log-structured-based data layout. Recommended for intense write workloads. VM-centric file systems don`t support certain workload types. Read more about LSFS here.
StarWind recommends RAID10 (HDD) and RAID5 or RAID10 (SSD) for implementing the HA environment. More details about Stripe size, volumes or partitioning and file system considerations can be found at a source article at Starwind. Read the source article at StarWind Here.
Additionally, you might want to check  Recommended RAID settings for HDD and SSD disks..
HA Device – There are different recommendations for VMware vSphere or Hyper-V. For example for Hyper-V it recommended creating at least two HA devices per Hyper-V/Microsoft Failover Cluster for optimum performance.
Heartbeat channel – it is recommended to enable additional heartbeat connections for other physically separated links and NICs between the HA SANs, but not the ones used for HA device synchronization. If the synchronization channel fails, StarWind attempts to ping the partner nodes using the provided heartbeat links. If the partner nodes do not respond, StarWind assumes that they are offline. In this case, StarWind marks the other nodes as not synchronized, and all HA devices on the node flush the write cache to the disk to preserve data integrity in case the node goes out of service unexpectedly.
Heartbeat avoids split-brain scenarios.
Benchmarks – you should always benchmark the system before production. Not only for copy operations but also or IOPS. For this, many tools are available, such as IOmeter, FIO, VDbench and others. For network performance, you can use iPerf. It is necessary to measure the network performance and tune the network to get the maximum throughput for the StarWind Virtual SAN environment. For details on network performance testing, use this post at StarWind.
Final Words
Whether the setup of StarWind VSAN seems easy, the overall configuration and performance tuning can be lengthy and not straight forward if you don't know how to design, what to test etc. That's why there is a paid StarWind version where you have it set up by StarWind engineers, who will also ensure proper support.
StarWind VSAN Free is supported by community forums only and after 30 days trial, you only have PowerShell for the management. Hence to get the full version if the production is business-critical.
StarWind Virtual SAN eliminates the single point of failure (SPOF) for storage in virtualized infrastructure by using duplication (or triplication of data), caches and I/O controllers. All resources are "mirrored" between different physical hosts.
The shared storage becomes fault-tolerant (because backed by 2 or more hosts) and provides high availability to higher performance and low-cost.
More posts about StarWind on ESX Virtualization:
More posts from ESX Virtualization:
Stay tuned through RSS, and social media channels (Twitter, FB, YouTube)