Trilead VM Explorer 3.5 review – an easy backup for VMware ESX/ESXi. Trilead VM  Explorer is not an unknown product for my readers. In fact It has been here for a while and kept growing with each and every time with new features and functionality  I have done few articles and announcements in the past on my blog, but today I do a complete review of the product and I will walks you through the configuration of backup process and quick restore. Trilead has got a free version which is on my Free tools list as well, but lucks some features that the licensed version stands out.
UPDATE: You might want to read my review of Trilead v. 4.0 with Hyper-V support? 
First of all, I must say, that this is one of the easiest products to install and setup. Even the download file is so tiny. The whole msi package is not even 8 Megs… -:). So you can be up and running in minutes.
Which systems are supported? On which systems the product installs?
The product is fully supported on any major x86 or x64 based systems and can be installed inside a virtual machine as well. There is one requirements from Microsoft, and it's the the .Net Framework 4.0 Client Profile  or .Net Framework 4.0. There are other requirements from VMware, but on this later. Let's move on with the installation process.
The installation process.
As I said, the tiny package gets installed really fast.  The product Installs with ease and at the end of the installation process you got a prompt for installing a license. To fully test the product from  you can get 10 days valid license at – https://www.trilead.com/TrialKey/  – which unlocks all features. So I went and copy paste the license I received by e-mail.  You can have a look about all features that the paid version of  Trilead VM Explorer provides on this page.
After this quick installation I ended up with easy looking interface with few tabs. Right the first tab is called START. One could not make it simpler. There you have 3 links with pictures to do different tasks. Connect to ESX/ESXi server, backup VM and restore VM. So first thing to do is to connect your vCenter server or ESX/ESXi host.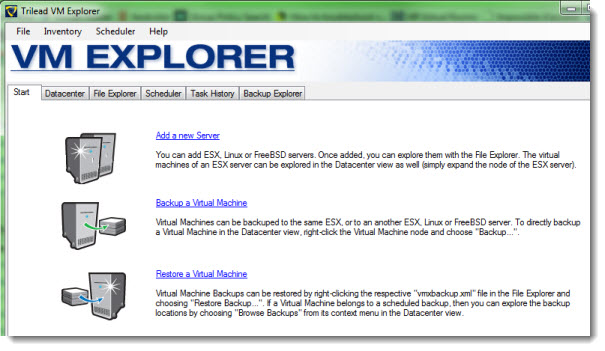 Here I should say that the licensing model of VM Explorer is different than what propose other vendors. Trilead's licensing is simple. You install the software on a system – you pay one license. That's it. You can backup how many VMs you want no matter on how many ESX(i) hosts those VM reside.
That's something new and something one does not usually see, because usually you pay the license per CPU socket, or recently with VMware per VM…
That's why Trilead can fit into a low budget scenarios. But wait on that later. Here are some some screenshots from the first time configuration.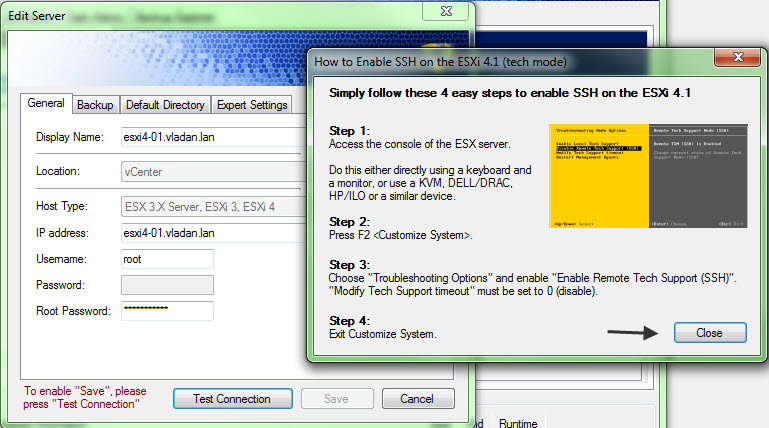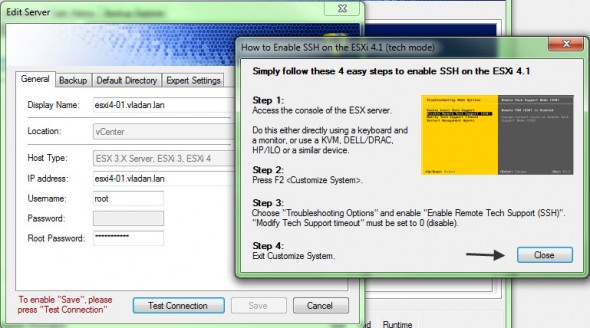 One important thing to mention here is that, in the version 3.5, there has been a built in scheduler introduced and also the fact that the software runs as a service, so no need to open a session for the backups to run. So the good practice configuration should be done  through the user interface of VM Explorer by going to the File > Settings menu, and Add Service drive. Like this no matter which user logs in to the system, the software will do the backup job.

The configuration of a backup job.
The configuration of a backup job depends of several factors. In case you want to use the Incremental backup feature (and I higly recommend) , you must install a VDDK (Virtual kit development kit) from VMware. There are other requirements for the incremental feature to work. You have to have a licensed (paid) version of ESXi and you must run VMs with Virtual Hardware version 7 (latest). And, sure, you must buy a license from Trilead.

If you you have paid for at least vSphere Essentials ( about $500), you will be able to use the incremental backup feature. In fact the VMware Essentials Kit package provides you with a license for 3 physical servers.  You do have a vCenter to centrally manage those 3 hosts, but you don't have High Availability or vMotion features. If you don't need them, it's ok.  Actually by using the paid version of VMware ESXi you unlock the vStorage API which in the free version is in read only mode.
Here are some screenshots from the GUI during the configuration of a backup job.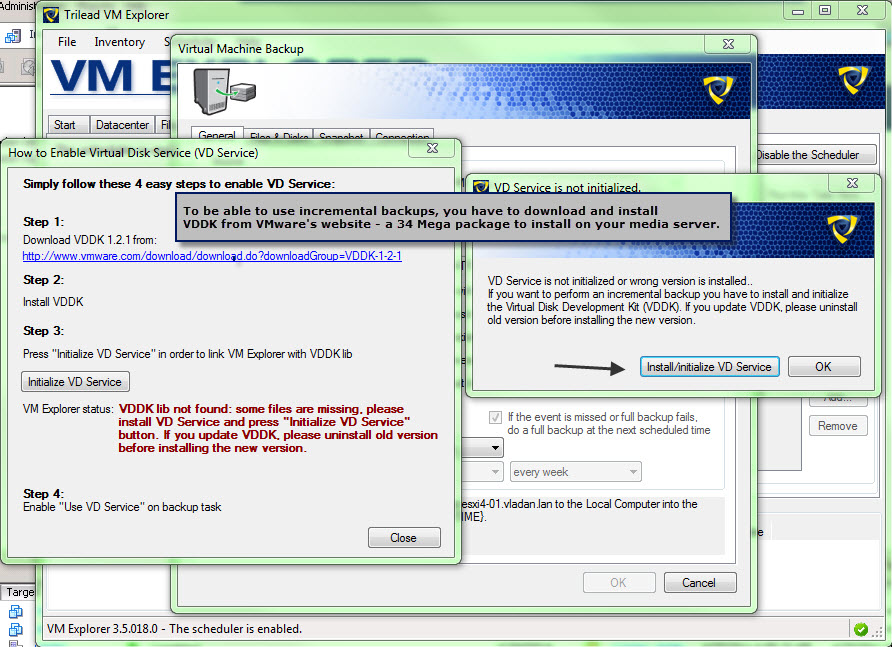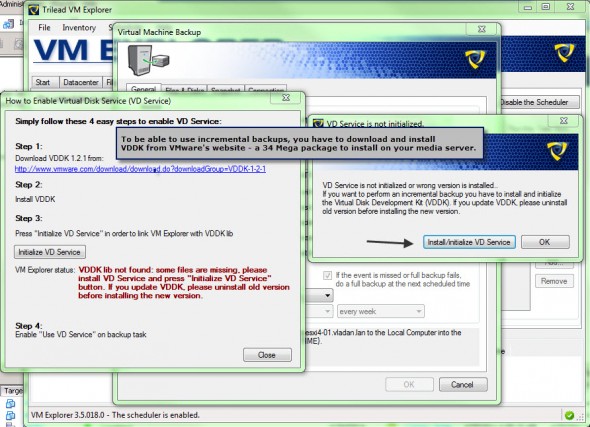 Once the VDDK in place, the only thing you have to do is to configure a backup destination. In my lab test, I just tried to backup to USB drive . A large USB drive attached to my laptop as a destination, but you can also use network backup destination.
The incremental backup is fast, of course but it also depends how much data changed since the last backup. Usually the backup window is like 8-10 hours, so to fit in with your backup jobs one has to have a solution which permits to use incremental backups.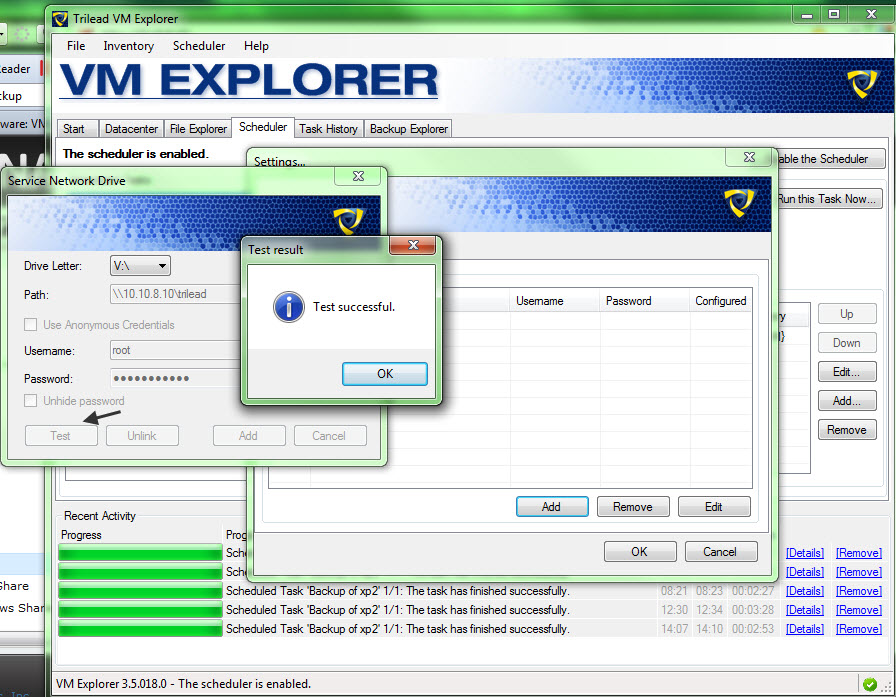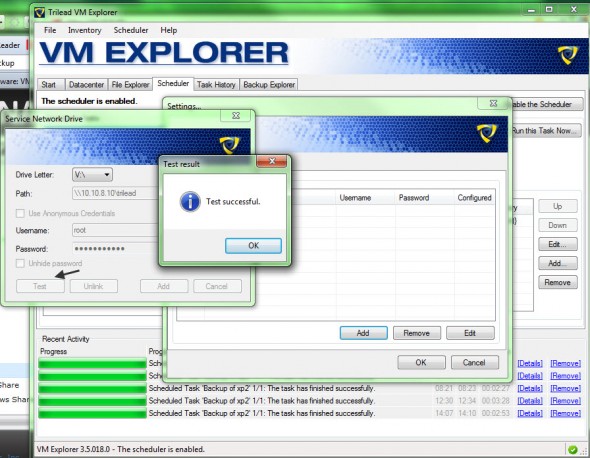 The scheduling of backups is a snap. No troubles here. It works out of the box.
Restoration.
One of the main reasons using backup products is to be able to restore, right?  A restore a complete VM (sys + data disk), restore only System disk or restore individual file from within the Virtual machine. Now let's see what's possible to do with the product.
The only possibility to execute a restoration job is to restore a complete VM. No individual file's restoration possibilities. This is a little disappointment, since it's quite handy of being able to restore accidentally deleted files or so. So you can restore the whole VM from the point in time and then copy paste the files needed by the user.
It looks like that the restoration of individual files will be the next feature to add to the product so it can really stand out from the crowd and compete with bigger players here like Veeam, Quest, PHD, Arkeia etc….
But still, restore operation is simple and you can choose from any incremental delta file produced by VM Exploer. The full VM gets restored, named and registered on the ESX/ESXi destination host. You can can see an example of restoration from one incremental restore point on the image below.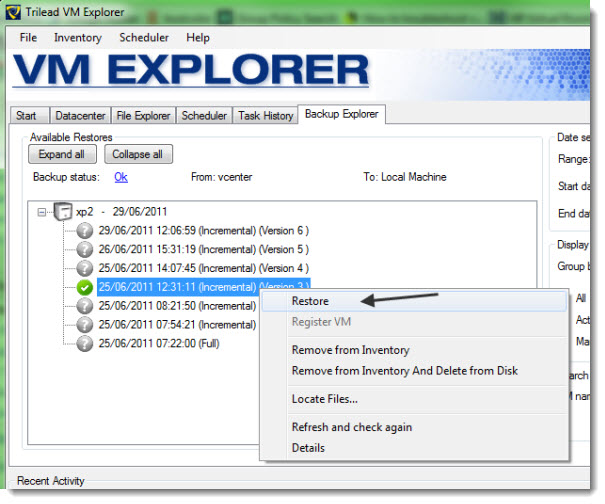 Backup reporting capabilities.
The product has the possibility to generate e-mail reports about backup jobs. One would expect this feature being a part of a general configuration or like a check box during the backup job configuration steps bu curiously enough you must configure that as a new scheduled task.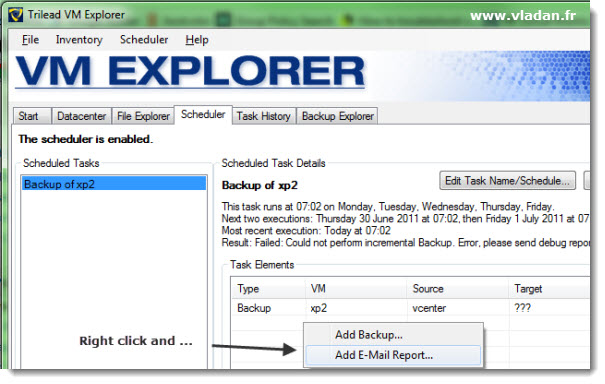 But the configuration is simple and no troubles there. There are 2 possibilities of configuration. You can have a daily report delivered to your e-mail box or you can have a report delivered after each single job. It's up to you and see which one fits the best in your scenario.  A test button is provided as well so you can check that your configuration is correct before closing the configuration window there.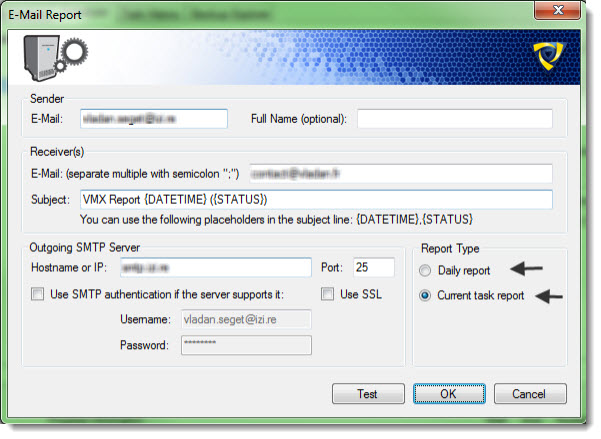 The email reporting capability is quite important and not every single product does provide this possibility. Even the VDR (VMware Data Recovery) backup solution from VMware does currently luck this capability.
You can see an example of an e-mail report on the photo here.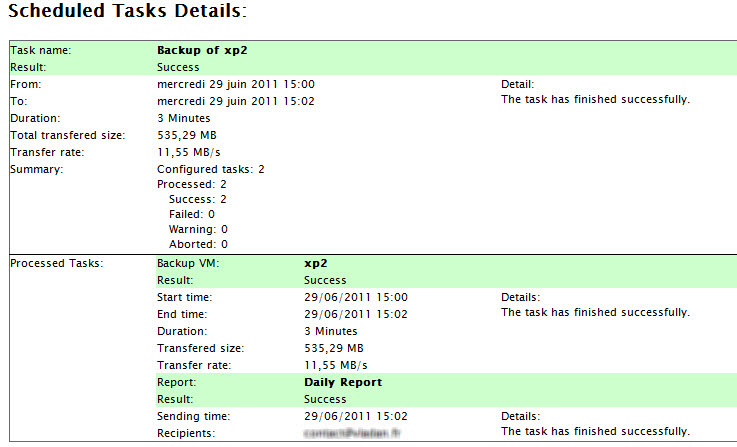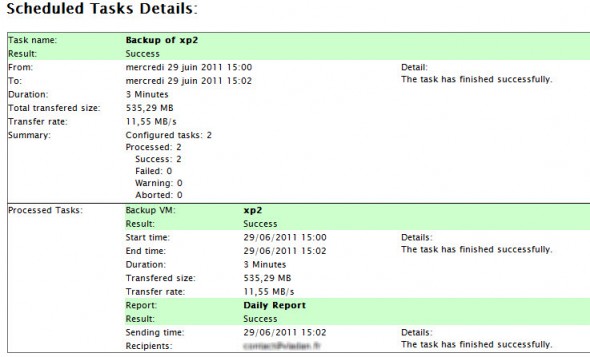 Conclusions.
The product performs well. With its advantageous licensing which I mentioned above you can manage for example a virtual infrastructure running under VMware vSphere Essentials ( which covers up to 3 physical hosts and one vCenter server) for very little cost, since the Trilead's licensing is per installation and not per CPU socket.
For higher end solutions you would have to pay a license per CPU socket.
Pros:
– Incremental backups.
– Scheduling features, e-mail reporting capabilities.
– Easy to use interface and easy setup.

Cons:
– No Individual files restore possibilities.
I hope that you enjoyed the read. Stay tuned via RSS or you can subscribe via e-mail to have delivered weekly articles to your mailbox.
Please note that this Review was sponsored by Trilead.