Veeam Backup for Google Cloud Platform (GCP) is a solution that allows you to backup your Google cloud instances and restores those instances in case of problems. It is an agent-less solution. In case you did not know, you can backup 10 instances for FREE.
If a disaster happens (you got hit by ransomware, Google has an outage in that region), you can restore an entire VM instance from a cloud-native snapshot or image-level backup. Veeam Backup for Google Cloud allows you to restore one or more VM instances simultaneously, to the original location or a new location.
This is already v3 of the product. Test your FREE version today – click here! – Veeam Backup for Google Cloud Platform.
Veeam Backup for Google Cloud Platform Features:
Google-native – Use native snapshots to achieve low recovery point objectives (RPOs) without needing an agent.
Rapid recovery – Overcome data loss with flexible instance, volume and file-level recovery options.
MySQL backup (NEW) – policy-based protection and recovery options. Leverage both snapshot, backup and an archive options depending on your retention policy and easily restore a chosen database to original or a different location.
Role-Based Access Control – you can now delegate data protection-specific permissions to users, ensuring greater security.
Configuration backup & restore (NEW) – Nice addition to the product that allows you to create a backup of the appliance configuration on a backup repository. This allows for easy recovery when it is required to redeploy the Veeam Backup appliance from scratch, quick migration procedures and testing.
Cross-project/cross-region protection – Isolate backups from production to avoid cyber threats.
App and data mobility – Unlimited data portability between Google Cloud, on-premises and other public clouds.
Simple setup – Quickly deploy this solution from Google Cloud Marketplace to start protecting your data.
Cost calculation – Avoid cloud overspending and meet your service level agreements (SLAs) with industry-first cost calculations.
Hybrid-cloud ready – Use one platform to centralize your Google Cloud backup with other workloads.
Fully automated – Protect all your data with policy-based automation and labels.
Low-cost tiering – Useful feature allows you to automatically tier snapshots to low-cost storage classes.
RESTful API – Integrate and automate Google Cloud backup with other workflows and applications.
Encryption – Encrypt backups and easily control access to them with Google Cloud KMS to secure your backup data from internal and external threats.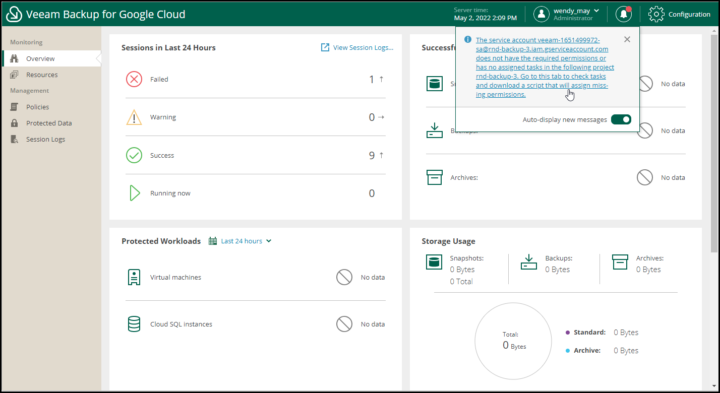 Quote:
NEW Veeam Backup for Google Cloud v3 delivers native, fully automated Google Cloud backup and disaster recovery to effortlessly protect and manage Google Cloud Compute Engine and Cloud SQL for MySQL databases. Built with cost-effectiveness, security and scalability in mind, you can eliminate the risk of data loss for all your Google Cloud data while saving big! The following is a list of new features and enhancements added to the latest release, available in both Veeam Backup for Google Cloud v3 and Veeam Backup & Replication.
The screenshot from Veeam shows the restore point pickup option

Pricing
Check out also FREE Veeam Products:
There are products from Veeam that are free. Did you know?
****************************************************************
Free Trial of Veeam Backup and Replication  – Latest ISO.
****************************************************************
More posts from ESX Virtualization:
Stay tuned through RSS, and social media channels (Twitter, FB, YouTube)