VMware has released a new PDF Blueprint for people interested to take a new VCP-DCV 2023 certification exam based on vSphere 8.x. So far, you can still (until Jan 31, 2024) pass the VCP-DCV 2023 based on vSphere 7.x and  (2V0-21.20), which leads to the VMware Certified Professional – Data Center Virtualization 2023. However, a new PDF from VMware instructs you if you want to pass the certification exam based on vSphere 8.x and 2V0-21. 23.
Update: New VCP8-DCV Page – Study Guide (work-in-progress)
VMware Certified Professional – Data Center Virtualization 2023 (VCP-DCV 2023) certification, is a 70-item exam with a passing score of 300. You'll have 135 min which is enough time even for non native English speakers. The exam is proctored via Pearson VUE.
Quote:
Qualified Candidate is able to install and configure a VMware vSphere 8. 0 infrastructure, which includes VMware ESXi and VMware vCenter; but occasionally needs to research topics. The candidate understands most of the requirements for managing, operating and maintaining a highly available and scalable virtual infrastructure. The candidate is able to monitor the day-to-day operations of a vSphere infrastructure with minimal assistance. The candidate has a basic understanding of virtual data center, network and storage concepts. The candidate possesses most of the knowledge shown in the exam sections (blueprint).
The PDF has 7 sections, with many objectives (chapters) each. During our quick compare with the previous blueprint, based on vSphere 7.x, there is 144 chapters in the vSphere 8.x based blueprint (compared to 80 chapters of the vSphere 7.x blueprint).
As you can imagine, a lot of the content is same as for the VCP-DCV based on the vSphere 7.x exam, however, there are completely new sections that did not exists in the previous exam. (quickly saw config of Tanzu, DPU based engine, vSAN ESA new architecture etc).
My plan is to update my VCP-DCV Study Guide on vSphere 7, that you can find here, (but it will be a completely separate page – work-in-progress here: VCP8-DCV Study Guide) so it can be useful for people that will study towards the vSphere 8.x and 2V0-21. 23 exam. If everything goes as it should, it should be released as a new study guide for VCP-DCV 2023 based on vSphere 8.x product.
As you know, since several years, VMware has changed the VCP names.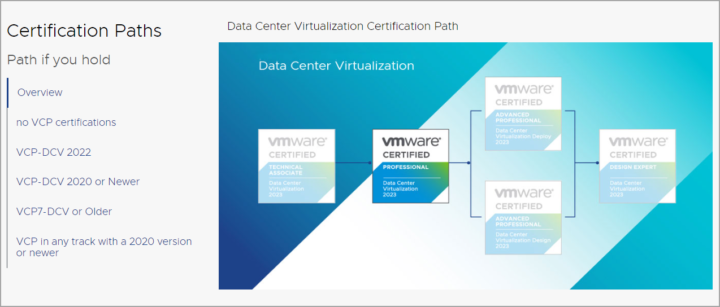 Some FAQ:
Why does the VCP-DCV 2023 have a year designator as its version?
Data Center Virtualization solutions are frequently updated.  Having a year as its certification version allows VMware to better maintain the exam and training content, and more importantly, provides certification candidates to communicate how current their skills are in relation to other certifications.
For now, you have until Jan 31, 2024 and study and pass the VCP exam based on vSphere 7.x. For this, use our Community Study Guide FREE PDF for VCP7-DCV that you can download from our partner.
More posts from ESX Virtualization:
Stay tuned through RSS, and social media channels (Twitter, FB, YouTube)