VMware vSphere 6.5 has also new updated file system VMFS-6. We haven't talked about it just yet, as there is so much to cover. We have covered so far the vCenter upgrades, ESXi upgrades (via ISO/CD-ROM, but also via VMware Online Depot or Via "Offline Bundle".  Note that you can find all posts about vSphere 6.5, ESXi 6.5 on our Dedicated vSphere 6.5 Page. Today we'll talk about VMware vSphere 6.5 Storage – VMFS 6 with automatic UNMAP to reclaim dead blocks.
UNMAP mechanism was previously only manual (VMwareKB2057513) but with vSphere 6.5 and VMFS-6, things are different. A new UNMAP crawler mechanism will free dead space on VMFS-6 datastores within 12 hours automatically.
However, to migrate your datastores to VMFS-6, you don't have an "in-place" upgrade so you'll have to create a new VMFS-6 datastore > move your VMs there via storage vMotion > delete your old VMFS-5 datastore.
But you might say, what about my VMs? When I delete some files from within a thin provisioned VM, will the "dead space" be reclaimed automatically?
The answer is yes, for newer OS. Windows and Linux. ESXi supports the unmap commands issued directly from a guest operating system to reclaim storage space. The level of support and requirements depend on the type of datastore where your virtual machine resides.
Inside a virtual machine, storage space is freed when, for example, you delete files on the thin virtual disk. The guest operating system notifies VMFS about freed space by sending the unmap command. The unmap command sent from the guest operating system releases space within the VMFS datastore. The command then proceeds to the array, so that the array can reclaim the freed blocks of space.
VMFS Migration/Upgrade
There is one VMware KB article which you should check – Migrating VMFS 5 datastore to VMFS 6 datastore.
In fact, you can't upgrade a VMFS-5 datastore to VMFS-6, but you must first migrate your VMs over and then only:
Unmount datastore DS-1 from all ESX hosts.
Delete datastore DS-1.
Create a new datastore with the VMFS 6 file system using the same lun
Note that the new VMFS-6 datastore has to have size at least equal (or bigger) than the old datastore (the one you migrating VMs from).
Image courtesy of VMware.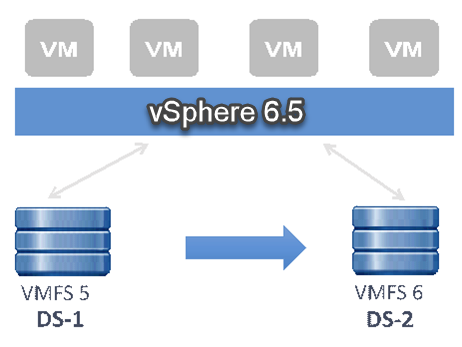 VMFS-6 is faster, according to Cormac's blog post here, there are "all-round" performance improvements, with faster files creation, device discovery and device rescanning.
Quote:

VMFS-6 is now 4K aligned, which will allow VMFS-6 to support newer 4K drives once they become supported. One other enhancement to call out is better ways to handle ATS misscompare issues which I know has been problematic for some storage arrays. There is now a new retry mechanism included in VMFS-6 to avoid (as much as possible) this situation.
Other storage enhancements and maximums (2x increase from 6.0!!!)
ESXi 6.5 can now also support up to 2,000 paths in total.
Up to 512 devices.
Sources: 
vSphere 6.5 ESX Virtualization Resources:
Installs, upgrades, migrations….
Stay tuned through RSS, and social media channels (Twitter, FB, YouTube)