One of the news coming from VMware about vSphere release is the fact that new vSphere Data Protection 6.0 product will by default be the "Advanced" version. It means that there will no longer be VDP advanced to buy and that the version of VDP 6.0 bundled with vSphere 6.0 will have all the features of the VDP advanced. The product got consolidated into a single version! That's good news certainly.
I have previously covered VMware VDP and the advanced version of the product in quite a few posts. The latest 5.8 version (in its advanced version) brought quite a few features useful for on-premise Exchange servers as it brought Exchange DAG support. Also, Replicate and restore anywhere where you can backup at Site A and replicate to site B, or Backup to  site B and replicate to site C etc… (only changed blocks are replicated).
What's new in VDP 6.0?
One of the information released concerning VDP 6.0 is that all agents (Exchange Server, SQL, Sharepoint) are bundled by default. This wasn't the case before and only the advanced version has had those agents active. In this "application backup mode" you can select the SQL DB which you want to backup, but previously you must install a small agent inside of the VM. This is necessary as those agents allow application-consistent backup and recovery and provide support for other options such as full, differential, or incremental backups. Also multistream backups and database log management.
Another fact is that you can deploy as much as 20 VDP appliances per vCenter server where each of the appliances can manage up to 8TB of deduplicated storage. (roughly 150 to 200 VMs if considering average VMs and 30 days retention policy). Eight external proxies can be deployed.
Backup Replication can be done between different sites. See examples: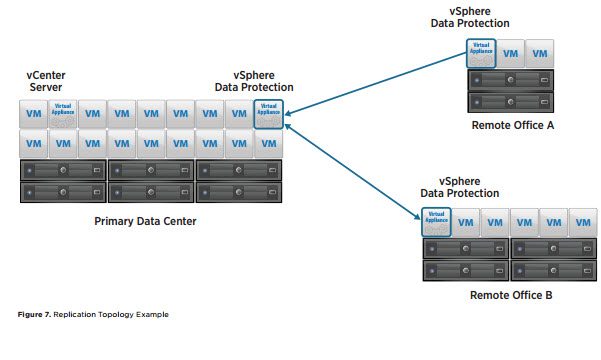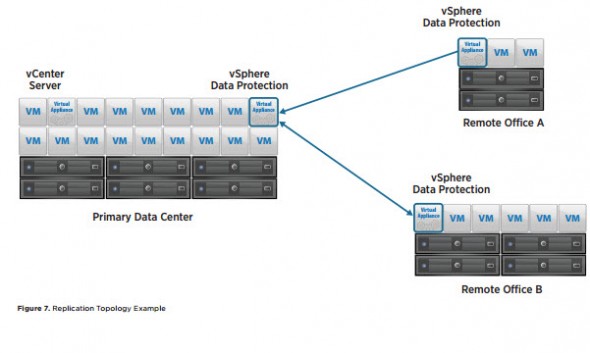 A new PDF which outlines the features – VDP 6.0
So as you can see there are not many details out there just yet. I think that we must wait for the release notes to see bug fixes reports as well.
At the same time, the VDP will again integrate to the vSphere Web client only, which will be still Adobe Flash based, it means that VDP is also a tributary of the Flash when you want to for example do an emergency restore (in the case of vCenter unavailability). If you don't have flash installed on that browser in that particular system you can't do that emergency restore.
Also, when you want to restore individual files, the restore is performed within the system where you restoring the files. And it's the same problem… flash, flash, flash… It might be a problem for some.
The Flash-based Web client shall be updated (perhaps in 6.1? ) to have HTML 5 based UI only. The thing is that the whole vSphere vCloud suite is concerned as the whole suite uses the Web-based UIs, especially Horizon View… Wait and see…
Source: VMware