VMware VCP Exam voucher is kind of an "electronic" tickets needed to pass a VCP Exam. You can buy it in advance (or plan the buy) when the IT budgets are distributed or when you have a budget. One Voucher is valid for a duration of a minimum of 12 months and you can use them to pass an exam in Pearson VUE testing centers. You'll see that there are 3 types of VMware Exam Vouchers. This post discusses What Are VMware Exam Vouchers and how to use them.
A few days back I published a new post about VMware Certification Changes in 2019, and the post is very popular as many IT admins and IT pros want to learn about VMware technology. It's important to pass VMware certification and be recognized as an expert. Starting 1 Jan 2019 and starting with VCP, the new name will be VCP 2019 for VCP level, then from March the VCAPs and later this year the VCDX levels.
VMware Certification is like an investment, investment in your future. Certification is a necessity. You can plan ahead and purchase certification exam vouchers. Vouchers are available electronically, making them convenient to distribute to employees and students and avoid paperwork. Vouchers may be used for immediate test appointment scheduling online, through the contact center, or directly through local test centers.
A VMware exam voucher is required to take the certification exam. For example, the VCP exam voucher allows you to take your VCP exam at any number of Pearson VUE testing centers throughout the world. VCP exam vouchers may be used as payment for all VMware professional level certification exams.
Screenshot from Original Certification diagram PDF is here.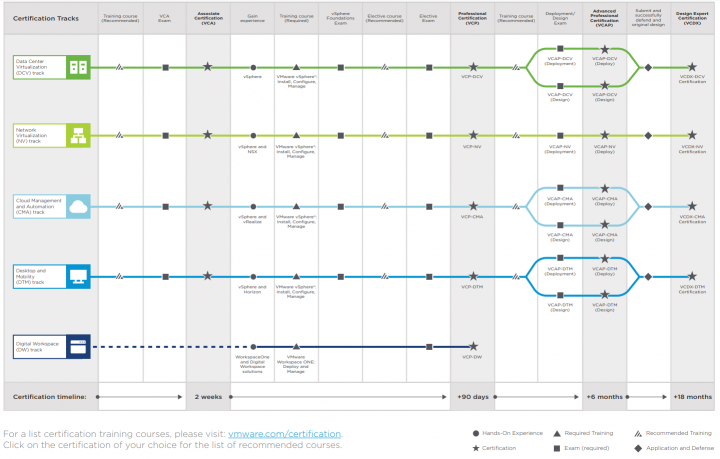 Three Different VMware Exam Vouchers
VMware Certified Professional (VCP) – It an industry-recognized VMware certification and move ahead in your IT career in the world of virtualizationThis VCP exam Voucher is valid for all VCP level exams. VCP Exam Voucher Buy Here.
The VCP exam is far the most popular as it gives you enough knowledge and needs you to have already some experience with VMware products.
VMware Certified Associate (VCA) – It's an entry-level exam, passed online, which is necessary as a pre-requisite in order to pass VCP level exam. VCA Exam Voucher Buy Here. It is an exam you can (almost) pass blindfolded, even thouch, few sources says that there are few questions from VCP level exam as well. But yes, it's needed for you to pass this exam if you want to go and pass your VCP level exam afterward.
VMware VCAP and VCIX Exam Vouchers – This is an advanced VMware Exam Voucher. In between VCP and VCDX. Advanced Professional VMware certification distinguishes professionals with advanced knowledge of virtualization systems, who have mastered the design, deployment, and maintenance of VMware systems, and have the abilities to create effective enterprise-level virtualization solutions. VCAP or VCIX Exam Voucher Buy Here.
VCAP and VCIX exams are hard, needs a lot of preparation and lab time. You can't pass those exams only because you think you have enough VMware knowledge. And the level goes up after every new release of VMware vSphere.


VMware Certification Program vouchers are valid for 12 months from the month purchased.VMware Voucher Terms & Conditions:
Note: VMware Professional Services Credits and Learning Credits may be redeemed to purchase certification exam vouchers. Vouchers are redeemed through third-party testing provider, Pearson VUE.
All purchases are final and cannot be canceled or refunded.
Vouchers are valid for a minimum of 12 months.
Vouchers must be used on or before the expiration date. Expiration dates may not be extended and vouchers will not be replaced if not used on or before the expiration date expires.
Vouchers cannot be exchanged, replaced or used in combination with other offers.
Vouchers may not be resold or redeemed for cash or credit
VCP vouchers are not redeemable for Vmware advanced level (VCAP or VCIX) exam delivered in Pearson VUE testing facility.
Once payment is processed you will receive a second e-mail that will include your VMware exam voucher number — you need this number to register for your exam. It is important that you provide a valid e-mail address and that your system does not block messages from Pearson.com.
Vouchers purchased are only for use at a Pearson VUE test center in the country you select. Vouchers expire twelve months from date of purchase. Exams must be scheduled and taken at a Pearson VUE test center on or before the expiration date of the voucher(s). The specific expiration date will be sent with the voucher number via email. All sales of exam vouchers are final, no exceptions.
Make sure to check our vSphere 6.7 page and some other links below. Enjoy…
More from ESX Virtualization
Stay tuned through RSS, and social media channels (Twitter, FB, YouTube)