Zerto announced version 3.0 of their Hypervisor replication software Zerto Virtual Replication 3.0. The latest release adds on several enhancements and new features. One of them is the extension of disaster recovery for Remote Offices or environments manged with single vCenter server. This is quite good news, since many smaller clients only runs single vCenter and uses standalone ESXi servers on remote sites.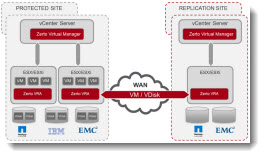 Zerto replicates from any storage to any storage (NAS to SAN, or Local to local etc…), where the replication process works at the VM level (not at the SAN level), without any agents…… Few months back I was able to review the Zerto's Replication software product in my small home lab. I've done quite a few screenshots and tested the replication and failover. I was impressed by the quality of the product and its features.
The constant evolution in the IT world makes the very creative people at Zerto to innovate constantly. As a result, they're able to provide more value for the customer bringing in features that make the life of the IT admin easier and secure at the same time.
What's new in Zerto Virtual Replication 3.0?
Remote Office/Branch office (ROBO) protection with possibility protect installations with single vCenter only.
Capability to test a specific failover point before commiting it. It means you got 100% insurance that the failover will be a success. It uses a test-before-you-commit function.
Tighter integration with vCloud Director 5.1 – vApps, Storage Profiles, Org Networks, Provider VDC and more
Zerto Self Service Portal (ZSSP) – it's web based portal which integrates with existing customer portal.
Zerto Cloud Manager (ZCP) – to manage customer resources and service leveles across physical locations
VMware vCloud Automation Center (vCAC) Integration. Read more about VMware vCAC in my post here.
Recovery Reports – for easy auditing and reporting, there is a possibility to run reports for BC/DR.
See full details at Zerto's website here.
Here is a video presenting the Zerto's product:

A quick quote from the press release for the version 3.0 of Zerto:
Zerto Virtual Replication (ZVR) 3.0, which brings simple, automated disaster recovery to all virtualized workloads at the VM-level. Whether those workloads are mission-critical or tier-two applications; local or remote branch office scenarios; one VM or thousands; based in virtualized data centers or hosted in clouds, Zerto Virtual Replication offers 100 percent assurance that all workloads are protected and can be consistently recovered.
Zerto has also announced, during VMware PEX, new partnership with Iland.
Here is the full press release:
VMware Customers Now Have Cost Effective, Fully Automated Disaster Recovery in iland's Cloud
VMware Partner Exchange, Las Vegas – February 26, 2013 – iland™, the global cloud infrastructure provider and VMware® Service Provider Partner of the Year Global and Americas, today announced it has partnered with Zerto, rapidly becoming the standard for disaster recovery in virtualized and cloud environments, to deliver DR services in the iland cloud powered by Zerto Virtual Replication.
iland will offer a cloud-based Disaster Recovery (DR) solution that utilizes Zerto's award-winning hypervisor-based replication solution. This Disaster Recovery as a Service (DRaaS) enables customers to replicate vSphere workloads from customer premises to the iland vCloud- powered cloud for replication and automated recovery. iland customers using DR solutions powered by Zerto can easily replicate from a VMware vSphere environment to iland's VMware vCloud infrastructure without making any changes to their environments.
Zerto Virtual Replication was built to easily protect virtualized workloads in a fully automated, bi-directional manner with centralized, multi-tenant management of infrastructure for both administrators and customers.
"We are delighted to deliver DRaaS services that bring value to our customers," said Justin Giardina, CTO of iland. "The combination of Zerto's proven cloud disaster recovery solutions and integration with vCloud technology, along with iland's leadership in cloud-based DR offers the best possible solutions for customers wanting to achieve their DR objectives.  We are looking forward to working with Zerto to deliver a DRaaS solution that offers a cost efficient, transparent and secure method of providing automated, enterprise-class disaster recovery in the cloud."
"We are proud that iland, a leader in providing enterprise cloud services, chose to offer Disaster Recovery solutions from Zerto," said Ziv Kedem, CEO and founder of Zerto. "Zerto's seamless integration with iland's VMware vCloud powered environment satisfies the enterprise-class disaster recovery requirements of customers who are virtualized using VMware infrastructure."
About iland
iland Internet Solutions, VMware's Service Provider Partner of the Year Global and Americas, provides hosted cloud infrastructure services in North America and Europe that enable customers to leverage enterprise class infrastructure in the form of virtual datacenters with flexible billing and capacity models. Solutions include secure hosted environments for virtual servers and desktops, test and development, cloud-based disaster recovery, and hybrid cloud services to maximize the value of existing VMware based environments. For more information, please visit www.iland.com.
About Zerto
Developed exclusively for virtualized and cloud environments, Zerto is rapidly becoming the standard for disaster recovery and business continuity in the modern data center.  The company's award-winning solution, Zerto Virtual Replication (ZVR), is the industry's first hypervisor-based, virtual aware, data replication software, offering simplicity and greatly reduced operational and maintenance costs compared to legacy array-based replication. ZVR received 'Best of Show' at VMworld 2011, as well as 2012 and 2011 'Product of the Year' Gold Awards. For more information, please visit: www.zerto.com.