vCloud Automation Center – leverages vCD to provision applications to virtual datacenters. Multi Platform and Multi-cloud Service provisioning and management.
vCloud Automation Center in additon of vCloud Director, brings the automation and policies. VMware has announced new product for vCloud admins that enables to design, implement and orchestrate cloud workflows. The product is base on product called DynamicOps, previously acquired by VMware, but the vCloud Automation Center was completely rebuilt.
This part of the vCloud Suite enables for the organizations leverage what's called a Service Blueprint, which is kind of a Template which uses policies to tailor the cloud services for the need of the organization.
The product brings out of the box functions, which are adaptable and extensible, but leverages existing infrastructure to start with. It is user-centric and business aware governance. Multi vendor capability enables to manage workflows and virtualization offerings from other vendors. The vCloud Director is used to provide the deployment of vApps to virtual datacenters.
There is a vCloud API support and cloning support for taking clones from the vApp Catalog. The Suite has for role to provide a single self service portal for VMware and Non-VMware clouds.
The business users can request services, and the admin can use the policies and workflows to provision those services.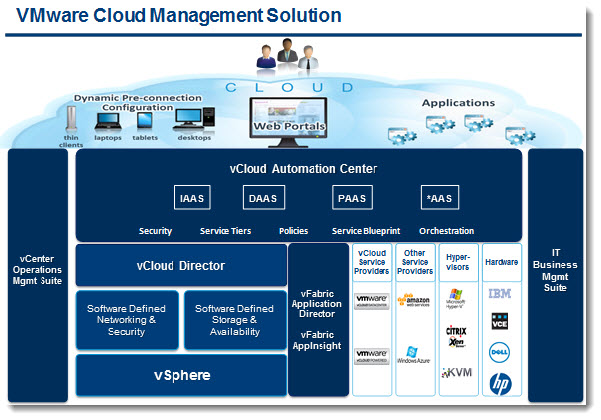 There are policies inside an organization, that are defined. All those policies which exists inside of an organization, like  – what users had access to which clusters which environments, how long the VMs should last. Which ways those VMs were provisioned etc etc…. Those existing policies got extracted by the vCloud Automation Center, and all this is put it into a blueprint.
The cloud blueprint is way of encapsulation of the user specific policies or machine provisioning against an infrastructure.
The blueprint is specific for a group of users, a types of provisioned operations that they perform and types of VMs that they'll creat, if they can use snapshots, which types of VMs they can use and what they can do with a VM (snapshots, power Off, power On etc…..)
And depending of the group of users (devs, production, desktops) they'll be sent to this or that cluster, to this vendor or that vendor (Amazon, Xen, Microsoft).
The end user sees a set of blueprints which they can view only.
You can see the view of that process on the image below.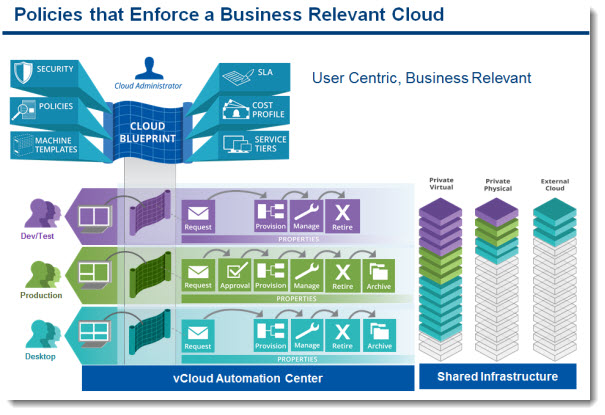 The process can be plugged-into existing infrastructure.
The IT admin gets full control of the lifecycle management on multiple different datacenters ( Amazon, VMware, Microsoft), to have the VMs being stopped at the same time no matter if the VM lives at Amazon, Azure or vCloud.
vCloud Automation Center Capabilities
–  Intuitive, consumerized and customizable cloud portal.
–  User and Organization Awareness (each user or group works in different context).
–  Multi Vendor Support.
–  Its a dynamically generated RESTful API which provides complete programmatic access and control.
–  Intelligent Resource Management (discovers exciting environment)
–  Built-in Automation (PowerShell, Bash)
There is also a development kit included, which provides the possibility for the admins to design and adapt their environment.
vCloud Automation Center – The Architecture
There is a front-end portal, vCloud automation center core and Distributed execution manager (DEM). Those DEMs can be multiple to scale up.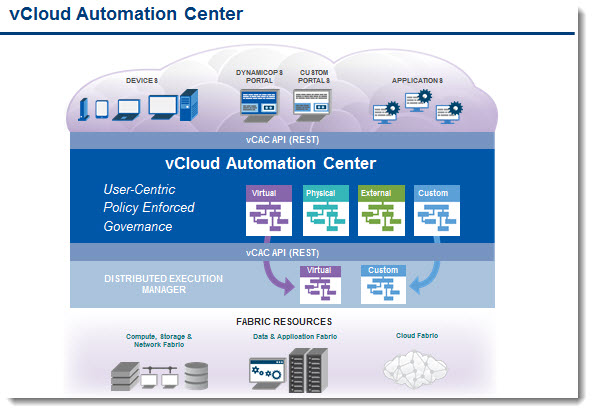 The product is tightly integrated with vCloud Director – in private or public service provider's datacenters.
The screenshot from the user interface when provisioning a vCloud Director vApp.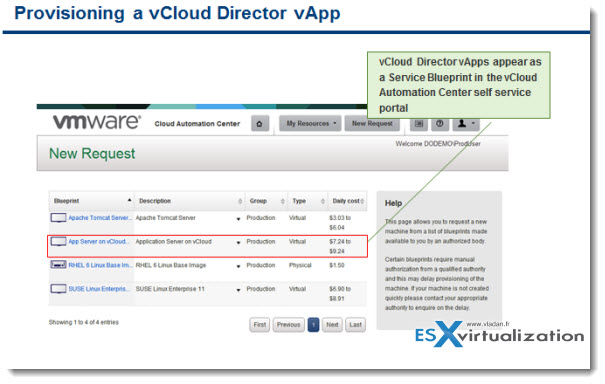 The vCloud Automation center policy management.
Define business groups, users which map to those groups, then you setup ressources reservations which are available to those users.For each set of users there are different reservations and assigned costs and costs profiles.
Those reservations comes from virtual, physical or a cloud resources  You have a possibility to define policy by which you fill those reservations.
The blueprint defines how the user get access to VMs and which VM he can Built, what he can do with that VM, and the whole lifecycle of that VM, including the approval process.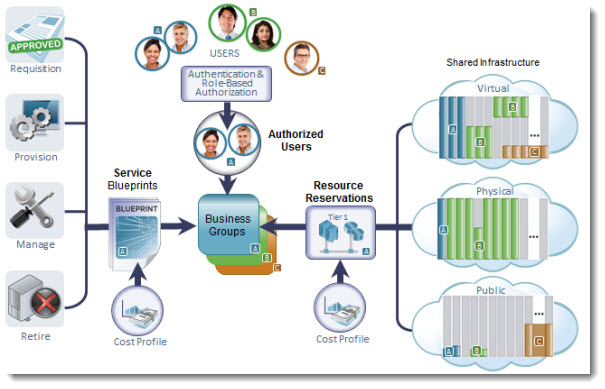 And here is few screenshots from how the resource maps to vCloud Director and vCloud Automation center. How all the pieces of the puzzle go together. Pretty nice.
The constructs from VCD maps to vCloud Automation Center (VAC). The Organization VDCs in VCD maps to Resource Reservations in VCA, and the templates inside the catalogs in VCD maps to Service Blueprint in VCA.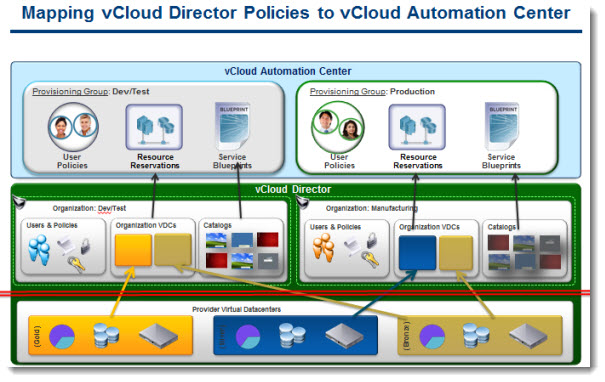 When creating the reservation, you can see that when you create the reservations, you map them directly to the virtual datacenter and also you get access to the networks that are available to those virtual datacenters. You can decide which user gets access to which organizational network.
You can see the mapping on the screenshot below.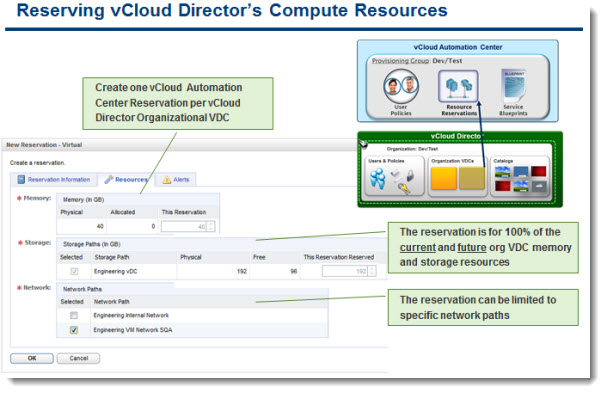 VMworld Barcelona 2012
vCloud Automation Center Introduced by VMware – this post