StarWind software is constantly working on improving its flagship product StarWind Virtual SAN. During the development cycle, they have experimented with LSFS, but finally preferred LSWBC which optimizes small random writes and is able to use RAM and an SSD pool to boost performance, and additionally eliminate completely the need for full-resync after a node failure. This post will be about Log-structured Write-Back Cache (LSWBC) by StarWind.
StarWind VSAN is very flexible as it allows you to use commodity hardware without purchasing costly all-flash array. PCIe SSDs becoming more and more common so why not leverage those and built a cost-effective hyper-converged solution based on 2 nodes only?
Ah, in case you don't know, StarWind has 2 nodes requirements where other competitors need three. And with two nodes you'll have high availability (HA). StarWind High Availability (HA) relies on redundant network links between the StarWind hosts to maintain storage resilience. Those links are used for monitoring and failures. If any of the nodes fail or stop processing requests properly, the failover is instantly initiated from the client OS/Hypervisor side.
StarWind Virtual SAN for VMware is now distributed as a Linux VM (VSA). By configuring the solution with pass-through disks, and pass-through NICs to achieve the best possible performance, StarWind VSAN creates from local storage, a shared storage pool.
Let's get back and talk about Log-structured Write-Back Cache (LSWBC). One of the things I like is the fact that it eliminates the need for full resynchronization after losing a node. So what happens is that basically, after repairing your node and bringing it back online, the system will check for the log disks and check if there is a match, it restores the data integrity. LSWBC journals latest snapshots, as such, it only needs to synchronize the latest fragments instead of the whole volume.
Quote:
StarWind VSAN writes data to the circular buffer in RAM, sequentializes its flow, and gradually flushes it to the log disk, a device formed out of a tiny portion of your storage. In its turn, the log disk sends data to the underlying storage where it eventually resides.

By developing a unique caching architecture, we eradicate any possible risk of data loss due to a blackout. Data retention time in RAM is so momentary that there's, basically, no data to lose! Additionally, there is a copy on the log disk that always survives as that device resides on the non-volatile memory.

Another nice thing about LSWBC: it eliminates post-blackout full synchronization. This technology allows tracking all the data generated by the virtual machines. If all of a sudden a node or entire cluster goes down, the log disk is the only place that nodes need to check to restore data integrity. No full sync is needed. Nodes just quickly match log disks and the cluster is good to go!
As you can see, the technology checks for the log disk and is able to restart its operations.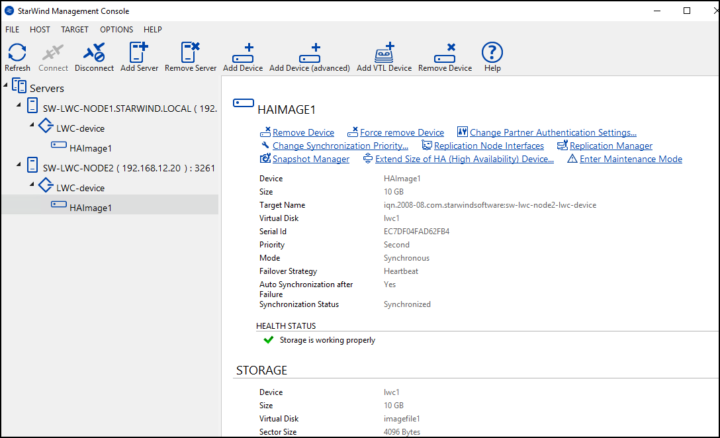 If you want to check for the full how-to configuration steps, I'd invite you to check this page here.
Worth to note that they also have a StarWind VSAN Free edition, which you can find here. However, the LSWBC feature is not in the Free version.
Final Words
StarWind Virtual SAN can ensure that your storage keeps being available for VMs within your cluster only with 2-nodes. The minimum number of hosts is two where most of its competitors need 3 hosts.
StarWind has also an internal heartbeat mechanism, which ensures proper storage path isolation in the event of synchronization network failures and prevents so-called storage "split-brain".
So the solution is a perfect fit for ROBO and SMB together with vSphere Essentials or Essentials plus license you will get a very performant and resilient platform for a reasonable cost without investing in costly hardware or SAN devices.
Log-structured Write-Back Cache (LSWBC) from StarWind makes this technology really cool and flexible with no need full resync, which is one of the main problems when you have a node failure.
More posts about StarWind on ESX Virtualization:
More from ESX Virtualization
Stay tuned through RSS, and social media channels (Twitter, FB, YouTube)