During VMworld Barcelona 2018 I also had a stop at Nakivo booth where Tatyana shared some insights from a new Beta Version of Nakivo 8.1. This release brings universal application recovery allowing you to recover objects from any application.
Another feature coming up is a Policy-based protection where you can set up policies and have the corresponding VMs protected automatically. (by CPU, by RAM, by OS, or by VMware Tag…) When you add VMs that match your specified criteria, NAKIVO Backup & Replication protects them automatically. You can currently download and test the 8.1 beta from Nakivo's website here.
Site Recovery feature announced previously, can via Site Recovery job, include any combination of the following steps: gracefully shut down source VMs, run a final VM replication, change replica VM IPs, connect replica VMs to appropriate networks, set the replica VM boot order, verify successful recovery, send email notifications, etc. All this is orchestrated via internal workflow.
Also, you can set-up tests of SR jobs and define recovery time objectives (RTOs) for recovery workflows and perform scheduled non-disruptive site recovery testing. The tests can verify whether site recovery can run successfully and whether the recovery process can be completed within the target time frame.
It was pretty crowdy all the time at the Solution Exchange, and it was not easy to get a free spot for a talk. I was fortunate enough to catch up with Tatyana Ivanchenko from Nakivo.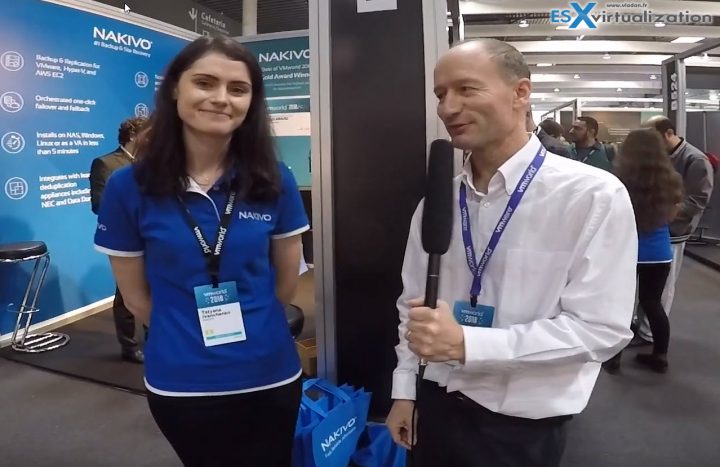 It's a very short interview where she talks about the present and the future. She also mentioned that Nakivo has won a Gold award at Las Vegas during VMworld 2018 US.
Quote:
"Best of VMworld 2018 US" Awards recognize the most innovative new products in the server virtualization, cloud, and end-user computing markets. An independent team of judges consisting of experts and editors from SearchServerVirtualization.com reviewed and evaluated 75 nominated products on display at VMworld 2018 US according to five important factors: innovation, value, performance, reliability, and ease of use. Winners were then named in seven categories.

NAKIVO Backup & Replication v7.4 was the winner in the Data Protection category.
Interview with Nakivo at Barcelona 2018 during VMworld.
With Nakivo you can instantly recover VMs, Microsoft Exchange objects, Microsoft SQL Server Objects, Microsoft Active Directory objects, and files of Windows-based or Linux-based VMs.
Their UI is web-based but fast and responsive. You don't need any plugins.
You can install Nakivo on Windows, Linux or deploy it as a virtual appliance (from OVA file). They can run on physical or as a VM, So they are pretty flexible. In addition, they support many NAS devices, where you can add the Nakivo app via the internal portals of Synology, Netgear, Asustor, QNAP, Western Digital. (On selected devices only). You can find the list of supported models at this page at Nakivo.
Nakivo Backup and Replication supports AWS EC2, Microsoft Hyper-V 2016, 2012(R2), 2012, VMware vSphere v4.1 – v6.7.
Check Nakivo Website Here.
More about Nakivo on ESX Virtualization:
More from ESX Virtualization
Stay tuned through RSS, and social media channels (Twitter, FB, YouTube)