Nakivo Backup and Replication v 8.0 Released. The product's highlight is a Site Recovery feature allowing you to create site recovery jobs (SR). Part of those jobs can be not only regular recovery or replication actions, but you'll also be able to orchestrate things around with for example gracefully shut down source VMs, run a final VM replication, change replica VM IPs, connect replica VMs to appropriate networks, set the replica VM boot order. Things which will execute automatically in the right order.
This adds quite another dimension and some "fine tuning" for your site recovery and DR processes. The site recovery feature will be part of the Enterprise version only, without additional cost.
Nakivo's development is pretty fast. Not so long time ago they released the 7.5 version which brought Data Domain Boost and VMware vSphere 6.7 support. Also in that release, there was newly enhanced an Advanced Bandwidth Throttling with a global rule for the whole environment, and (or ) also per-job limitations.
As you can see, the software vendor adds more and more features to their product with every release. Nakivo Backup and Replication v 8.0 is another major release.
Nakivo Backup and replication 8.0 – What's new?
Advanced Site Recovery – You'll be able to build a site recovery (via Site recovery jobs) to automate site recovery process. For example, a Site Recovery job can include any combination of the following steps: gracefully shut down source VMs, run a final VM replication, change replica VM IPs, connect replica VMs to appropriate networks, set the replica VM boot order, verify successful recovery, send email notifications, etc.
Site Recovery Testing  – Do tests of SR jobs and define recovery time objectives (RTOs) for recovery workflows and perform scheduled non-disruptive site recovery testing. The tests can verify whether site recovery can run successfully and whether the recovery process can be completed within the target time frame.
Single-Click Site Recovery  –  you can do a planned failover, emergency failover, failback, and datacenter migration in a single click. You can create a single recovery workflow for an entire organization or create multiple workflows for individual departments, branch offices, etc.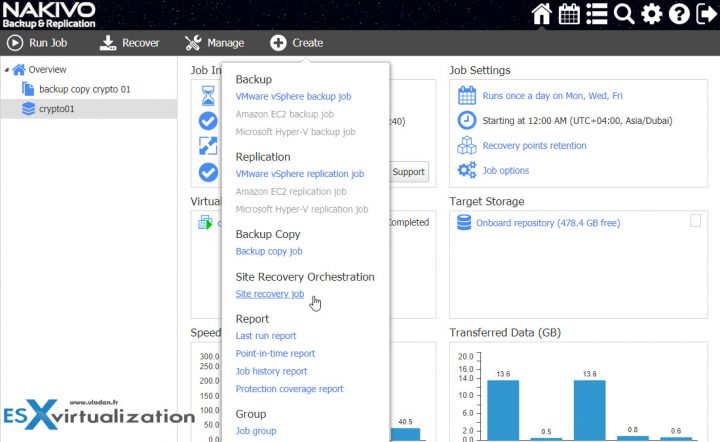 All-in-One Availability Solution – Use this solution for data backup, deduplication, granular restore, replication, and site recovery. All aspects of data protection and recovery can be managed from a single pane of glass and are covered by a single license.
TheSite Recovery feature is included in the Enterprise edition of NAKIVO Backup & Replication v8 without an additional cost.
While we put an accent for VMware vSphere users, worth to know, that Nakivo fully supports Hyper-V. In on of the previous releases they added, for example, a very important feature for Hyper-V admins.
In fact, Nakivo further enhances the Hyper-V backup and replication options by allowing to backup VMs which resides on clustered Hyper-V nodes.
Just a small reminder for those who do not know much about Hyper-V clustering. A Hyper-V Failover Cluster is a group of Hyper-V servers (nodes) that can use the live migration to move running VMs between nodes in the cluster without downtime. If one cluster node fails, its VMs can be automatically started on a different node of the cluster. Pretty much the same as VMware High Availability (HA).
We continue to monitor the data protection market with particular attention, for small businesses. Many companies in Europe and elsewhere are tiny in size, with limited resources, but they still need to protect efficiently their data. While many enterprise vendors can solve their problems with technical solutions, it's not always cost effective. However, there are still backup vendors which are targetting the SMB and vSMB (very small business) space.
The full press release is here.
Check Nakivo Website Here.
More about Nakivo on ESX Virtualization:
More from ESX Virtualization
Stay tuned through RSS, and social media channels (Twitter, FB, YouTube)