Nakivo 7.5 is a new major release. The title just simply cannot match what all features have been included in a new major release of Nakivo Backup and Replication 7.5. Of course that the vSphere 6.7 support is crucial and has to be shown in first place. VMware vSphere 6.7 has been here for a while, and backup vendors one after another are adding its support.
Nakivo can be deployed as a virtual appliance, installed on physical Linux or Windows Server, or on supported NAS device. Also, the 7.3 version has brought backup repository support for deduplication appliances (NEC Hydrastor, EMC Data Domain, HP StoreOnce, and Quantum DXi).
Nakivo 7.5 goes further and has support for EMC Data Domain Boost which Nakivo claims can Reduce Storage Consumption by up to 17X and Accelerate VM Backup.
Quote:
By using NAKIVO Backup & Replication along with the source-side deduplication of Dell EMC Data Domain Boost, you can perform VM backups 50% faster while reducing the size of your backups by up to 94%. This means that you can offload your network and save storage space at the same time.
Without further wait, let's have a look at what there is new in this release.
What's New in Nakivo Backup and Replication 7.5
vSphere 6.7 Support – The latest VMware vSphere 6.7 supported. vSphere 6.7 increases performance and adds several advanced features, including Enhanced vCenter Server Appliance, vSphere Quick Boot, Encrypted vMotion, and more
EMC Data Domain Boost – Nakivo and Data Domain Boost increases the speed of your backup jobs (up to 15x) and allows you to save storage space (up to 17:1) due to deduplication engine from EMC/Dell. Nakivo has been officially certified by EMC Data Domain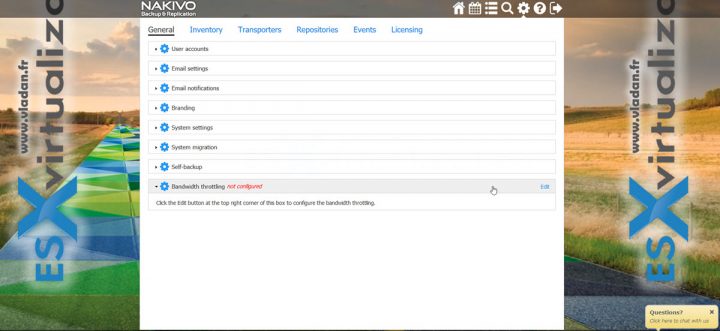 Netgear ReadyNAS VM Backup Appliance – Nakivo can be installed on Netgear NAS to achieve, according to Nakivo, up to 2x faster backup, and up to 10x storage space savings.
Advanced Bandwidth Throttling – you can now have a global rule for the whole environment, and (or ) also per-job limitations. You specify the amount of bandwidth used by data protection processes. Set up global bandwidth throttling rules for your whole virtual infrastructure or create them on the per-job basis.
Cross-Platform Recovery – Backup our VMware, Hyper-V or Amazon AWS VMs and chose the export format (VMDK, VHD, or VHDX). A truly portable solution for your VMs as you see. This can be used for different scenarios too, especially for archiving.
Other then that, if you look at the 7.5 release notes, you'll see that many minor improvements has been added as well. Those are smaller ones, but you can consider those as improvements of existing features, which end users asked for. For example to specify the IP address of the target server for File Recovery which now can be entered manually and many others.
Quote from the release notes:
NAKIVO Backup & Replication can be installed on Ubuntu 18.04 LTS
File recovery to a specific server was made the default option
IP address of the target server for File Recovery can be entered manually
Custom SSH port of the target server can be used during File Recovery
Hyper-V VMs created with Flash VM Boot can be migrated to production storage
VMs are seamlessly tracked across different Hyper-V inventory items
An ability to specify a certain start date for the job schedule was added
Maintenance end notification improved to be shown 60 days before maintenance end
Error messages for the File Recovery were extended
Performance of Hyper-V Transporter automatic selection was improved
VM templates are excluded from jobs automatically
Target host RAM requirements are checked more thoroughly
Temporary snapshot removal notification behavior was improved
Source VM is unlocked right after the temporary snapshot is removed
Nakivo Trial download.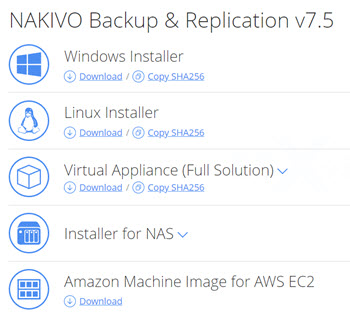 Wrap Up:
Another release for Nakivo which looks really good and packing some enhanced features. Bandwidth throttling on per-job basis is good too. It allows running jobs outside of a backup window, without creating an additional bottleneck on your internal LAN.
Trial Download of Nakivo is here. Release notes here.
More about Nakivo on ESX Virtualization:
More from ESX Virtualization
Stay tuned through RSS, and social media channels (Twitter, FB, YouTube)