If you think that every small business has virtualization, you're wrong. There is no point to virtualize 1-2 physical servers with 5-6 desktop computers. Better stay on physical. If additionally, you have to deal with Internet connexions problems and low bandwidth, you better keep the data on-site only.
Also, while security and integrity of data matter 100%, not every small business is willing to get exposed to the public cloud infrastructure, so more likely than not, they don't do cloud. They still prefer to keep their data on-site or at maximum have an offsite backup on rotating USBs or tapes. At the end of the day, they still probably use their apps designed to run on Windows OS.
I'm talking here about very small businesses with needs that are less than 10 workloads. Small shops like this might have one physical server which handles authentication via Microsoft Active Directory (AD) and access to a couple of shared folders on the server. Additionally, there might be some company app running on the server as well (I know that most of the time, a single server with RAID-1 on site is more than enough).
The backup strategies however have to be adapted to small infrastructure, but provide enough security and possibility of quick restore. So a backup server that can store those backups on the local hard drives is often necessary so you're able to restore your workloads quickly. Nakivo Backup and Replication FREE edition can fit into this scenario as the main limitation is the number of workloads that can be backed up is restricted to ten.
You can protect 10 Workstations or 10 servers and those can be physical or virtual. Nakivo Backup and Replication can easily backup the physical workstation that your accountant is using to manage the company's accounting software. Those are often critical data that should not leave the LAN and shall be always backed up. Incremental backups can be scheduled to run on a daily basis automatically.
You can deploy Nakivo pretty much everywhere, even on a NAS device. Also, as a pre-configured VMware or Nutanix AHV VA or Amazon Machine Image (AMI). As mentioned, on NAS device, you do a 1-click deployment on ASUSTOR, QNAP, Synology, NETGEAR, FreeNAS and WD NAS. 1-click Windows installer. 1-command Linux installer. The Free Edition of NAKIVO Backup & Replication includes licenses for 10 workloads and 5 Microsoft Office 365 accounts and is absolutely free for one year!
Free Edition of Nakivo – the Features
Native, image-based, application-aware backup for VMware, Hyper-V and Nutanix AHV VMs, Amazon EC2 instances, Windows/Linux physical servers and workstations. SaaS backup for Microsoft Office 365, Oracle backup via RMAN.
Incremental backups with native change tracking technologies (CBT/RCT/CRT). You can exclude swap files and partitions, global backup deduplication, source-side deduplication with HPE StoreOnce Catalyst, adjustable backup compression.
AN-free data transfer, network acceleration. Up to 2X performance when installed on NAS.
Instant recovery of VMs, files, and application objects (Exchange, Active Directory and SQL); automated VM failover and failback; near-instant P2V recovery.
Instant verification of VMs backups and replicas; store backup copies locally, offsite, or in the cloud (Amazon S3, Microsoft Azure or Wasabi). Use S3 Object Lock to ensure that your backups are immutable and protected against ransomware.
Free vs. Trial Version of NAKIVO Backup & Replication
NAKIVO Backup & Replication Free Edition contains all the features and functionality of the Pro Edition, with a limit of ten machines. The 15-day trial version includes Enterprise Edition features with no capacity limitations.
All I can really see as a limitation is the 10 instances, and 5 Microsoft Office 365 accounts during one year.
What you don't get with the FREE Version of Nakivo?
Site Recovery – the possibility to orchestrate a full site recovery.
Policy-based data protection – allows automating the data protection of your environment, based on policies.
Active Directory Integration – allows you to simplify users management
HTTP APIs
Callendar Dashboard – easier job scheduling
Global Search – search through web-based UI for all objects within your inventory
Multi-Tenancy – allows you to set the software for Backup as a Service (BaaS) or DR as a service (DRaaS) for your clients.
How about growth?
If the company you work for as backup admin grows up and more workstations/laptops are added to the list of systems that needs to be backed up, then you can upgrade the free version into a full version to lift any restrictions. You don't have to reinstall the software, but instead, you just change the license file.
Additionally, with paid edition, you also get support, which is important, in case you're in a difficulty.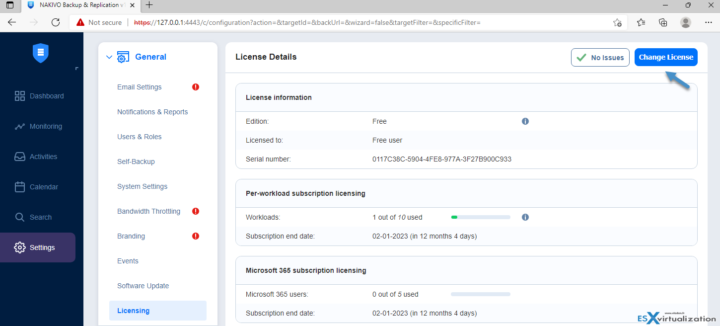 Usually, the admins that are working within an SMB are people which usually do have other job functions within the company. So maintaining the backup infrastructure via backup software shall be easy. That's the case with Nakivo where you maintain the infrastructure up to date via a simple button where you can check if there is a new update. Th UI is fast and responsive.
You don't have to go there every week to check things out because Nakivo shows you an info message within the dashboard, that a new version has been released. All you have to do is then go and do a 1-click update.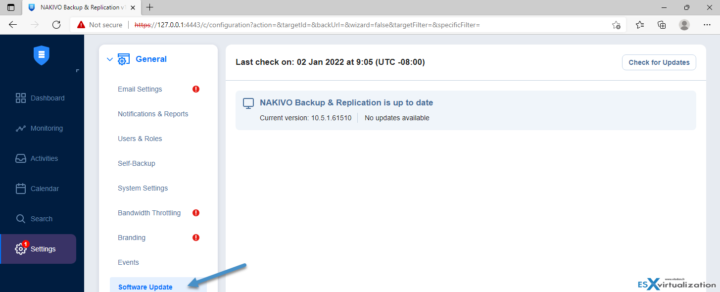 The free edition has the same configuration options when it comes to data integrity and data verification. You can check Run full data verification on schedule check box (not checked by default).
There is also another checkbox which is interesting. This is the Detach this repository on schedule (limit the impact of ransomware).

Restore Options
The free version has no really different restrictions overall. You can restore individual files or full VMs. If you're backing up physical servers or laptops, then you should know that you can export the backup file as a virtual disk (VMDK, VHD or VHDX).
This is interesting. Imagine that your coworker has had his laptop stolen. You can recover his system quickly by exporting into VHD file. Let's say that your backup server runs on Windows. Simply install a Hyper-V role on this server and you can recover your coworker's laptop backup as a virtual machine to allow him to work temporarily by setting a RDP connection to this VM.
You then have time to acquire a new laptop, pre-configure, and restore his files from the backup backup.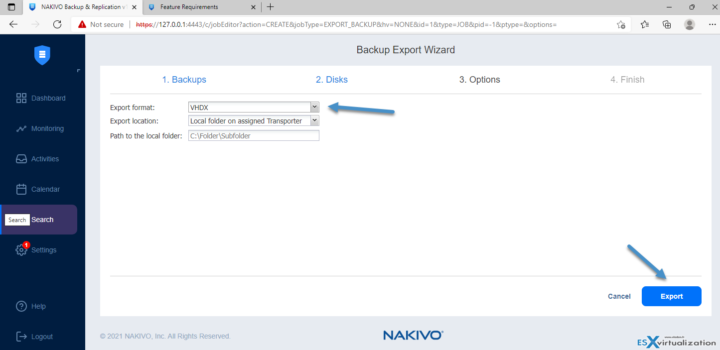 So even if your company does not necessarily use virtualization, by quickly installing a hyper-v role on your Windows server you can be ready very quickly for an occasional disaster, even when running only on a Free edition of Nakivo.
Backups off-site
you can use the Backup copy job to create a secondary copy of your backup which will be stored on a USB drive, or on another media or private cloud storage. This is important as your primary site can get hit by ransomware and malware can possibly also wipe all your backups. So having a second set of backup disconnected is a must those days.
Sure, it takes a little more effort with the management of handling backups offsite but that's the way to stay protected. In the same way that we have to deal with COVID, we have to deal with ransomware! You cannot risk the integrity of your data so a little more effort is necessary.
Thoughts
The FREE edition has a good value if you don't have many systems to protect. As I said, very small shops that don't have many server(s) or Workstations to protect.
Download trial:
You can download NAKIVO Backup & Replication Trial and or FREE version.
More about Nakivo on ESX Virtualization
More from ESX Virtualization
Stay tuned through RSS, and social media channels (Twitter, FB, YouTube)