Nakivo has released another solid update of their flagship backup and replication product. We have reported don't the public beta shared about a week or so, but now the GA Is now already available.
The new release brings some innovative new features allowing you to monitor your resources without leaving the backup console and also use immutable backups (one could also say undeletable backups). An immutable backup is a backup file that can't be altered in any way.
Nakivo also brings a hardened virtual appliance that allows you to create immutable backups (that you cannot delete) as a part of the local repository. It means that you don't have to have cloud storage supporting immutability (AWS, Azure …) in order to use it and protect yourself from ransomware attacks.
In case you'll get hit by some ransomware and this will start some damage on your network, the backups will most likely stay untouched because they are immutable.
Nakivo also brought new VMware monitoring which allows some basic monitoring of your infrastructure.
VMware Monitoring 
This feature allows you to track the CPU, memory, and disk load/usage for VMware vSphere hosts and VMs. NAKIVO Backup & Replication can also monitor disk usage for VMware vSphere datastores.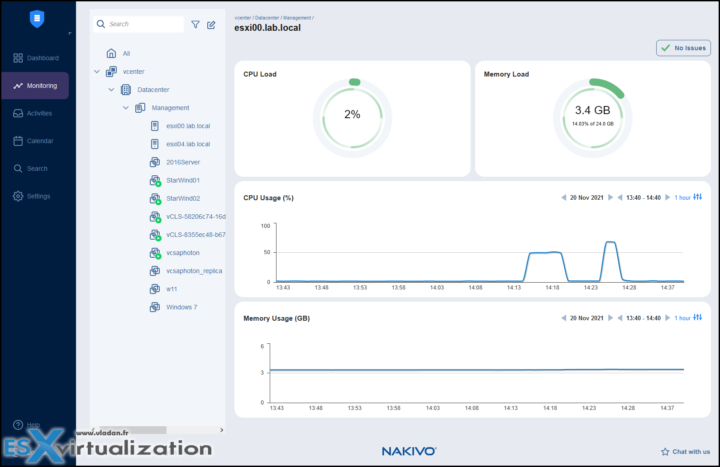 Hardened Virtual Appliance
This functionality allows you to create immutable backups in Backup Repositories deployed as part of a virtual appliance. The immutability cannot be unset by any user or process. This provides an additional level of security for your backups.
Other Nakivo 10.5 Features
Auto-Set API Permissions for Microsoft 365 Accounts – NAKIVO Backup & Replication can now automatically check and set the required API permissions for Microsoft 365 accounts before adding them to Inventory.
Backup of VM Templates – NAKIVO Backup & Replication can now back up and recover custom VM templates to and from VMware vCenter or ESXi hosts.
General Tab Facelift – This update also brings a new, more intuitive user interface to the General tab in Settings.
Improvements
The solution can now display full license information, including a full licensing model breakdown and used/licensed workload details.
More consistent format for alarms and notifications.
Improved two-factor authentication for Active Directory users.
Improved tree UI component for easier management of large item sets.
Backup copy jobs now skip data unpack/pack if the source and target Backup Repository share the same type and compression.
The solution more easily identifies backups with corrupted recovery points.
Enhanced tracking of virtual machines in Microsoft Hyper-V clusters during job runs.
Data unpack is now skipped for new backup copy jobs. A mapping run is required to apply the improvement for existing backup copy jobs.
Support for Asustor ADM 4.0.
How to configure and use Immutable backups?
In fact, the local Linux appliance is used for backups. The product allows you to make the recovery points in these repositories immutable. With immutability enabled, the recovery points are stored using the write-once-read-many (WORM) model. Immutability adds an additional layer of security to backups by protecting recovery points from encryption by ransomware or accidental deletions/modifications.
The immutability is configured during the creation of the backup job. It's not at the repository level itself.
So in fact, you don't have to configure anything when using the local folder type repo.
The backups are stored on a local folder-type backup repository. In the case of deployment as a VMware virtual appliance, there is an onboard repository of 500Gb preconfigured. If you don't have enough capacity, you can obviously add other repositories by deploying a transporter and then add backup repository.

And then use the Settings > Transporter > Deploy new Transporter > VMware vSphere appliance. The solution starts do be downloaded from the internet….

Once done we can create a new backup repository.
Create Backup Repository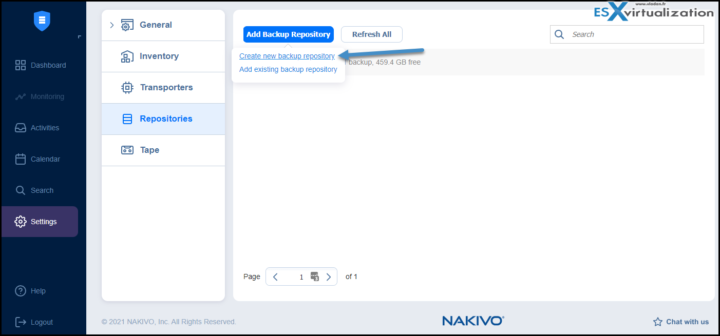 pick Local Folder type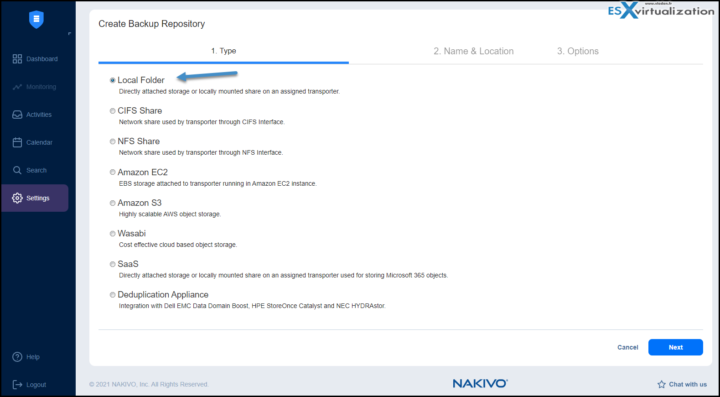 Put some meaningful name for the repo and choose the second transporter (transporter2) that we have just deployed… (via drop-down menu)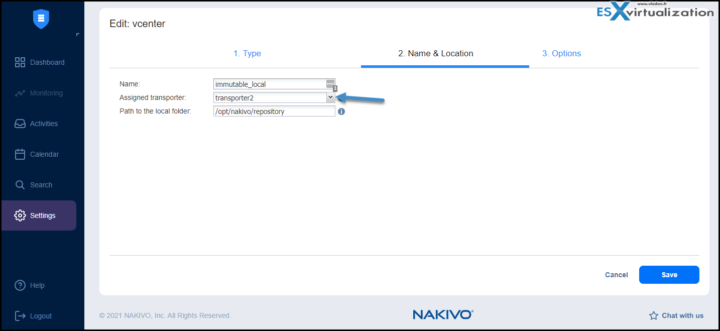 Then enter the /opt/nakivo/repository path as suggested in the "Path to local folder" field.
You have some options that might be useful. Pick the one you need.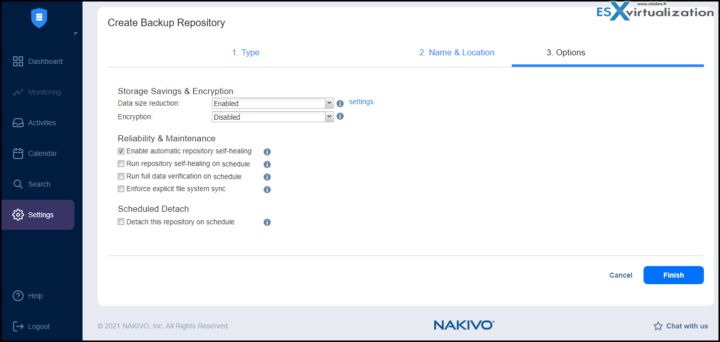 With the Local Folder type of Backup Repository, immutable recovery points cannot be overwritten, deleted, or changed by anyone except the root user before the specified period expires.
When Local Folder type of Backup Repository is deployed as part of a VMware vSphere or Nutanix AHV virtual appliance, NAKIVO Backup & Replication provides an even higher level of anti-ransomware protection.
You can make recovery points stored in this type of repository immutable, and the immutability cannot be lifted or changed by anyone, not even the root user.
Nakivo Backup and Replication can be deployed as a virtual appliance with those VA deployment options:
Full Solution
Full Solution without Backup Repository
Transporter-only
Transporter with Backup Repository
Multi-tenant Director
So after downloading the Transporter with Backup Repository, we can add it to our backup server. The transporter is just another VM with some storage. We need to deploy Transporter as VMware Appliance.
Download trial:
You can download NAKIVO Backup & Replication Trial.
More about Nakivo on ESX Virtualization
More from ESX Virtualization
Stay tuned through RSS, and social media channels (Twitter, FB, YouTube)