I passed by the SanDisk booth and saw Rich Petersen for an interview about FlashSoft which is a caching software for VMware vSphere based workloads. We were talking about Flash acceleration and the benefits to use server side flash installed in servers in order to accelerate the workloads running on existing storage SAN devices. This topic is really hot and there is several compagnies which provides different solutions.
SanDisk was usually know ans a OEM manufacturer of flash devices for consumer market but they also do cover enterprise market. But most importantly, they actually have server side caching solution which allows the acceleration of workloads which run on the SAN.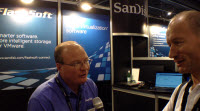 Their solution is called FlashSoft and provides integration into ESXi. It's a kernel module which brings very little overhead to the host. The compatibility with vSphere up to vSphere 5.1 for now, but they will announce the vSphere 5.5 compatibility in the weeks to come. They support all VMware clustering features like HA, DRS, Storage DRS, vMotion, SVMotion…
SanDisk FlashSoft software details:
No Agent in Guest VM – Remove the configuration challenge, additional overhead, and security concerns associated with agents running in each VM.
Low Resource Utilization – FlashSoft scales to support very large numbers of VMs without increasing CPU or memory requirements which stay at 3-5 % of overall CPU and 140MB of RAM no matter how many volumes or VMs are accelerated.
Dynamic Cache Allocation – FlashSoft automatically optimizes cache usage per VM, assigning cache space dynamically as new VMs are added. No need to adjust existing VMs.
Cache Persistence – Cache content is preserved in the event of VM restart or host reboot. Cache metadata is restored in milliseconds allowing VMs to be accelerated immediately without waiting for another "warm-up".
Cloning Support Enhances VDI – Separate acceleration for bases and clones. Golden image content is not duplicated across caches, conserving SSD space and I/O throughput.
VMware vCenter™ Plug-in – A standard plug-in to vCenter allows the management of FlashSoft functions directly through a vCenter GUI. No need to dedicate another server or VM to manage the FlashSoft cache software.
Full Support for VMware features – VMware features such as HA, vMotion™ and Storage vMotion are seamlessly supported by FlashSoft.
Here is a short video I took when I visited the SanDisk booth at VMworld Barcelona 2013. Interview with Rich Petersen who works as a director of software marketing at FlashSoft Product team.
VMworld Barcelona 2013 coverage:
The article was published first at ESX Virtualization website. Feel free to subscribe via RSS or by e-mail to get the latest news to be delivered via weekly newsletter.