I've met Poojan Kumar at the PernixData booth to do a quick interview. Readers of my blog knows well PernixData as a Server side caching solution from some articles and interviews where I showed the UI and talked about the benefits of server side caching as an incredible performance boost for users and administrators wanting to "boost" their existing SAN workloads by adding local flash devices to ESXi hosts.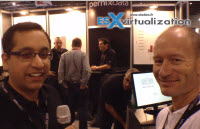 PernixData allows that with a possibility to accelerate those workloads by bridging the gap and brings the path to the data much closer to the VMs so you existing SAN can suddenly deliver more IOPs.
FVP has two different packaging. You'll find more details on PernixData website. The technology? How it works in a nutshell?
FVP creates a pooled flash layer which allows to write to locally attached SSDs before sending those writes to the back-end storage. Check out my article PernixData FVP in my lab, where you'll see the details on architecture and many screenshots from the UI. You can also read my Interview with Bala Narasimhan from PernixData  – FVP – Server Storage Pooled Flash by PernixDATA.
Here is the video from VMworld Barcelona, interviewing Poojan Kumar – the PernixData CEO.

VMworld Barcelona 2013 Coverage:
The article was published first at ESX Virtualization website. Feel free to subscribe via RSS or by e-mail to get the latest news to be delivered via weekly newsletter.
PernixDATA website: www.pernixdata.com