VMware VCAC 6.0 has been announced during VMworld Barcelona 2013. vCloud Automation Center is automation product for cloud infrastructures, which allows through policy based blueprint, an automatic delivery of multi-tier applications or rather services, based on a catalog. Those services are self-service based and offers to the IT provide to through the catalog, a personalized services which can be consumed by the users.
VCAC product can automate the deployment of workloads for different physical or virtual platforms, or Cloud infrastructures provided by Cloud services providers, vCloud hybrid service by VMware and Amazon Web services:
vSphere
Hyper-V
Citrix Xen
Red Hat
OpenStack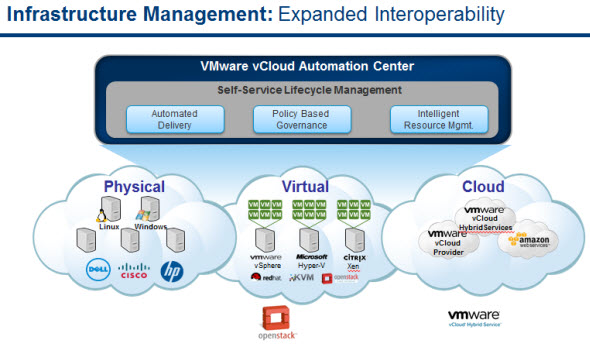 vCloud Automation Center 6.0 – Deployment of applications with their dependencies!
VCAC 6.0 enables to deploy applications with their dependencies. It means that by specifying in the blueprint what's the topology of such an application, the IT manager can prepare ahead how the application will get deployed and which components will be part of the application (it's kind of vApp, where the web server sits on one VM and DB on another server…. etc…). An Application Director is used for this process. You can see a screenshot from the UI of the Application Director below: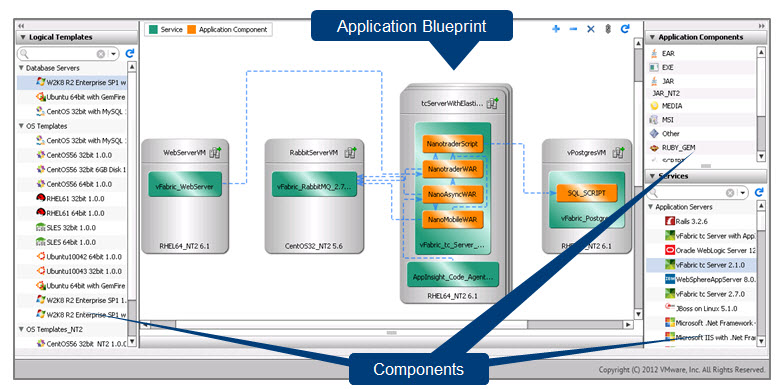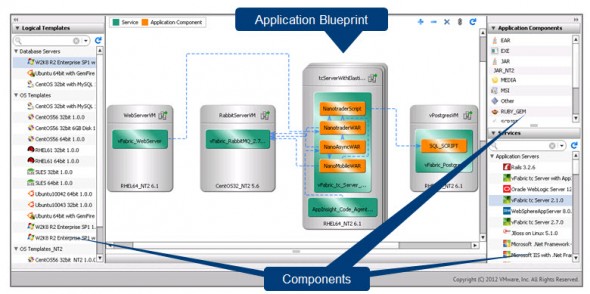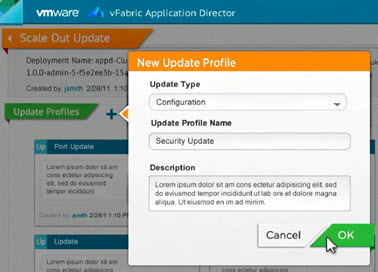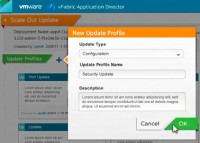 There is much less manual steps as much of the process is automated. The components of the blueprint are reusable, so there is no need to re-create them over and over again.
The blueprint act as a template, where the applications are then deployed in exactly the same way each time the blueprint is called. No differences or miss-configurations as in manual process.
The deployment process are stored in profiles so any changes that comes in can be integrated into app deployment profile and those changes are reflected on the blueprint and during the automated deployment.

If there is a problem found, there is a possibility to do a rollback as you can see on the image bellow….


vCloud Automation Center 6.0 capabilities:
Re-using application blueprints for provision consistent environments across hybrid clouds
Promote or roll-back consistent changes across environments (AWS, vSphere, vCloud Hybrid services)
Multi-tenancy
Using policies to govern environments
Automating application release process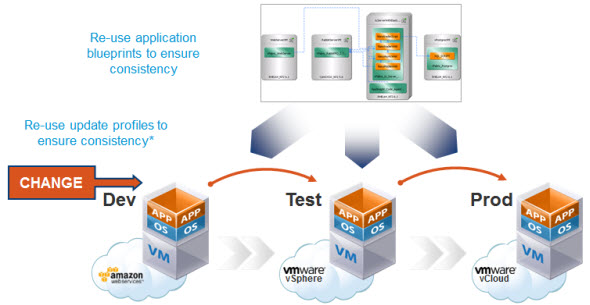 Promote updates to different Deployment Environments – e.g. promoting an update from Dev to Test
Update promotion applies to application deployments of the same application
Notifications about available "promoted updates" will be available allowing deployers to decide whether or not to apply the promoted update
Puppet Labs Integration
There is over  1000's of out of the box modules which comes with Puppet Labs. Those modules can be used in vCloud Automation Center to describe configurations of OS, networks and storage, middleware components and applications. Those modules were created by a very active Puppet "Forge" marketplace community. Puppet Forge modules can be combined with well-tested Services and multi-machine Blueprints available from Cloud Management Marketplace. This enables businesses to build comprehensive multi-machine Blueprints using pre-built modules to simplify automation efforts and ultimately they increase agility.
Configurations tend to drift over time and Puppet provides capabilities to maintain the desired state of configurations through drift analysis and remediation. This complements the vCAC governance and lifecycle capabilities to increase the level of control throughout the lifecycle.
Lastly, Puppet as well as vCAC supports heterogeneous environments such as hybrid clouds. Customers have the flexibility to deploy any service into any destination.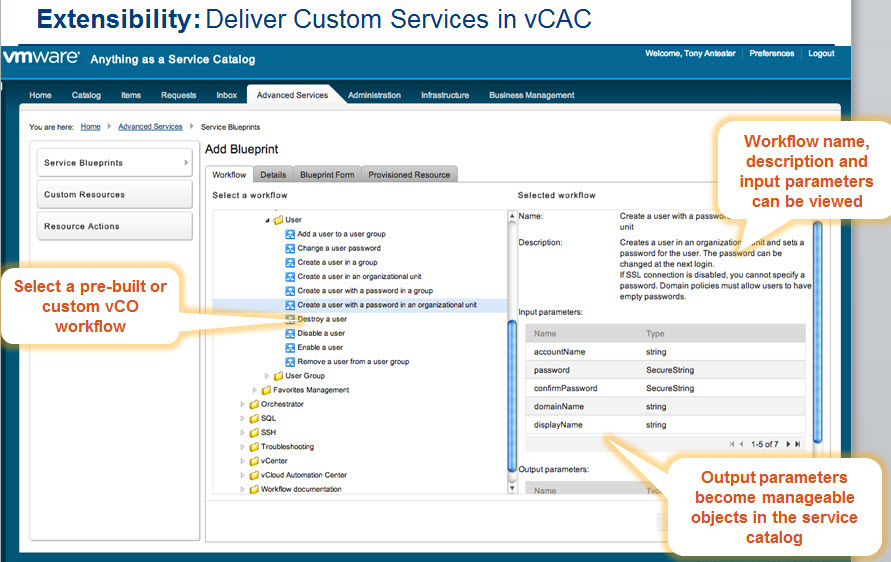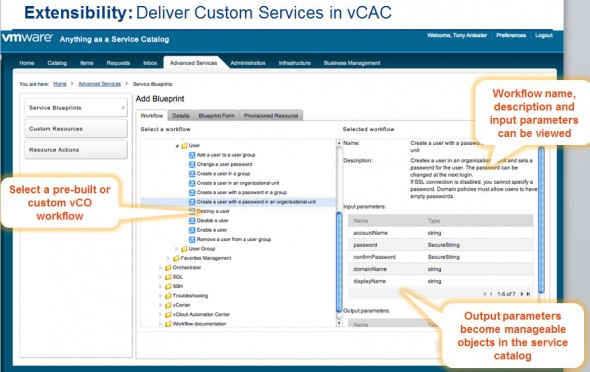 VMworld Barcelona 2013 coverage: