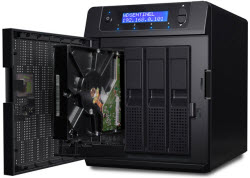 I've passed by the WD booth to see their latest baby – a quad core Xeon server DS6100 which can be loaded with up to 32Gb of RAM. There are WD Se enterprise-class 3.5-inch hard drives offering up to 16 TB, which handles the storage and two additional boot drives configured in RAID 1 (mirror). The device is destined for the SMB market and preinstaled with a Microsoft Server 2012 Server R2 Essentials and uses storage spaces, but as a VMware and virtualization guy, my interest was actually to have a possibility to install ESXi hypervizor and run vSphere…-:).
The DS5100 and DS6100 provides dual gigabit Ethernet ports and dual external DC-in power adapters. Both systems come with four 3.5″ drive bays for data storage, the DS5100 supports 4TB and 8TB configurations while the DS6100 supports 8TB, 12TB and 16TB of data.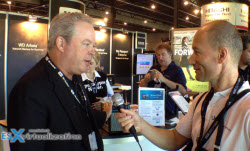 I was talking to the vice president Tom Gallivan during VMworld Barcelona 2.13. He gave me some more details about those devices. I really liked the small factor and build quality of the device.
WD has also other offers in their NAS line, especially the one which is pre-packaged as a "backup server". So you get the hardware + software for backups, in single box. WD has actually recently acquired software company called Arkeia, which does backup appliances. So it completely makes sense to have hardware device including with pre-installed Arkeia backup.
While I'm not sure if the hardware is (or will be) on VMware HCL support for ESXi, it could be a nice small factor home virtualization server as you can easily wipe the Microsoft OS and replace it with ESXi.
Here is the interview I took during VMworld Barcelona 2013.
Here is the product Datasheet (PDF).
VMworld Barcelona 2013 coverage: