vCenter Log insight is quite a young product in the VMware product line, which got introduced through my article – Easy Install, clean Interface…vCenter Log Insight. The product allows collect, analyse and search logs and unstructured, machine generated data.
vCenter Log Insight 1.5 gets tighter integration with VCOPS and it's optimized for VMware environments with built-in knowledge and native support for vSphere. You have probably read about newly announced VCOP 5.8, but if not check it out.
vCenter Log insights offers new caching queries which results lower CPU utilization and consumes less IOPS.  On the image below you can see the new version.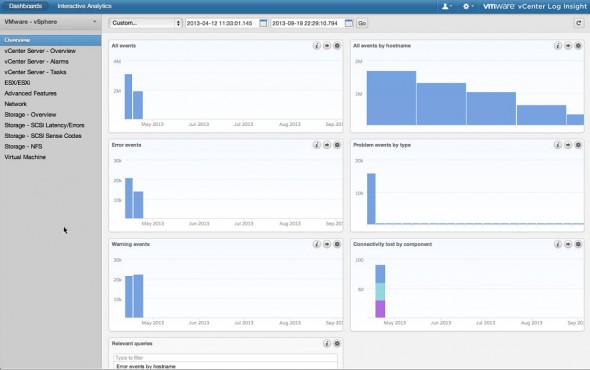 Benefits:
Reduces troubleshooting times and simplify security and compliance management
Has enterprise-wide visibility
Integration with VCOPS allows cloud ops manag. solution
Content Management:
Content packs section – easier to read and navigate, provides dashboards. VMware has added metadata (icons, version, author, website, description). By default there is vSphere content pack which has a vCenter server and ESXi hosts alerts.
You can edit content packs – now it's possible to import it into your user space > edit > export then with the changes.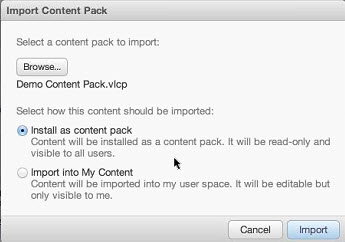 Updating fields – if you saves an extracted field, which is a way of adding structure to your unstructured events, you use that extracted field in a query. This query can be saved to the dashboard. You can export it as a part of a content pack. By changing definition of an extracted field you can update any pre-existing dashboards or saved queries that used the extracted field.
Query Widgets – from the UI can be used too, in addition to charts widgets.
Drag and drop – content on the dashboard can be rearranged with drag-and-drop.
Content packs are also provided by partners from Solution exchange:

Administration:
Better monitoring – new and better system monitor page
Upgrades from UI – new appliance page
Active directory support – user and group access control
Configure ESXi from UI – now part of vSphere integration. Configure ESXi script (available from UI) – utility to configure ESXi to send the logs from ESXi and vCenter to the vCenter log insight.
Other enhancements:
Unique cont function – number of devices which sent logs to the log insight
Performance improvements – caching, which requires less CPU and IOPS
vSphere content pack is better with – revamped
The initial configuration and administration of the appliance as well as upgrades are now done only from the UI, where previous version needed some CLI configuration first.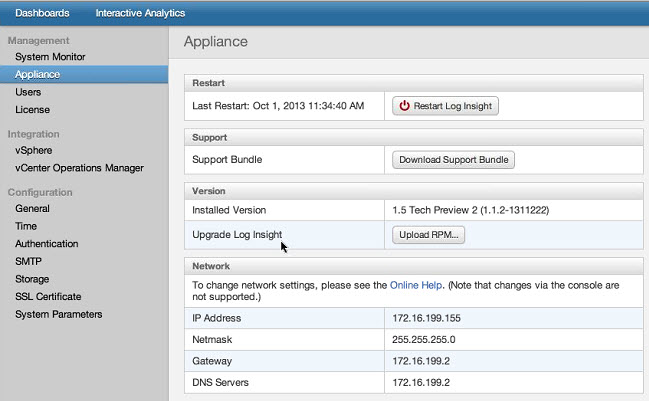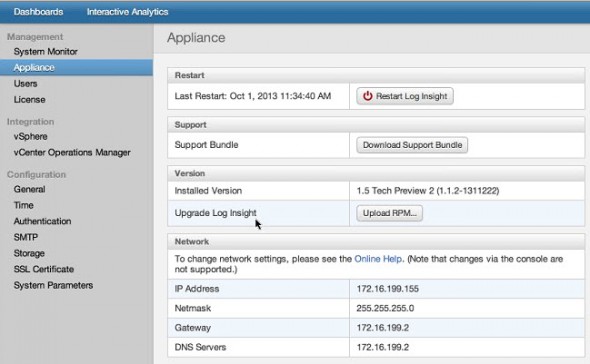 The Integration to AD is done through the administrative section as well.
To try and download vCenter log Insight:
https://www.vmware.com/products/vcenter-log-insight/
VMworld Barcelona 2013 coverage: