VMware has announced vCenter Operations Management Suite 5.8. (vCOPS 5.8) The product isn't available for download yet (shall be out mi-november), but we already know what's new in vCOPS 5.8.
vCOPS 5.8 uses intelligent operations with policy-based automation, where the automation engine is self-learning and regulates and drives remediation actions continuously.
Intelligent Operations – capacity managment optimization, machine learning incidence avoidance and resolution, dynamic thresholds
Policy-based Automation – self-learning automation engine, automated policy enforcement
Unified Management –  converged management (server-storage-network), other hypevizors (Hyper-V, OpenStack)
vCOPS Management Packs for MS Applications
Together with vCOPS 5.8 VMware will release vCOPS management packs for MS applications. Those management packs allows deeper visibility to health of MS applications and the relation to the underlying infrastructure and other applications components.
So you'll see the application health and then if problems, you can see what's the cause. If its an infrastructure problem or application problem.
The management pack in 5.8 has many things that works out of the box without further configuration:
Built-in monitoring policies for common applications that include default metrics, thresholds and alerts.
Automatically discover applications components, their dependencies and connections to the underlying infra.
Pre-configured dashboards with predefined applications specific dashboards.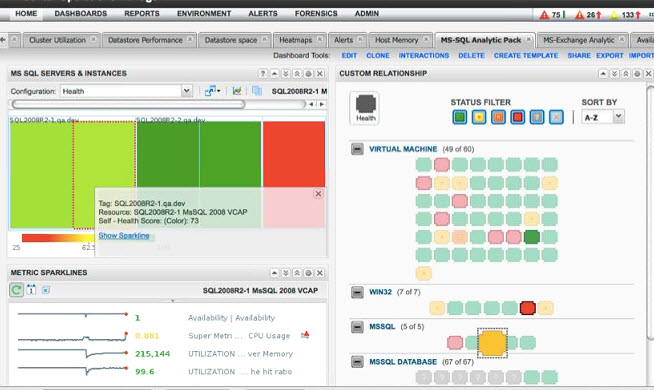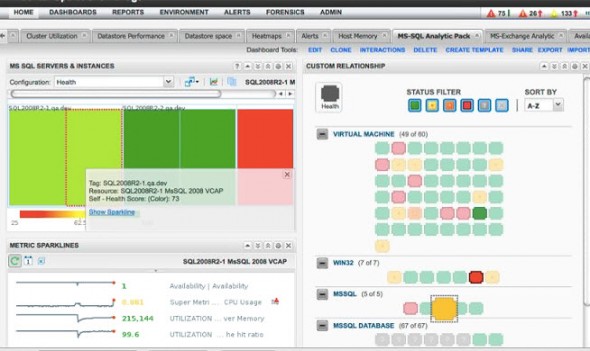 There will be more coming, not only MS applications, but other applications as well.  As for now there is a:
MS SQL Server Support
MS Exchange Server Support
The visibility is able to see the health according to clusters (MSCS & DAG), servers and instances. The services and topology are allowing to display roles, relationships and relation to virtual infrastructure (Hyper-V and vSphere).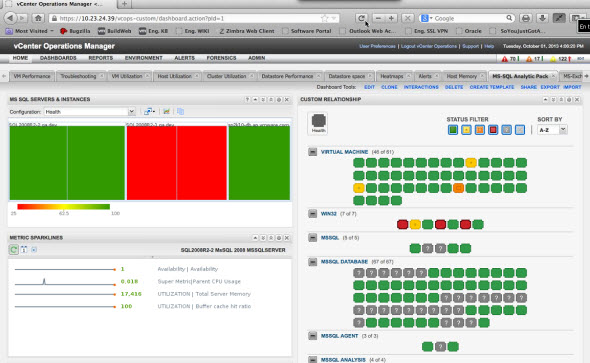 New Storage Analytics
vSphere admin with can get end to end view to the physical storage infrastructure without the need to ask the storage guys for questions. The storage analytic shows HBAs, Fabric and arrays through three OOB storage dashboards. Brings more information to the admin without necessity to digging deep and gather the information by hand.
The admin can see if there are issues at the:
Topology – through hierarchical view by going to HBA > Fabric > Array. See the hotspots to figure out why there are slowdowns in VMs execution. Shows details (fabric name, links speeds…)
Stats – throughput and latency at the HBA and Fabric level. IOPS and queue depth at the HBA.
Faults – admin can get an alerts for availability problems, config changes or errors. CRC errors, link loss errors, sync loss errors in the path between HBA and array. Also I/O exchange timeout, LUN resets…
We can see a datastore overload in this example.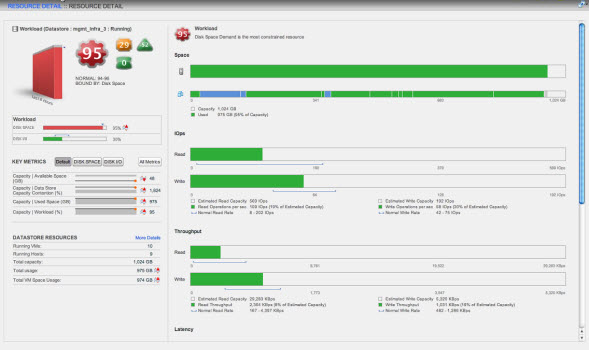 Hyper-V and AWS Support
It'll be possible to monitor Hyper-V server and also Windows Hyper-V. It uses vCenter Hyperic and Hyperic Management Pack. The Hyper-V host is discovered via Hyperic agent which gets deployed and also other Hyper-V hosts in the infrastructure.
There is out of the box dashboards, with Top 25 like CPU, Memory, Disk IOPS, network..  There will also be the possibility to see that host is in maintenance mode (via SCOM maintenance) or see Hyper-V events.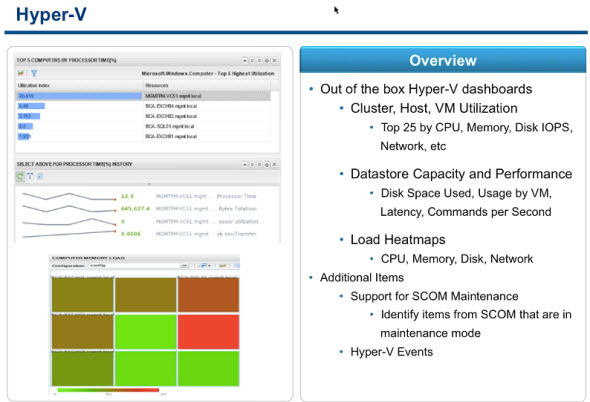 VCOPS 5.8 will be able to plugin to SCOM or to vCenter Hyperic to get metrics.

Customer who is using Microsoft SCOM can use SCOM Management Pack to get informations from Microsoft SCOM. The customers without SCOM can use vCenter Hyperic to gather informations from the virtual infrastructure to the VCOPS 5.8.
Amazon AWS
There will be Amazon Management Pack which will pulls data from AWS cloudwatch through REST API. You'll be able to pick service which you would like to monitor. The supported services are:
EC2 instances
Elastic Block Store volumes
Elastic Map Reduce
Elastic Load Balancing
Auto Scaling Group
Monitoring EC2 instances – You'll be able to monitor EC2 instances by pulling some default metrics from Cloudwatch, to import AWS alarms as VCOPS hard threshold violations.
Grouping by region – AWS has 8 regions globally, so it's possible to subscribe to specific region, and there will be Region drive dashboards.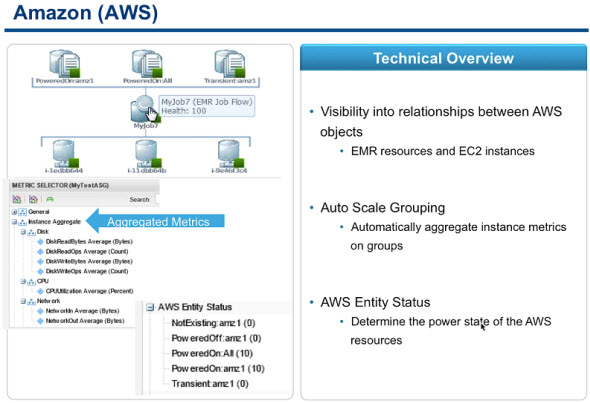 vCOPS 5.8 Packaging
4 different editions of VCOPS 5.8. Hyper-V and deep dives into application support are all in the advanced edition. The enterprise edition has the application level visibility.
You can mix and match. You can take enterprise, and for some VMs take advanced license.  Many of the management packs are free of charge, also partners are providing those management packs for free. There is also many management packs available Online through the Solution Exchange with all the others virtual appliances.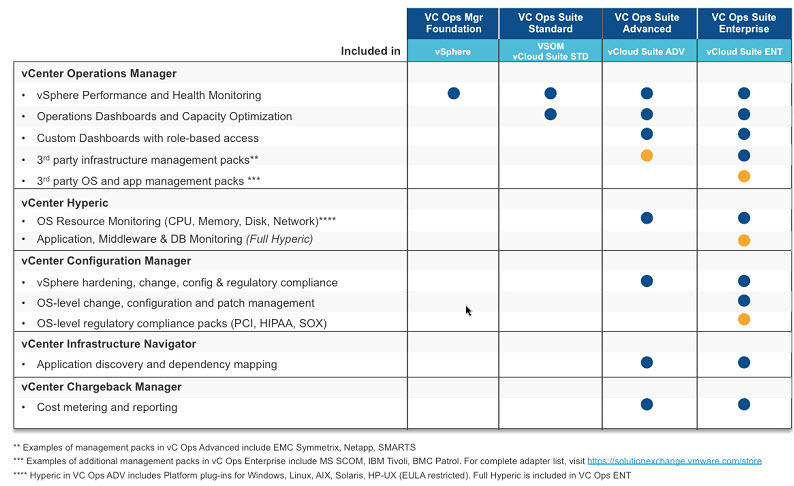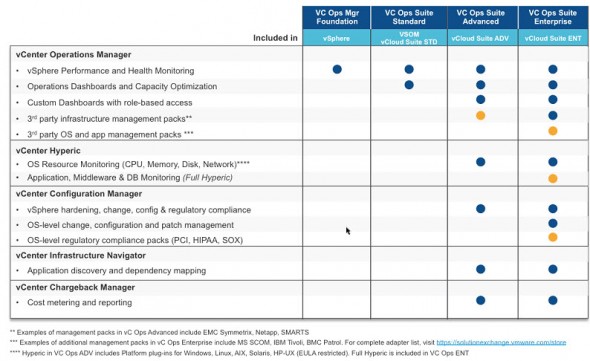 VMware is changing many things in the cloud product offerings. Some product's functionality will merge with other product. For example, in Q4, the vCloud automation center will include some capabilities from vCloud Director and also further vSphere will inherig some of the capabilities of VCD like fencing in future releases.
But, I'll report on this in another article when all the info will be available.
VMworld Barcelona 2013 coverage: