I went for a quick chat with Rick Vanover (@rickvanover ) and Anton Gostev (@gostev ). We were talking about the new features that came in with the new v7.0 release. Veeam 7.0 Video interview follows the article. I've finally had the chance to tell Anton that I like his weekly Veeam's newsletter, because its un-formal and direct. He often unveils tips or tricks from the forum that helps to understand how the product should behave in some situation, or tips on using it. For example the using backup copy jobs and removable USB drives requires a registry key to be added. The Veeam's forum is the place to visit.
One of the very long awaited features was the long awaited tape support. It's good that Veeam listens to its customers and finally added tape support as it was feature that missed in Veeam product when comparing to other legacy products that has been around before virtualization has kicked in. I asked about more details, for example usually when using for medium or larger businesses, there are tape libraries used.
They told me that tape libraries are fully supported in v 7.0, where Veeam manages the pools etc.. and that it was a very important to the customers that those tape libraries are handled by Veeam 7.0.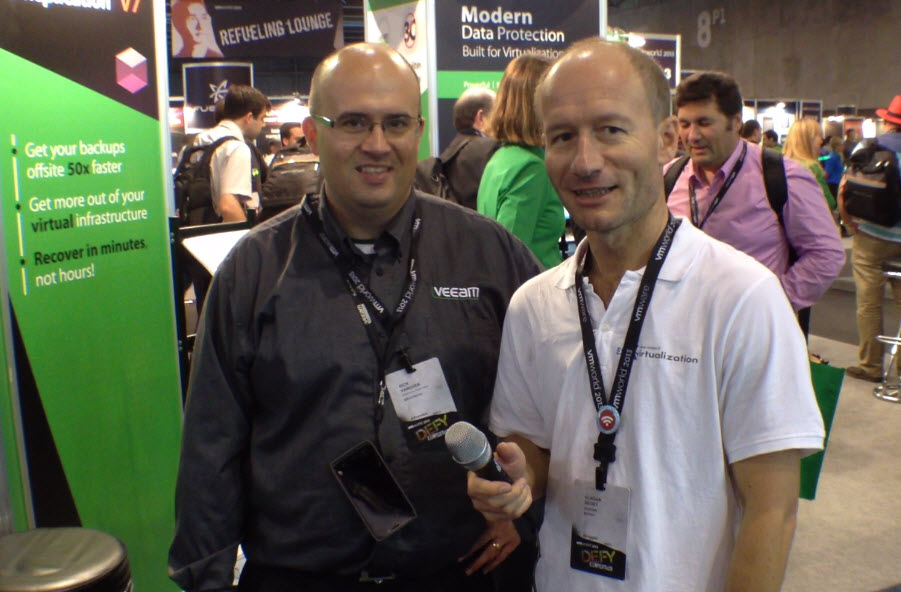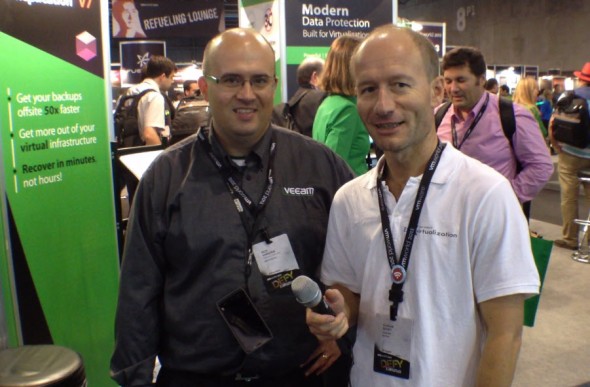 My favorite (or one of the favorites) features is the parallel VM processing in single job. They said that the the new compression engine they start to use in the v 7.0 is for something….. I've recorded quick video with Rick where he is briefly invoking the features that I already reported before VMworld.
The Veeam 7.0 Features:
vSphere Web Client Plugin – enables to monitor backups through vSphere web client. See screenshot on the right
1 Click Restore with self-service recovery – self-service for authorized users to search, and, with a single click, restore files (and VMs ) from within your backups
Check out my post 75 Enhancements in Veeam 7 – Plus the new features!
The v7.0 will be announced to be compatible with vSphere 5.5 in a near future, with the release of Patch 2 (currently there is patch 1, which fixes some small isues. Check Veeam's website for a download). Veeam has been also waiting for final release of Hyper-V server, to announce the compatibility. The Hyper-V server was released GA just few days ago.
VMworld Barcelona 2013 coverage:
The article was published first at ESX Virtualization website. Feel free to subscribe via RSS or by e-mail to get the latest news to be delivered via weekly newsletter.