During covid-19 times many employees are working from home on company infrastructure servers (RDS) and applications via VPN. But there is another way of working remotely and I'm sure many of you know. It's a virtual desktop infrastructure (VDI). Perhaps covid-19 will finally make The Year of VDI happen? StarWind VDI a Home Office offer is based on StarWind Hyper-Converged Appliance (HCA) which is basically a pre-installed system ready for a "plug-and-play".
The StarWind HCA is since recently All-Flash Only which is a good move to get the performance it needs. What you get is basically a pre-configured and pre-installed system based on virtualization layer (VMware or Hyper-V) with StarWind Virtual SAN (VSAN) providing shared storage. To complete the VDI package, you can choose from Microsoft RDS or Citrix XenApp.
StarWind VSAN is fully resilient against hardware failure and with only 2-nodes you get a great value packed in. Why 2 nodes only where competitors need 3 nodes? Good question. StarWind uses an internal mechanism to sync data across those two nodes and doesn't need a third host which usually acts as Witness and runs a tiebreaker code.
StarWind HA uses redundant network links between the StarWind hosts to ensure storage resilience. Like this, you have a fully fault-tolerant storage cluster with just two hosts. It completely eliminates the need in physical shared storage since StarWind Virtual SAN mirrors the internal resources (internal SSD disks and RAM) between the servers. RAM is used for caching too, together with SSD.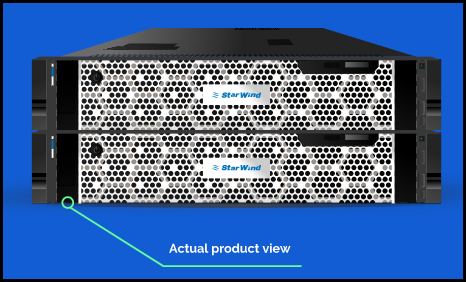 For VMware, StarWind Virtual SAN is distributed as a Linux VM (VSA) with pass-through disks, and pass-through NICs to achieve the best possible performance. Coupled with SSD only hardware you can rely on a good performance that can be leveraged by typically hungry VDI based workloads.
Check the VDI and Home Office from StarWind here.
The solution is monitored via StarWind Command Center which is part of the whole package. StraWind command center is quite a new product which allows web-based monitoring from a single console.
Quote:
StarWind VDI & Home Office offers Enterprise ROBO, SMB & Edge an affordable solution that allows creating highly available and disaster-resistant VDI/RDS plug-and-play infrastructures that are "fire-and-forget." Our Engineers pre-configure, test, and deploy the solution, as well as help with migration. Your staff will be able to work remotely and productively from their homes safely — no downtime.
If you're new to VMware Horizon you should know that remote workers can have dedicated virtual machines (VMs) or get a new VM each time they login via Horizon client. VMware linked clones technology allows you to save space where from an optimized desktop image you creating VDI pool with linked clones and saving significant storage resources.
Check the VDI and Home Office from StarWind here.
More posts about StarWind on ESX Virtualization:
More from ESX Virtualization
Stay tuned through RSS, and social media channels (Twitter, FB, YouTube)