I don't think that I have to re-introduce StarWind company to our readers. Their software solutions were simple but effective for many years. Hyper-converged infrastructure (HCI) solutions are also provided by StarWind and since this year they are also present in the Magic Quadrant by Gartner. Gartner's study says that "StarWind VSAN offers a high level of customizations through its engineering teams".
StarWind VSAN uses locally attached disks in 2 or more hosts and creates shared storage which is then presented as an iSCSI datastore for connection from the nodes. It leverages caching via RAM, SSD to accelerate the workloads and provides high availability (HA) for the storage pool via redundant network channels.
So you could actually "build" an HCI solution with many different hardware parts that would not necessarily be compatible with other HCI solutions such as VMware VSAN requiring for example storage adapters with large queue depth and their presence on VMware HCL for VSAN.
StarWind is very customizable and can use either hardware RAID or software raid (via MDADM or ZFS) and pass-thru disks. Even NICs are configured via passthrough to maximize performance.
All these different customizations, however, has some drawback too. Someone who is inexperienced with StarWind VSAN product won't achieve the best possible performance. So the setup is most likely better to be done with Starwind engineers. There is nothing wrong with that as at the same time StarWind will guarantee the performance and provide Proactive support. You have a choice between a free solution StarWind VSAN Free and paid with support.
Quote from Gartner:
StarWind develops HCI and SDS solutions. StarWind's HCI offering is the StarWind HyperConverged Appliance (HCA). StarWind first started shipping an HCI solution in 2009. The vendor also enables hardware-agnostic offerings with its StarWind Virtual SAN (VSAN) HCI software and sells a backup appliance, the StarWind Virtual Tape Library Appliance (VTLA). StarWind has honed its marketing focus to bring enterprise-level HCI features to the small and medium enterprise market at appealing costs. Over the past year, StarWind has introduced its Command Center, Virtual Appliance and ProActive Premium Support Extended as enhancements to its HCI offerings.
StarWind has been expanding its channel partner relationships outside of its base country of the U.S. to grow business in EMEA, Asia/Pacific and Japan. The StarWind HCA primary use cases are edge, mission-critical, core IT, VDI and cloud. StarWind focuses on specific features for each use case like high availability and high performance for edge, storage replication to prevent downtime and data loss for mission-critical workloads, and simplicity and flexibility for core IT.
StarWind's Advantages:
Low-cost solutions with high availability, StarWind offers either a single cluster of two physical on-site nodes or one physical on-site node and one virtual node in the cloud.
For IT leaders seeking specific features and functions, StarWind offers a high level of customization through its engineering teams.
StarWind's NVMe over Fabrics (NVMe-oF) support for Windows Server uses significantly less compute resources than nonfabric NVMe solutions for Windows
End of quote.
StarWind VSAN console (Windows) which you can install on your management server or laptop.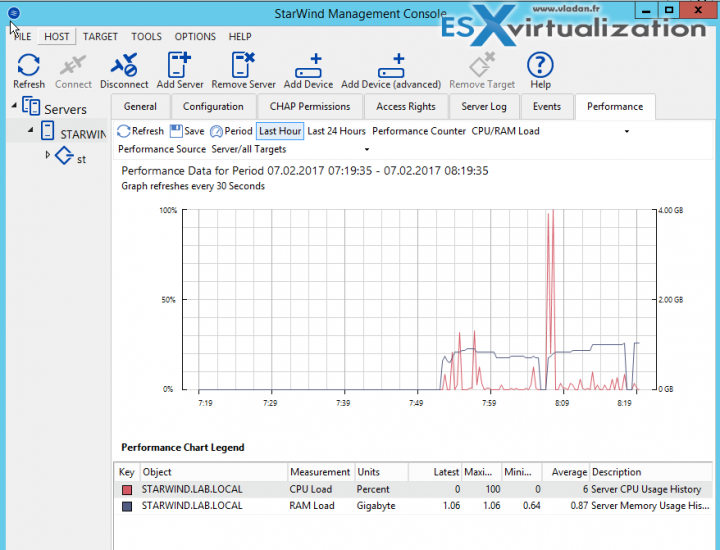 The main benefit of StarWind's solution? – StarWind high available (HA) storage
When one hardware node fails, the other one provides still connectivity and storage. StarWind has an internal heartbeat mechanism, which ensures proper storage path isolation in the event of synchronization network failures and prevents so-called storage "split-brain".
It completely eliminates the need in physical shared storage since StarWind Virtual SAN mirrors the internal resources (internal disks, RAM or SSDs) between the servers. Once StarWind iSCSI targets are connected to all cluster nodes, the HA devices are treated as local storage by both hypervisors and clustered applications. Fault tolerance is achieved by providing multipath access to all storage nodes.
Heartbeat Failover Strategy from StarWind.

StarWind Stretched Cluster
StarWind also supports a stretched cluster environments. Here is an example of StarWind 2-Node running on VMware vSphere. There are some network requirements. Each iSCSI and Synchronization network channel throughput should be at least 1Gbps (10Gb Recommended).
The maximum supported latency for StarWind synchronous storage replication should be 10ms round-trip time (RTT). The maximum supported latency between the ESXi ethernet networks should be 10ms round-trip time (RTT).
Final words
Interesting that StarWind also proposes a configuration where 1 node is on-prem and the second node in the cloud. Your own datacenter takes fire, you and your employees can still work off because you can restart your VMs in the cloud.
The storage replication has the data already in the cloud, so if vSphere HA do not automatically kicks in you simply register and start the VMs on one of the cloud hosts and you can be up and running without much effort.
StarWind VSAN for VMware uses Linux VSAs which are deployed as an OVA template.
More posts about StarWind on ESX Virtualization:
More posts from ESX Virtualization:
Stay tuned through RSS, and social media channels (Twitter, FB, YouTube)