It's been a while since I have finished the re-edition of our FREE VCP-DCV on vSphere 8 Study Guide, but as some edits were still ongoing and then our sponsor took also some time for finishing the edits on their end, it seems that it took a while. The wait is over and now, the VCP-DCV on vSphere 8 FREE Study Guide Released – Get Your Copy Now.
We have our VCP-DCV on vSphere 8 Study Guide Page being updated with the links and images. The Free study guide will help you to prepare to pass your VMware VCP-DCV Exam. (Exam 2V0-21.23), which has 70 question and is 135 min of long. Passing score is 300, as for all VMware exams of this type. VMware exams are scaled on a range from 100-500, with the determined raw cut score scaled to a value of 300. Your exam may contain unscored questions in addition to the scored questions, this is a standard testing practice. You will not know which questions are unscored, your exam results will reflect your performance on the scored questions only.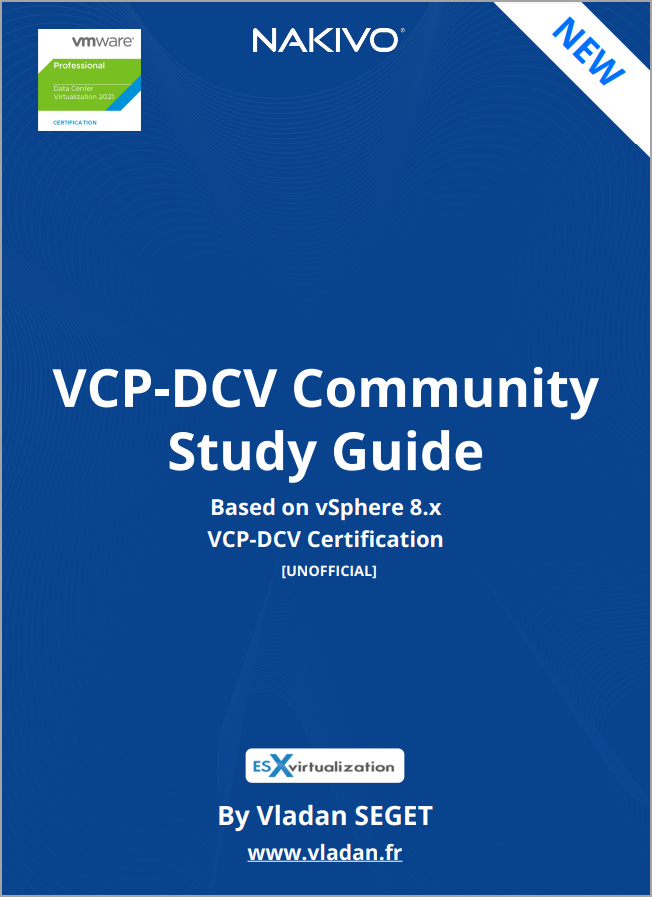 The price of the exam is $250.
*****************************************************************************
VCP-DCV on vSphere 8 FREE Study Guide Released – Get Your Copy Now
*****************************************************************************
At the moment you can still pass the exam based on the vSphere 7. VMware will be retiring this possibility by the end January 2024. When you do, you'll get VCP-DCV 2023 title.
Note:

I know it would seems strange to pass the exam on the older product, but VMware gives you this possibility, and all I can say, there is less material to study. We do have VCP-DCV for vSphere 7 study guide page too so in case you want to go this way you can still do so. On that page you can download your FREE VCP7-DCV study guide too.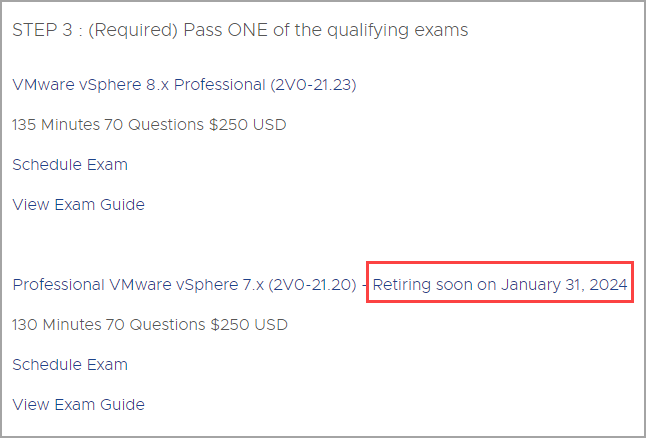 My thoughts
I have passed several VMware certification exams in the past, including VCP, VCAP-DCA, VCAP-DCD….  To be able to successfully implement, deploy, manage and troubleshoot VMware vSphere installations, you can't take VCP for granted. You must study further and pass another level, which is VCAP. I  passed a VCAP-DCD and VCAP-DCA.
If you think that by cheating exam questions is worth it, I'd laugh. It's not. The knowledge you get is pure gold. I know that there is a lot a lot of work to do, studying, learning, then "labbing" things through, but that's all we like while in this industry, right? If you're in the IT and don't like what you do, then change orientation and do something else. The IT is a continuous study.
FAQ:
Why does the VCP-DCV 2023 have a year designator as its version?
Data Center Virtualization solutions are frequently updated.  Having a year as its certification version allows VMware to better maintain the exam and training content, and more importantly, provides certification candidates to communicate how current their skills are in relation to other certifications.
I have attended the latest course (V7) but taken older version VCP-DCV Exam (2V0-621/2V0-622)
If you have taken one of the qualifying V7 courses and passed the older 2V0-621 or 2V0-622 exam you will be required to pass the latest Professional VMware vSphere 7.x (2V0-21.20)  exam to earn the VCP-DCV 2023 certification you are pursuing.
Check the official VMware VCP-DCV 2023 exam guide (blueprint) here.
***********************************
VCA | VCP | VCAP or VCIX exam vouchers
***********************************
VMware Learning Credits – Learning Credits provide the dual benefit of funding a well-trained IT staff, along with discounts options of up to 15 percent. Customers can schedule training when and how they need it. Customers can buy credits at the time of license purchase or as a stand-alone purchase
***********************************
More posts from ESX Virtualization:
Stay tuned through RSS, and social media channels (Twitter, FB, YouTube)