VMware has released a new update for vCenter Server Appliance (VCSA) 8.0 U1a. Together with this patch for vCSA, there is also patch for ESXi 8.0U1a as well. The release notes show all fixes that came out with this new update.
Product Patch for vCenter Server containing VMware software fixes, security fixes, and third-party product fixes. In fact, this release fixes some important upgrade issues that were occurring during upgrades.
VMware vCenter Server 8.0 Update 1a delivers a fix for a vCenter upgrade issue due to a rare race condition. This patch is the base vCenter Server Bill of Materials (BOM) version for VMware Cloud Foundation (VCF) 5.0. For vCenter systems without a VCF environment, this patch is optional. In the rare case of encountering the issue, see VMware knowledge base article 92462 or the Resolved Issues section.
Additionally, VMware is giving you some workarounds where fixes aren't available.
Example below:
VMNICs might be down after an upgrade to ESXi 8.0.
If the peer physical switch of a VMNIC does not support Media Auto Detect, or Media Auto Detect is disabled, and the VMNIC link is set down and then up, the link remains down after upgrade to or installation of ESXi 8.0.
Workaround: Use either of these 2 options:
1. Enable the option media-auto-detect in the BIOS settings by navigating to System Setup Main Menu, usually by pressing F2 or opening a virtual console, and then Device Settings > <specific broadcom NIC> > Device Configuration Menu > Media Auto Detect. Reboot the host.
2. Alternatively, use an ESXCLI command similar to: esxcli network nic set -S <your speed> -D full -n <your nic>. With this option, you also set a fixed speed to the link, and it does not require a reboot.
Screenshot from the lab shows the latest update of my VCSA.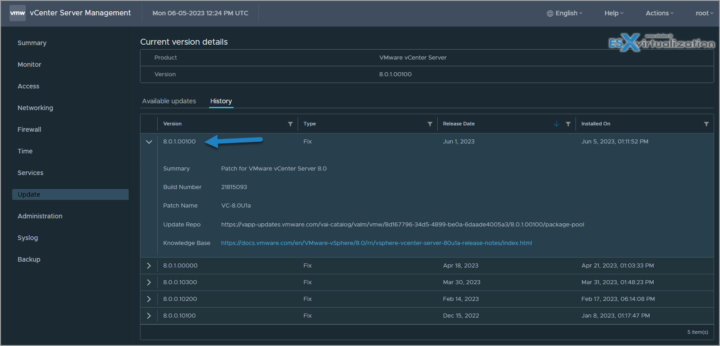 To apply the latest patch, login to vCSA via port 5480 (ip_of_vcsa:5480) by using root login and password > Update > Check Updates > Then Click the Install button.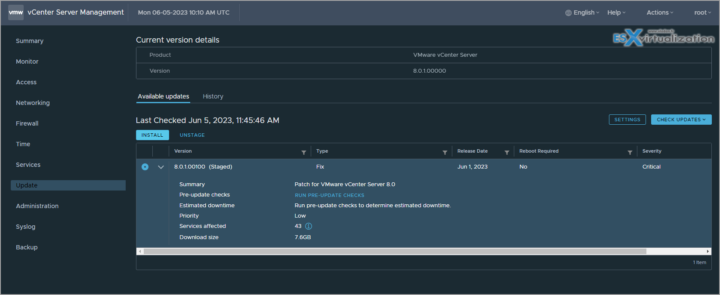 Accept the EULA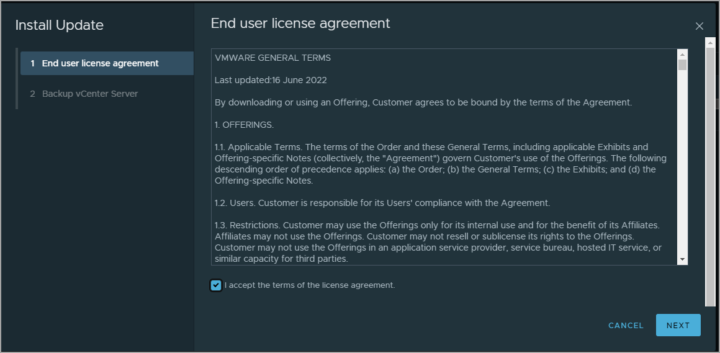 Check the box that you have backed up your vCSA (have you?)

Release notes of VCSA 8.0U1a is here
Download Filename: VMware-vCenter-Server-Appliance-8.0.1.00100-21815093-patch-FP.iso
Build: 21815093
To patch your ESXi hosts, the best is to do via the vCenter server and use vSphere Lifecycle Manager. Depending on your environment, either use the "baseline" based aproach. First select your cluster > Updates > Check compliance.

then click remediate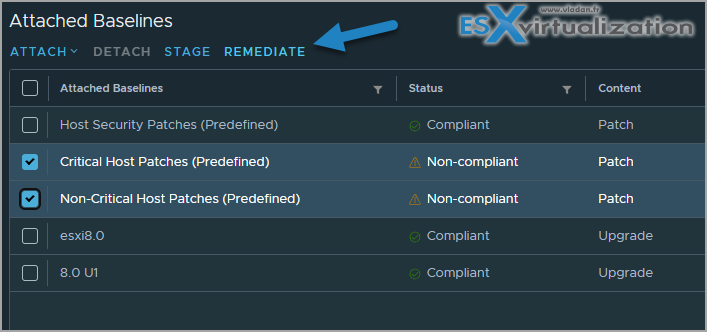 and on this screen you can see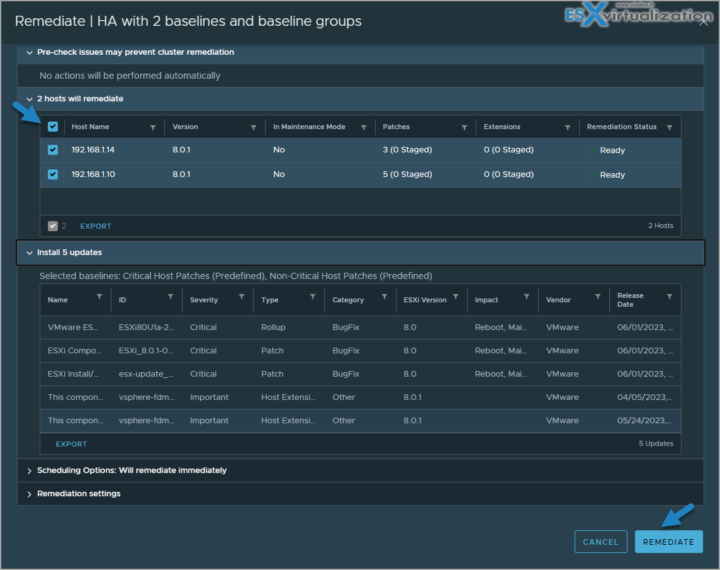 Or, you can use the Image based (new) aproach. Note that if you switch to Image based, you can't go back….

Release notes of ESXi 8.0U1a is here
Download Filename: VMware-ESXi-8.0U1a-21813344-depot.zip
Build: 21813344
VMware Software
Upgrade to vSphere Enterprise Plus

More posts from ESX Virtualization:
Stay tuned through RSS, and social media channels (Twitter, FB, YouTube)