We're slowly and steady approaching the completion of our Community Study Guide for VCP-DCV certification exam. Today is a day where we go for another topic that is present on the latest VMware Blueprint, that covers all chapters of the VCP-DCV certification exam based on VMware vSphere 8.x. The topic is VCP-DCV on vSphere 8.x Objective 4.19.2 – Configure ESXi services. 
A short chapter that is easy to check and learn. If you have a lab, you can just test it. If you don't, then read on….
The study guide page VCP8-DCV with all those individual chapters helps you with learning towards VMware certification exam (2V0-21. 23) and to became VCP-DCV on vSphere 8.x. Check the Official VMware VCP-DCV 2023 exam guide (blueprint) here. Check the certification requirements (depends on if you hold already a VCP etc..)
VCP-DCV on vSphere 8.x Objective 4.19.2 – Configure ESXi services
You can activate or deactivate ESXi services from the vSphere Client.
There are certain services are running by default, while others are stopped. Sometimes, additional setup is necessary before a service becomes available in the UI. For example, the NTP service is a way of getting accurate time information, but this service only works when required ports are opened in the firewall.
Available services depend on the VIBs that are installed on the ESXi host. You cannot add services without installing a VIB. Some VMware products, for example, vSphere HA, install VIBs on hosts and make services and the corresponding firewall ports available.
Browse to an ESXi host in the inventory >  Click Configure, then click Services under System > Select the service you want to change > Select Restart, Start, or Stop for a one-time change to the host's status > To change the status of the host across reboots, click Edit Startup Policy and select a policy.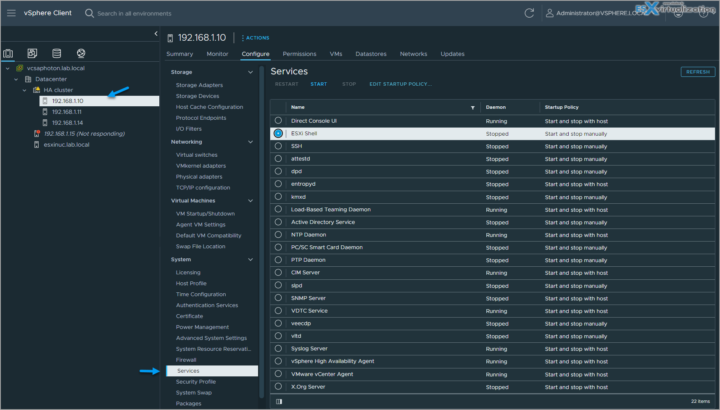 The policies are pretty self explanatory. You can choose from:
Start and stop with host – Service starts shortly after the host starts, and closes shortly before the host shuts down.
Start and stop manually – service regularly attempts to complete its tasks, such as contacting the specified NTP server. If the port was closed but is later opened, the client begins completing its tasks shortly thereafter.
Start and stop with port usage – (default setting) If any port is open, the client attempts to contact the network resources for the service. If some ports are open, but the port for a particular service is closed, the attempt fails. If and when the applicable outgoing port is opened, the service begins completing its startup
Below is a screenshot from VMware documentation showing which services are running and which ones are stopped by default. Those are the ones you can modify from vSphere client.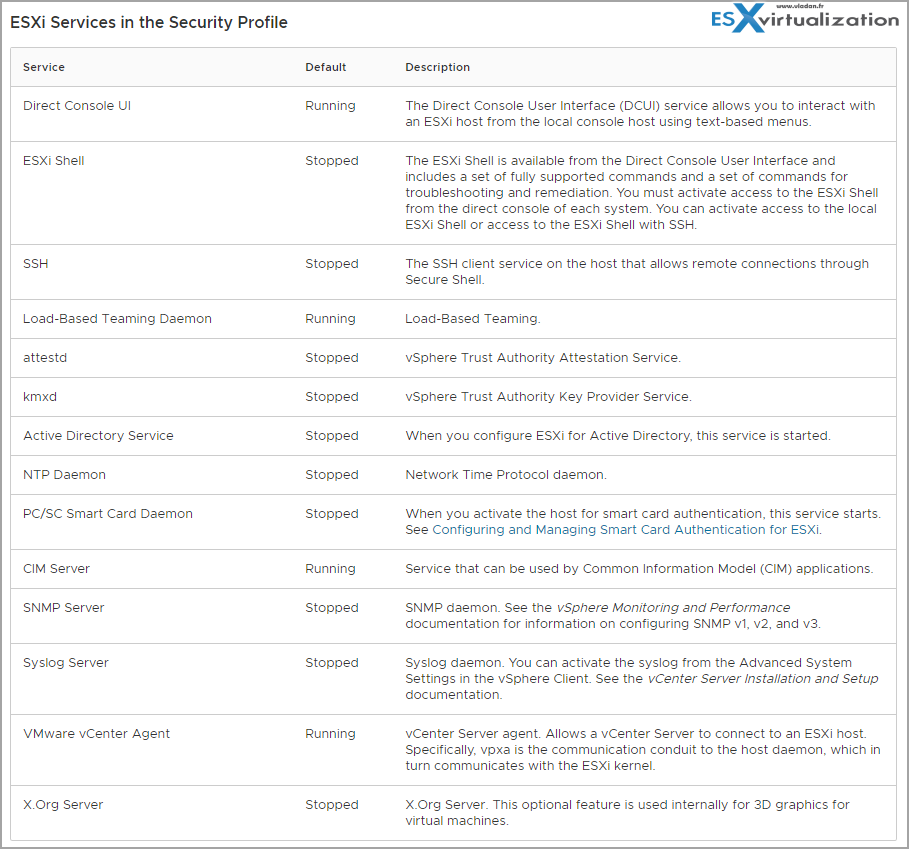 You can also go directly to your host (without going through vCenter) and configure service individually. In any case, the service management by policy is usually the way to go unless there are specific requirements.
Hopefully this chapter will help you to study towards VMware VCP-DCV Certification based on vSphere 8.x. Find other chapters on the main page of the guide  – VCP8-DCV Study Guide Page.
More posts from ESX Virtualization:
Stay tuned through RSS, and social media channels (Twitter, FB, YouTube)