This post will be different, more personal, with more insights, with more of my sentiments about Veeam, about me, my family, and my IT friends. Yes, it's pretty important to mention just a couple of them that I follow year after year. We all started to blog years ago and blog about what we like, what we use on a daily basis, and what problems we might encounter. This is truly an IT friendship we developed over the years of VMworld's and VeeamON conferences. I can mention Andrea Mauro, Paolo Valsecchi, Christopher Glemont, Eric Machabert, and many others, including Karel Novak.
Now back to Veeam. The event, previously called Veeam Vanguard summit, was held in Prague for a couple of years now (the first one I participated in 2018), but this year, there are not only Veeam Vanguards as myself, but also Veeam Legends and Veeam MVPs. An event that is 3x bigger than usual so there is NO WAY to know everybody. I really enjoyed Prague, after 4 years of COVID (yes) and my absence from IT conferences. It was ages for me to go back to my roots, to the Czech Republic, to Ostrava first where I grew up.
BTW, My family is doing good despite the energy crisis. Sister's house is covered by solar panels and plans are to cover the Hotel as well. Oh, didn't I tell you that my sister is running a small hotel near Ostrava? Let's shill this via this post too! If you're looking for a quiet place to stay in the Ostrava region, don't hesitate to plan ahead and stay at Penzion v Hajku. Not to worry about English, my sister is teaching English  -:)
Now let's get back to the principal subject. Veeam 100 Summit. The event was held again at Hilton Prague Old Town, a very nice place with a lot of comfort and commodities. A large conference room with all the refreshments and food you need for learning the latest and greatest from Veeam. We knew already the format, the sessions, and the speakers. In fact, I have that feeling that over the years (I blog about Veeam since 2009 with over 400 articles on ESX Virtualiation Blog) I'm part of the 'Veeam Family'. -:) even if I'm not working for Veeam.

I think you agree that Anton Gostev's presence was pretty much crucial as Veeam is very close to the v12 launch. (We do not know when, but we know that it will be ready when it will be ready -:)….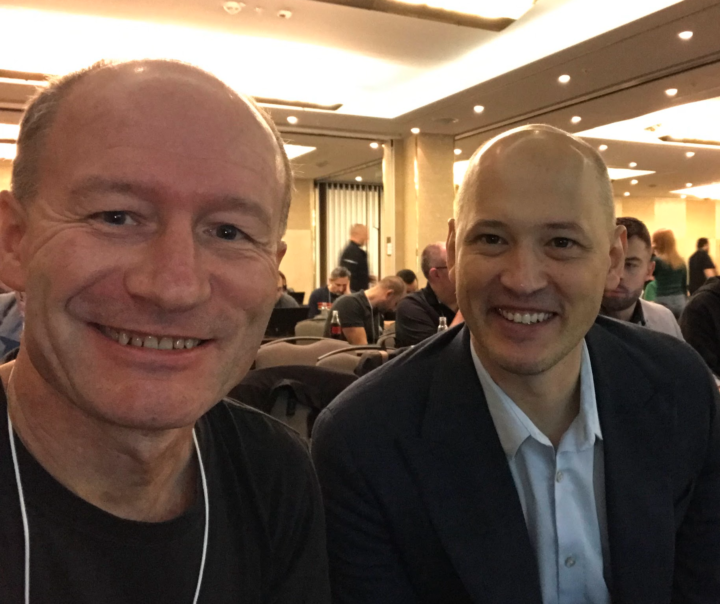 The v12 of Veeam Backup and Replication shall be out before the end of the year. But you know how it is. It is a big release so things might not always go as you wish…
I think that you'll like this one VeaaMover in v12… This feature is able to copy or move VM backup from repositories using block cloning into other types of repositories using block cloning too. Let's say you want to move from REfS to XFS. You'll be able to do that without losing fast cloning information. For example, Synthetic Full backups will not need more space on the destination than it uses on source repos. Imagine that you need to replace old repository hardware with a new one. A perfect scenario.
You can have different repository types, such as ReFS, XFS, Object storage or Scale-out backup repository. Veeam has specially designed a dedicated datamover called how else than VeeaMover.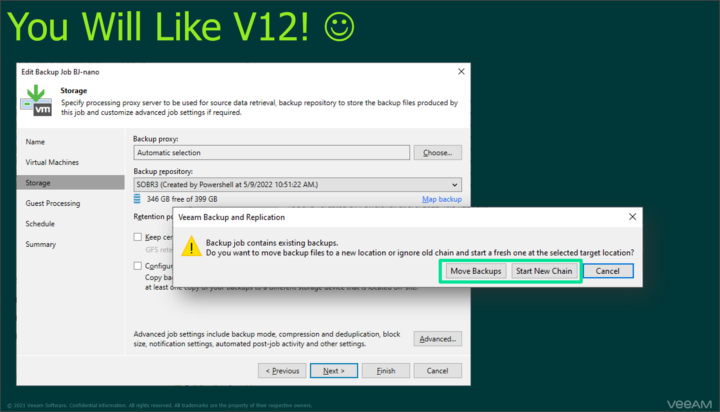 The VeeaMover can:
Migrate backups between NTFS and ReFS
Can be used to evacuate Scale-out Backup repository Extent
Re-balance Scale-Out Backup repository (means "re-arrange" the difference in free space between nodes)
Migrate ReFS to XFS for Hardened Repository
So far we had fresh access to the v12Beta3, and awaiting the RTM build.
The Veeam Backup and Replication v12 also bring per-machine backup files. VBR moves all files for you. The next backup is either incremental or full, depending on target job settings. The file transfer is done by VeeaMover, that allows to move of backup chains between repositories without losing fast-cloning space efficiency.
You can tell Veeam Backup & Replication to create per-machine backup files in the backup repository (it's default setting) In this case, the backup job will use a separate write stream for every VM in the job, and store data of every VM to a separate backup file. Resources of the storage device will be used more efficiently, and job performance will normally increase.
Per-VM Backpup Files
You want to move a VM between different jobs, right? Previously not possible, but with Veeam v12 you can. This adds some enhancement to health checks (now separate) and also when you have to re-try you only need to do the retry for a single VM instead of the full bunch of VMs that are part of the same job.
Advantages:
Move machines between backup jobs
Separate health check
Trigger active-full for one VM
Retry one machine instead of whole job
The default settings on each repository in Veeam v12 is to "Use per-machine backup files" ….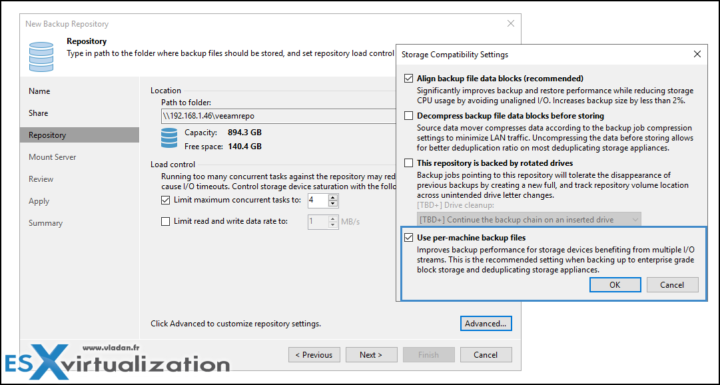 What else to cover?
Hmm, the list is long my friends. I think I need more time and more effort for writing other blog posts (that will follow after this one) for everything that Veeam has to offer in v12. It's a constantly growing product and the information what we knew about last year, this year has "doubled" in volume. Stay tuned -:).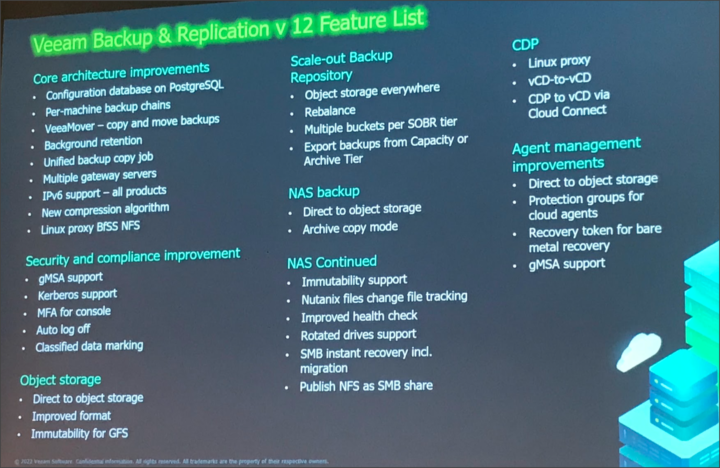 ****************************************************************
Free Trial of Veeam Backup and Replication v11  – Latest ISO !!!
****************************************************************
Wrap Up
A big thanks to Rick Vanover and the team for organizing this in Prague. Thank you !!!
More posts from ESX Virtualization:
Stay tuned through RSS, and social media channels (Twitter, FB, YouTube)