This is an unpublished video from VMware EXPLORE Barcelona. I was asking Rasmus Haslund about Veeam Certified Engineer (VMCE) training and certification, the benefits and advantages you could have by becoming Veeam Certified Engineer. Rasmus is with Veeam for 7 years and he is the man to ask about Veeam certifications. The VMCE is what we can compare to VMware VCP, so it's not easy, but I think for most techies guys, quite achievable, because you need to have some experience from the IT as well as to actually study for the exam.
Last week I attended the training myself. It was a 3-day instructor-led online training where we were able to interact with the trainer, we had the daily content delivered via Zoom software where Daniel, our trainer, explained everything you need to know about Veeam Backup and Replication (Veeam Backup & Replication v12 Full Version Download 30 Days Trial – Get Your Copy !), the requirements, architecture, job constructs, backup and replication capabilities. We had a module on Veeam One Monitoring software, agents, as well as object storage, restores, the pros and cons.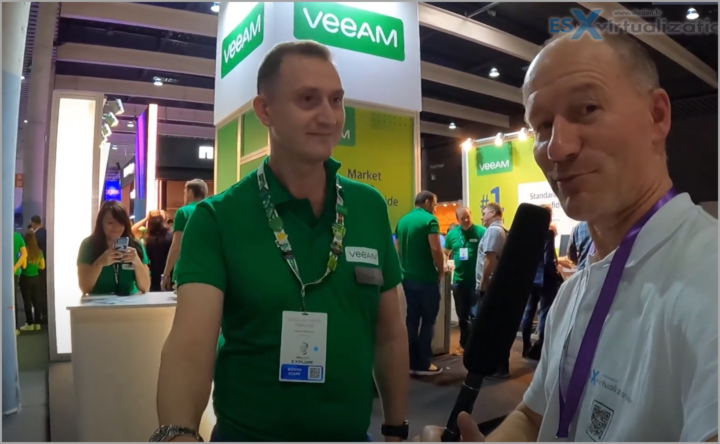 All this was delivered via the content, demos that Daniel was showing us, as well as online labs that are available to us, students, for few days more so we can access those labs and either do the labs again (unlimited tries) or do the labs that shall be done after the training is finished. (yes, we haven't had time to finish all labs).
All I can say, I was very satisfied with the technical content of the course, with Daniel as a couch, and with the exam course as a whole. Now it's time for me to jump into some studying before I can even think of passing the exam. Even if I know Veeam product for many years, the course specific training is targeting the Veeam v11, that has brought many changes compared to v10 or v9. But I think If I study during several hours a day, then I can be ready in a few weeks, to pass the exam.
Below is the video with Rasmus from VMware Explore 2022 in Barcelona.
As usually, you can follow more about Veeam product, how-to's, news and tutorials on this blog.
****************************************************************
Save 15% On Veeam Backup for Microsoft 365 NOW !!
****************************************************************
Check out also FREE Veeam Products:
There are products from Veeam that are free. Did you know?
****************************************************************
Free Trial of Veeam Backup and Replication  – Latest ISO.
****************************************************************
More about Veeam on ESX Virtualization Blog
More posts from ESX Virtualization:
Stay tuned through RSS, and social media channels (Twitter, FB, YouTube)