The OpenStack integration with VMware was on the roadmap since long time. There was a lack of flexibility in consuming VMs, disks etc in private clouds environments. There is no APIs for automated infrastructure consumption. That's where OpenStack comes in.
OpenStack brings flexibility in services where the consumption of services is flexible and allowing separate consumption of compute, storage or network. There is a user friendly APIs which allows automated infrastructure consumption. It's very close of what developers are use to when working with public clouds infrastructures.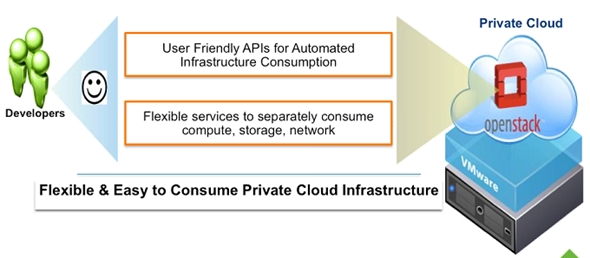 OpenStack integration with VMware allows the developers to be more productive and more agile, so they can address business needs in rapid product delivery. OpenStack needs the underlying infrastructure so the integration with VMware vSphere is a natural evolution for both technologies.
The OpenStack development with VMware has started since roughly 2012 when Nicira was acquired by VMware, then during 2013 when VSAN has been introduced, the VSAN can be leveraged for OpenStack deployments. OpenStack is fully functional today.
Here is a quick graphics to recap the evolution.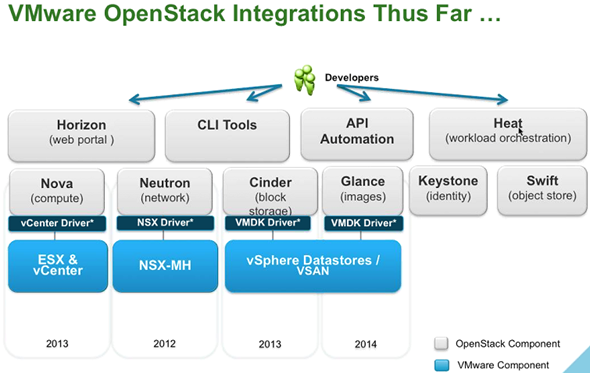 VMware customers do have enough experience and enough expertise so they are able to operate OpenStack.  Usually the administration of OpenStack needs some specific training, experience and knowledge, but by integration into VMware vSphere UI (web client) the OpenStack integration allows the vSphere admins to handle the administration of OpenStack from within vSphere.
The deployment of OpenStack can be proceeded through single OVF file, so the "getting started" is really simple.
VMware has already integrated the OpenStack into vCloud Suite. It contains a VMware optimized installers, drivers, management tools, config etc. It's not a special version of OpenStack, just standard Openstack, but integrated and packaged into the single OVF deployment file.
When deployed you get the management service which allows the creation of all the OpenStack components. Then you can expand the capacity by adding additional clusters and you can start to consume the cloud using OpenStack APIs.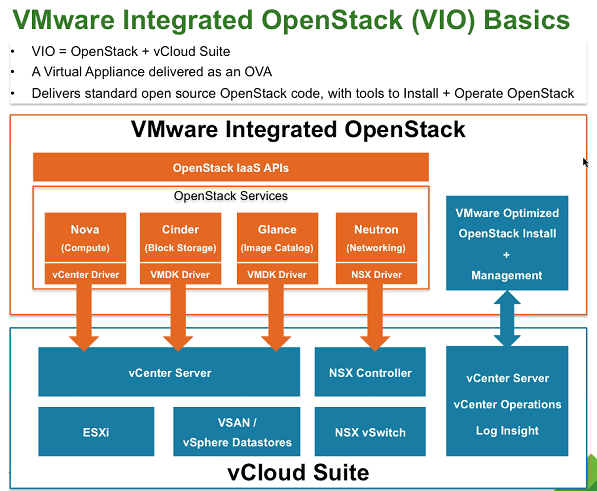 Simplified Deployment of OpenStack within the vCloud Suite.
OpenStack deployment is integrated with OpenStack plugin within vSphere web client. The demo I've seen during the presentation is quite a standard deployment of any VMware product. A single OVF file loaded through vSphere web client shows an assistant which walks you through the steps.
The OVF deploys the management cluster first.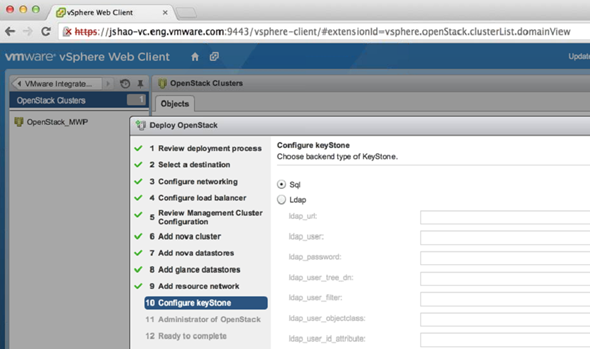 The result is showing the the vSphere Web client integration, where you have a possibility to add new datastores or create new OpenStack clusters. Once you have the first cluster created, you can add more clusters and services which will get further expanded in future releases of the product as well.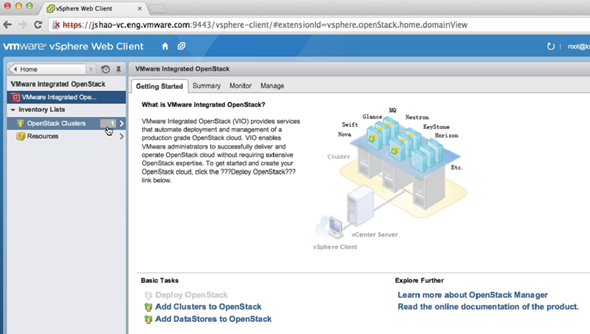 OpenStack requires some external services like load balancer or message queue, memcache, replicated database and the OpenStack services which must be installed first.
The main goal of VMware is to popularize OpenStack and make the deployment and operations as easy as possible. VMware will also provide support for OpenStack.
The announced of Openstack will follow the private beta program during VMworld. The beta nominations will be on the site, where you can make inscription, but users will apparently be added in small batches in order not to overload the OpenStack beta development team.
The OpenStack team will also be in VMworld Barcelona, so if you are not present during VMworld US, you can still register for VMworld Barcelona
Special Report:
Stay tuned via RSS or Twitter.