VMware vSphere Licensing got simpler after the yesterday's announces about new VMware VSAN 6.2, VMware Horizon 7 and VMware Workspace One. In case you missed the online announces, you can still read my posts which details pretty much everthing that has been said.
In this post we will dive into details about the new VMware vSphere Licensing or rather about the licensing of vRealize suite and vCloud suite (which has vSphere in it).
The core product lines are now: vRealize Suite and vCloud Suite. Even if both lines are stamped v 7.0, they do not have all the product inside the bundles on v 7.0 just yet. We'll see it further down in this post. But the idea is good, and at the end we will perhaps see vSphere 7 part of the package as well…
Let's get back to the announces… Both product lines do have 3 different versions. As you can imagine, the products looks like this.
vRealize Suite 7.0 (Standard, Advanced and Enterprise) 
vCloud Suite 7.0 (Standard, Advanced and Enterprise)
The main difference is in the packaging….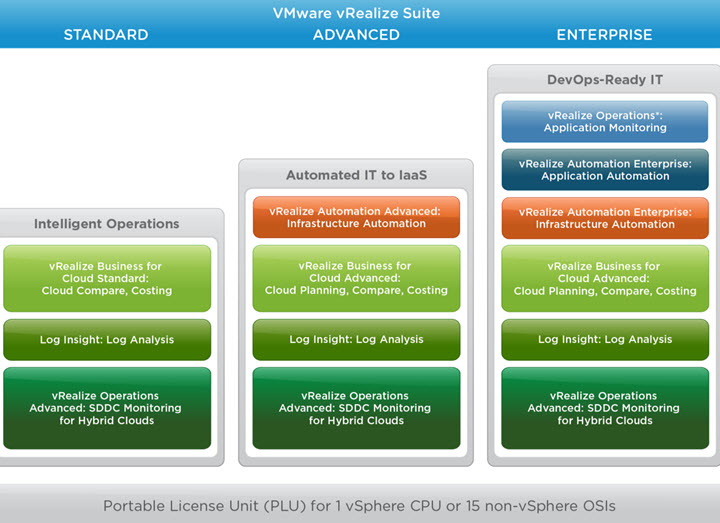 vRealize Suite 7.0
vROPs 6.2 – newly updated few days back. Has new things like, that the vROPs analytics can determine cross-cluster placement opportunities, while vCenter Distributed Resource Scheduler can determine the best destination within clusters. There is more, we'll look at it closer and come back with detailed post.
vRealize Log Insight 3.3 – newly updated few days back too. Haven't got time to look closer just yet, but it seems that there are some enhancements there as well as additional OVF properties (Both DNS searchpath and DNS domain can be configured via OVF properties for the Log Insight 3.3 virtual appliance ensuring short names (i.e. hostnames instead of fully qualified domain names) are resolvable) added.
vRealize Business for Cloud 7.0 – detailed post we've written few months back here. (cloud costs)
VMware vCloud Suite 7.0 offering looks like this, where the vRealize Suite is bundled in each of those offers corresponding to each version (standard, advanced or entreprise).
Details below… The Portable license is part of the vRealize suite, not part of vSphere, which is per-CPU...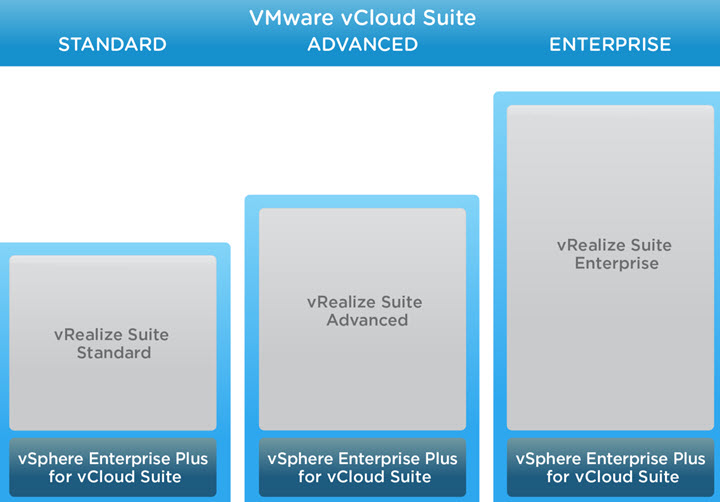 Upgrades:
You'll be able to upgrade standalone products as well. For example if you have vRealize Operations and want to upgrade to vRealize Suite 7.0 you can do so…
Customers who own standalone management products such as vRealize Operations can upgrade to vRealize Suite 7.0 to obtain the benefits of Portable Licensing as well as additional
product functionality included in the suite. Similarly, as customers advance further in their cloud management journey, they can also upgrade from lower vRealize Suite editions to get additional capabilities included in higher editions.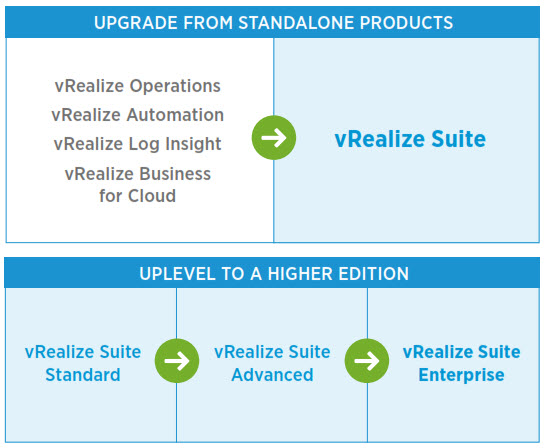 Portable License Unit
vRealize suite is licensed as PLU (Portable License Unit) which allows you to run your apps on vSphere or use one of the public providers like AWS, Azure or vCloud Air if you want to. PLU allows managing workloads on-premises (vSphere), supported public clouds, third party hypervisors or physical servers using the same license type.
Example (from the PDF):
Switch vRealize licenses between private and public cloud
Switch licenses between vSphere and non-vSphere hosts
Manage unlimited VMs deployed on a vSphere CPU
Or manage up to 15 Operating System Instances (OSIs) deployed on supported public clouds (such as AWS, Azure*,
vCloud Air, and vCloud Air Network) or other hypervisors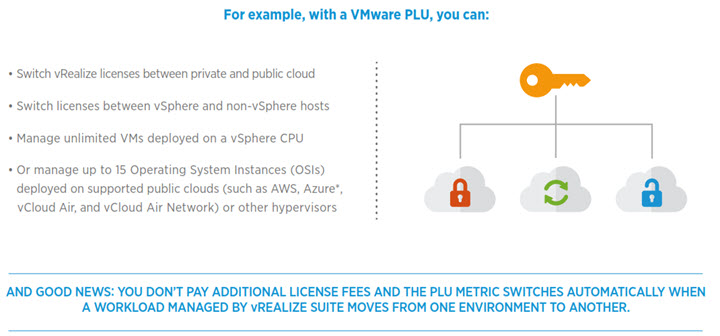 PLU allows the continued usage of current deployments of vRealize Suite even when the underlying infrastructure for workloads change from on-premises to off-premises and vice versa. The licensing metric will convert automatically, so there is no need to switch the licenses.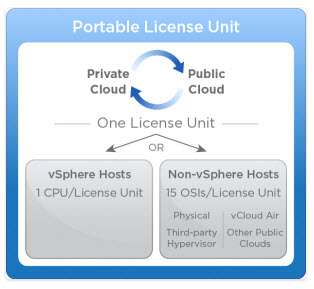 Check more details about the PLU in this PDF document or the VMware vRealize Suite and vCloud Suite Licensing, Pricing, and Packaging Whitepaper
Update: (from another VMware blog post)
The new lineup will consist of VMware vSphere Standard, VMware vSphere Enterprise Plus and VMware vSphere with Operations Management Enterprise Plus. Effective June 30, 2016, VMware vSphere Enterprise, VMware vSphere with Operations Management Standard and VMware vSphere with Operations Management Enterprise will reach End of Availability.

Additionally, all VMware vCenter Server Standard customers (existing and new) will now receive vRealize Log Insight for vCenter Server. The new offering will provide 25 Operating System Instances (OSIs) of vRealize Log Insight limited to monitoring logs from VMware vCenter Server, VMware vSphere and VMware vRealize Log Insight content packs.

Pricing Updates

Beyond the product lineup and packaging updates, VMware is making two pricing changes. VMware vSphere with Operations Management Enterprise Plus is now $4,395 per CPU. VMware vCenter Server Standard is now $5,995 per instance.
Source: VMware Blog
All VMware recent announcements