VMware has just announced during VMware Explore 2023 Las Vegas their latest innovations with VMware vSAN 8 Update 2 and vSAN Max. In this article we'll focus on the core enhancements of VMware vSAN 8 Update 2.
VMware vSAN 8 Update 2 brings and levels both, vSAN Original Storage Architecture (OSA) and vSAN Express Storage Architecture (ESA). Feature parity now! As you know, when the vSAN ESA has been released, not all features were originally available.
Things like file-services or so were not there yet. In this release, the file services, as well as NFS and SMB protocols are part of the U2. Let's start with this one which will appreciate customers which are not very familiar with CLI as this feature was only available for configuration, via CLI in the previous version of vSAN.
Update: Check also VMware vSphere 8 Update 2 New Upgrade Process for vCenter Server details
Witness Traffic via GUI!
Witness network traffic will be managed via UI within VMware vSAN 8 Update 2. I think this has been long-awaited features by customers. You'll be able to tag vSAN witness traffic via UI (previously you'd have to use CLI). You can apply this for both 2-Node and Stretched cluster architectures. Newly there is also a support for "Medium" size Witness appliance for vSAN ESA too.
Note: This feature will be available for vSAN Original Storage Architecture (OSA) as well as vSAN Express Storage Architecture (ESA).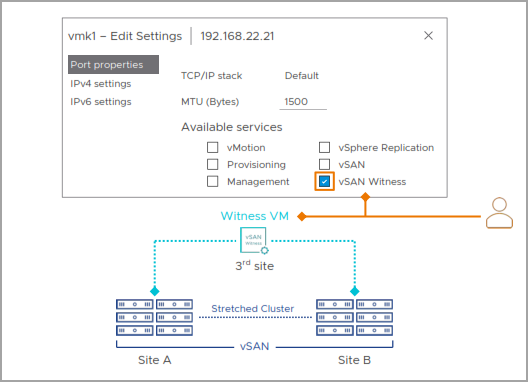 VMware vSAN 8 Update 2 – Improved Parallelism
Delivers Higher IOPS and throughput for single object, I/O intensive workloads. Reduces potential bottleneck conditions high in the storage stack.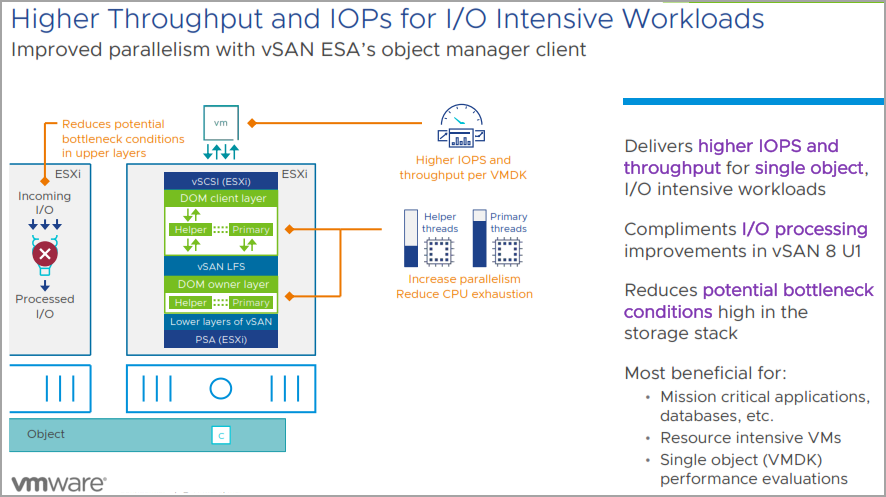 Up to 500 VMs per host with VMware vSAN 8 Update 2 (ESA only)
There is a huge improvements with vSAN 8U2 ESA architecture when it comes to the number of VMs per host. This does not mean that you have to run 500 VMs per host, but it gives you this flexibility.
It's done because of the benefits of vSAN ESA that uses capacity efficiencies using erasure coding, provides minimal resources overhead and delivers high performance.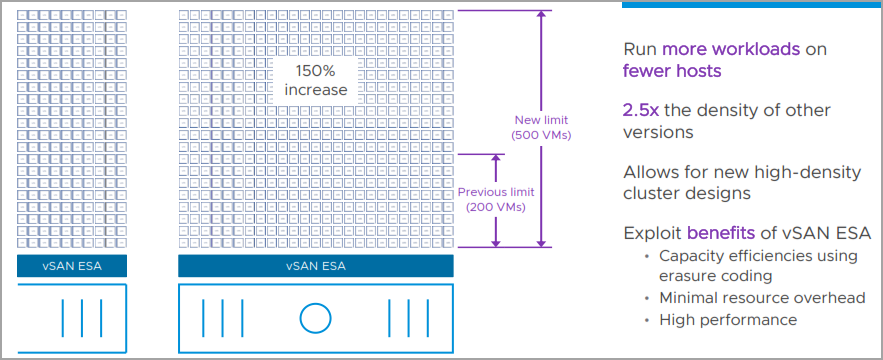 New ReadyNode profiles for VMware vSAN 8 Update 2
Those new ReadyNodes are announced, for ESA architecture, they provides lower specs, they allow to decrease the number of cores per host from 32 to 16 for example, but there are other details you can check within VMware ReadyNode site already. Only 128 Gb of RAM or networking only 10Gigs….
The devices with lower enduring settings are now also allowed. Now only 1 drive write per day (DWPD) where previously there was 8 DWPD requirements, for those read intensive workloads. The best for customers, to maximize the benefit of the new features, is to use vSAN ReadyNode sizer.
This lower the barrier of entry for vSAN ESA….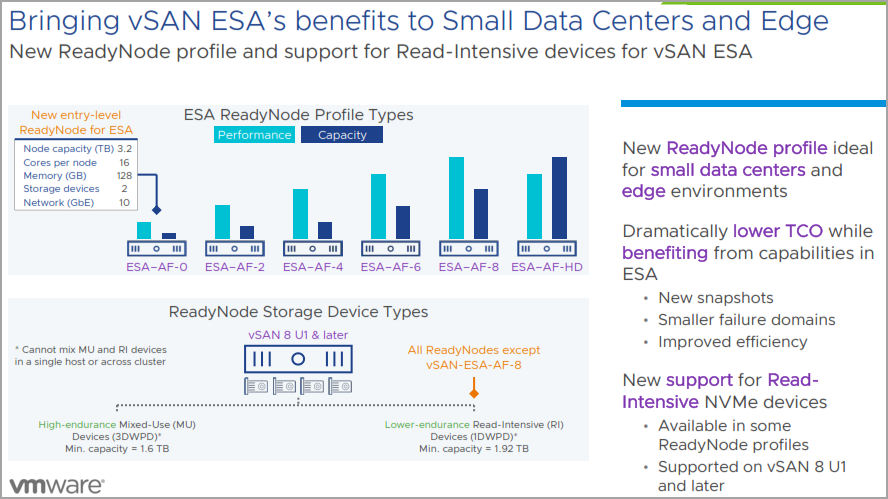 New Default Policy Intelligence allows faster configuration
You can activate auto-policy management and let the system manage configuration across clusters via single click.
Single click on "Update Cluster DS Policy" allows you to remediate changes.
Updates prescribed, cluster-specific policy if number of hosts in the cluster changes.
The feature also streamlines handling of ongoing changes to cluster and reduces manual intervention.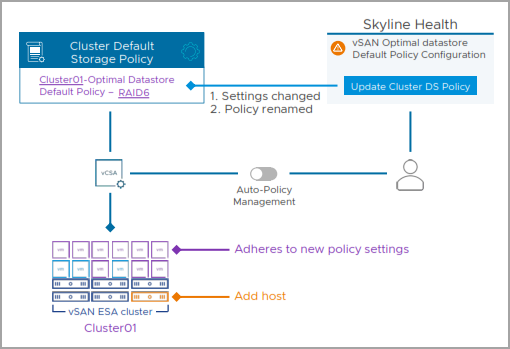 Improved Capacity Reporting for VMware vSAN 8 Update 2
VMware has made some clarifications and clearance in the reporting of the effective overhead with the 8 U2 ESA architecture. For example, it has ESA object overhead in cluster capacity usage breakdown view.
It represents capacity consumed for vSAN's log-structured filesystem (LFS) for all object and replica data.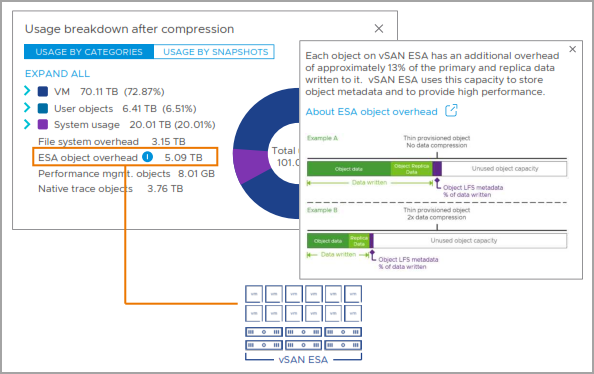 vSAN ESA Prescriptive Disk Claim
This feature uses new, "desired state" disk claiming model. It basically defines a dick claim criteria for hosts in the cluster, and let vSAN to take care of the rest.
It provides consistency to disk claiming process for initial deployment and cluster expansion.
It has a continuous checks of compliance to desired state. It is available using API and CLI.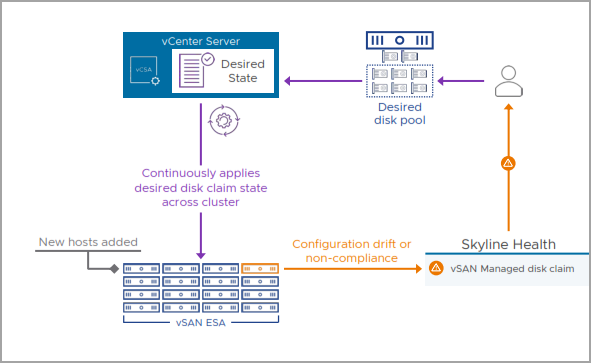 Improved Security through Enhanced Key Management
When the system approaches an expiration date, Skyline alert will inform admin that there is a key expiration. It is a new support for Key Expiration standard for KMIP-based key management servers. It is integrated with Skyline Health for vSAN. Triggered health finding will provide:
Days remaining on valid keys
Convenient way to perform a shallow rekey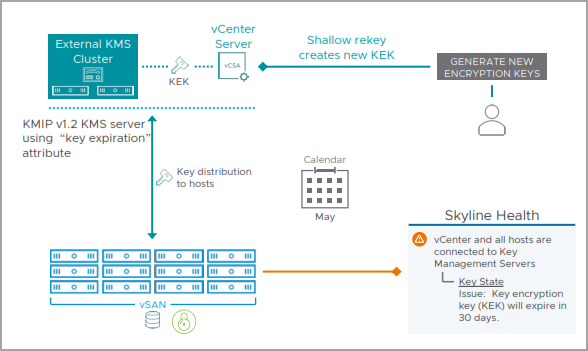 Skyline health for vSAN remediation enhancements
New health finding recommendations are customized to specific versions of vSAN.
This gives improved information on risks of not remediating those triggered finding. Also, you'll find more prescriptive options to fix identified issue as default or as alternative.
Also, there is a new endurance monitoring of NVMe devices in vSAN ESA.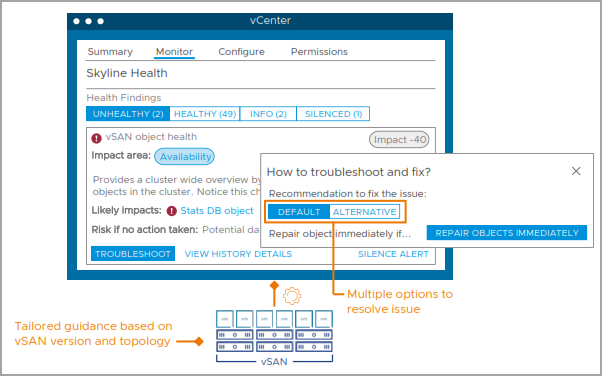 New detection of VMs and Disks with Large consumption of resources
With VMware vSAN 8 Update 2, this feature will allow you to find hot spots over a customizable time period when diagnosing performance issues.
It is available for Multiple source types available for analysis:
VMs
Hosts (frontend)
Hosts (backend)
Host disks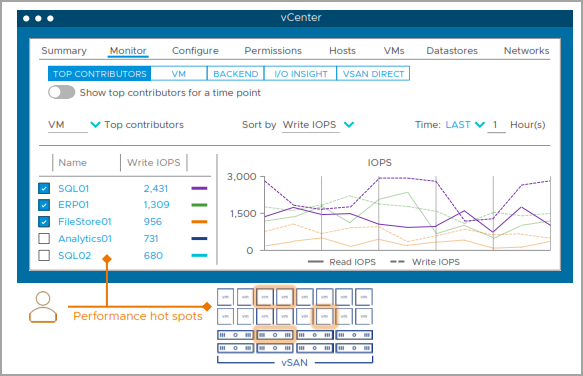 Improved Detection of Performance Bottleneck in Stretched Clusters
In the past, the I/O trip analyzer, was limited for standard cluster only. Now, with VMware vSAN 8 Update 2, this is also available for stretched clusters.
It allows you to capture diagnostics data on workloads running in a vSAN stretched cluster or 2-node cluster.
You can find primary source of latency
Outstanding I/Os of object
Network link across sites
Network links within sites
Host storage devices
It supports all data placement schemes such as RAID-1, RAID-5 or RAID-6.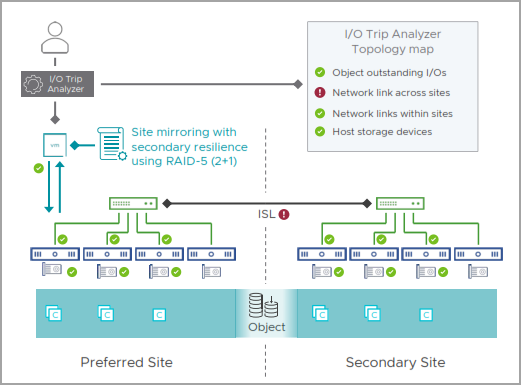 Final Words
VMware vSAN 8 Update 2 is again, huge step forward for HCI and simplification of storage management within vSphere. All those enhancements and new features are again making vSAN as a no-brainer choice for VMware customers when it comes to storage and choice of architecture. With vSAN ReadyNodes also lowering their entry level, this is even better, because customers will be able to use ReadyNodes in remote offices or this might be also solution for smaller customers to adopt vSAN solution.
More posts from ESX Virtualization:
Stay tuned through RSS, and social media channels (Twitter, FB, YouTube)