As you know, VMware High Availability (HA) as well as DRS, when activated, vSphere creates those system vCLS VMs. This is mandatory as those vCLS VMs are deployed on each vSphere cluster when the vCenter Server is upgraded to v7.0 Update 2 or later. (In case you're not aware, vCLS stands for vSphere Cluster Services, btw.) There is a New UI for vSphere Cluster Services (vCLS) that is part of vSphere 8.0 U2 release.
I have covered the topic of vCLS VMs here on 4sysops website, when it was initially released, with vSphere 7 U2.
Quote:
Starting with vSphere 7.0 Update 2, a new anti-affinity rule is created and applied automatically. This rule makes sure that every 3 minutes, a check is performed if there are multiple vCLS VMs on the same datastore. If that's the case, the rule triggers a storage vMotion operation and redistributes those VMs to different datastores.

When a datastore hosting vCLS VMs is placed in maintenance mode, you must manually apply storage vMotion to the vCLS VMs to move them to a new location or put the cluster in retreat mode.
Retreat Mode lets you disable the vSphere Clustering Service to automatically remove the agent VMs. Usefull when you need to do maintenance tasks.
Now the good news is that the Retreat Mode, which was an advanced configuration until now, can be used via UI starting vSphere 8.0 U2!
vSphere 8.0 U2 Retreat Mode via UI
Connect to your VI and Select your cluster > Configure > General (under Sphere Cluster Services).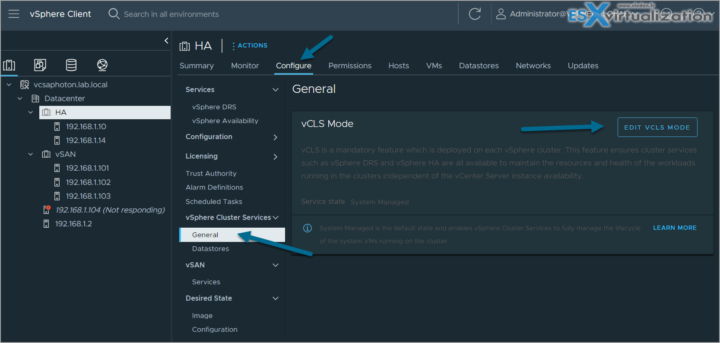 Click the Edit vCLS mode button. You'll see an overlay window appear.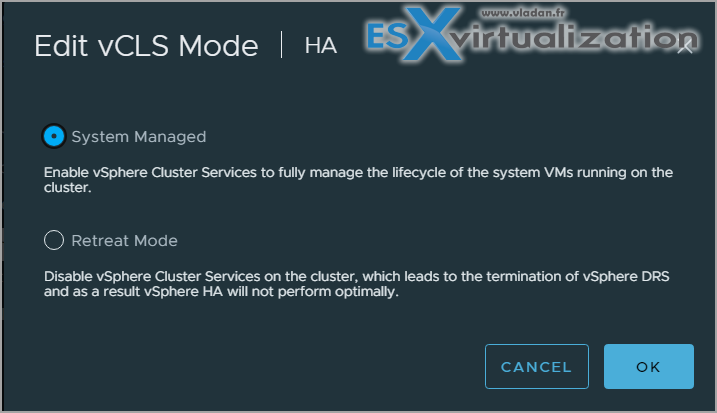 The radio button allows you to select the Retreat mode which will disable vSphere cluster services. By doing this you will disable DRS function as well as partly disable HA. (vSphere HA will not perform optimal placement during a host failure scenario as HA depends on DRS for placement recommendations. HA will still power-on the VMs but these VMs might be powered on in a less optimal host.)
The warning message looks like this.
Datastores allowed for vCLS VMs – via the UI too
The other option within the UI is the possibility to select which Datastores will be used for vCLS VMs.
"To override the default vCLS VM disk placement for this cluster, you can specify a set of Allowed datastores by clicking Add. Some datastores cannot be selected for vCLS 'Allowed' as they are blocked by solutions as SRM or vSAN maintenance mode where vCLS cannot be configured"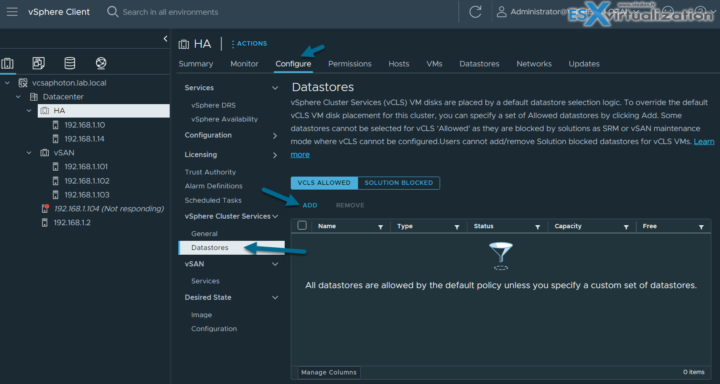 More posts from ESX Virtualization:
Stay tuned through RSS, and social media channels (Twitter, FB, YouTube)