VMware has just announced vSphere 8 Update 2 during VMware Explore Las Vegas. With this version, there is a new Virtual Hardware version 21 (vmx-21) that is part of it. We'll talk about what's in, with this post. Note that we have a detailed post about other features present in U2 in this detailed post here – VMware vSphere 8 Update 2 New Upgrade Process for vCenter Server details.
The new Virtual Machine Hardware Version 21 will increase many specifications. Here is the list:
16 vGPU devices per VM
256 Disks per VM (64 disks x 4 vNVMe adapters)
NVMe 1.3 support for Windows 11 and Windows Server 2022
NVMe for WSFC using NVMe adapters
Latest Guest OS on Linux – RHEL 10, Oracle Linux 10, Debian 13, FreeBSD 15
Screenshot from VMware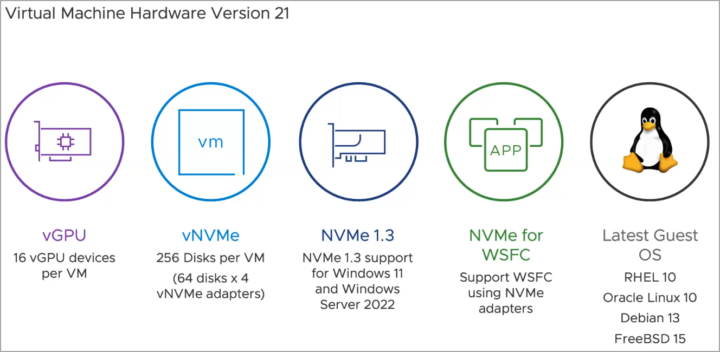 VMware virtual machine hardware versions are configurations of virtual hardware components and features that are available to a virtual machine running on the hypervisor. Each version of VM hardware provides a set of features and capabilities that can be utilized by the virtual machine, including vCPU, memory, network adapters, and storage controllers.
The virtual machine compatibility setting determines the virtual hardware available to the virtual machine, which corresponds to the physical hardware available on the host. You can review and compare the hardware available for different compatibility levels to help you determine whether to upgrade the virtual machines in your environment.
I'd assume that this documentation page will be updated soon…

More posts from ESX Virtualization:
Stay tuned through RSS, and social media channels (Twitter, FB, YouTube)