Zentyal Server 4.0 is major release of this popular distribution which more and more has the capability to replace Microsoft services inside of the enterprise. The 4.0 release which went out few days back offers native Microsoft Exchange and Active Directory compatibility.
The distribution is packaged via latest Ubuntu 14.04.1 LTS (Trusty) distribution, but can be installed via Debian repository as well. The latest release brought new things but also took off some packages in order to focus on the goal – to offer easy to use small business server.
Zentyal Server has two versions – Commercial Version (you can get 30 days free trial) and a free community version. Zentyal Server 4.0 comes with improved mail and mail-related directory features.
New features and improvements include:
Improved provisioning of Zentyal as first Microsoft® Exchange Server
Improved PST import
Improved support for RPC over HTTP (Microsoft Outlook® Anywhere)
Improved Autodiscover service
Improved support for multiple virtual mail domains
Improved support for Microsoft Outlook® 2007, 2010
Improved support for shared calendars & contacts
Improved multi-language support for mailboxes
Improved Out of office-message support
Initial support for Microsoft Outlook® 2013
Improved QA processes, tools and incident follow up method
Smooth migration path from Zentyal Server 3.5 to 4.0
Restructuring and improvement of the L2TP module
Free Cloud Configuration Backup directly from the Zentyal Server UI
The installation is quite easy. The installer prompts you to disconnect the CD/DVD drive and after reboot it continues to install the Zentyal 4.0 core packages….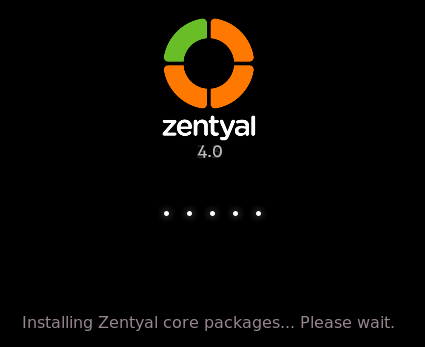 When finished the product brings up a Firefox window where you can choose which roles you want to install. Depending on your choice, the installer selects the packages that needs to be installed. Here is the confirmation page when selected Domain controler role, Mail and groupware with VPN and Antivirus.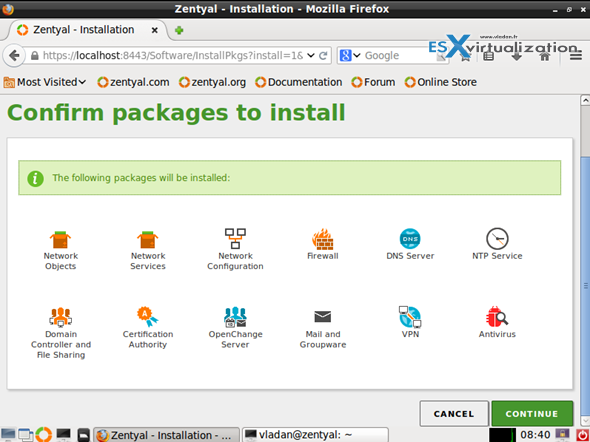 When validated, the product connects to the online repository to get the latest packages and proceed with the installation. Easy….
The web based UI is driving the underneath's Linux based software. Here is the screenshot showing the user's management module. (New AD has been created).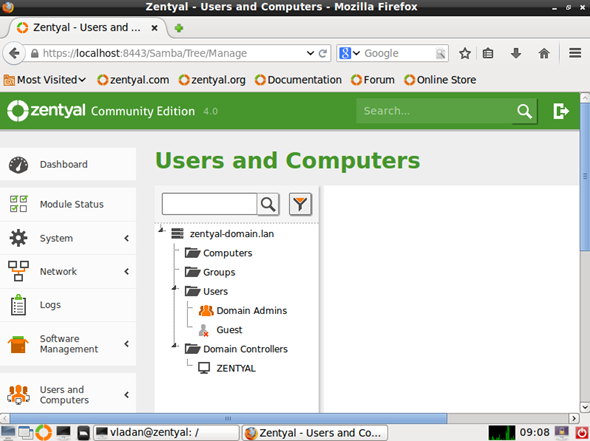 VMware Tools Installation
It's recommended to use Open VM Tools as when installing VMware tools within the Zentyal server you got this message:

You can check the VMware KB here.
Quote:
open-vm-tools is the open source implementation of VMware Tools and consists of a suite of virtualization utilities that improves the functionality, administration, and management of virtual machines within a VMware environment. The primary purpose for open-vm-tools is to enable operating system vendors and/or communities and virtual appliance vendors to bundle VMware Tools into their product releases.

The benefits of bundling open-vm-tools are:

End users get the best out-of-box experience to efficiently deploy virtual machines on VMware virtual infrastructure.
Eliminates the need to separately install VMware Tools when open-vm-tools is bundled with the operating system because open-vm-tools is a fully-supported open source implementation of VMware Tools.
Reduces operational expenses and virtual machine downtime because updates to open-vm-tools packages are provided with operating system maintenance updates and patches. This eliminates separate maintenance cycles for VMware Tools updates.
No compatibility matrix check is required for open-vm-tools. Adhering to the VMware Compatibility Matrix for the guest OS release is sufficient.
open-vm-tools bundled with the operating system provides a compact footprint optimized for each OS release.
For our purpose there isn't any issues, it's just a lab setup. Just follow those steps:
at the command prompt type:
sudo apt-get install open-vm-tools
Screenshot…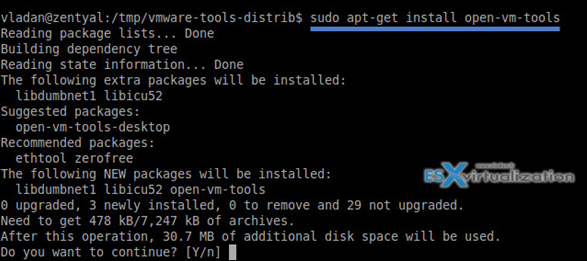 And the UI in the vSphere will show up the running status as 3rd party/independent VMware tools.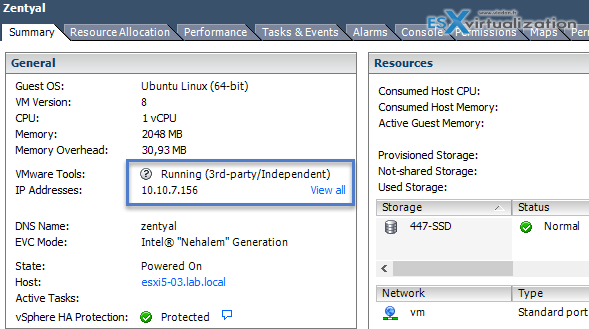 Zentyal can integrate to existing Microsoft environments where it will became an additional Domain controler, or it can become the first DC in new domain. Fonctions of Exchange server are assured by OpenChange which is a Samba 4 plugin.
Quote from the Zentyal Wiki:
Zentyal integrates OpenChange the first and only native drop-in replacement for Microsoft® Exchange Server technologies. With OpenChange, Microsoft Outlook® clients continue to work unchanged, without needing any plug-ins, reconfiguration or migration.

OpenChange achieves complete compatibility because it implements the same MAPI (1) protocols as existing mail and groupware clients: the MAPI protocol, and optionally ActiveSync®. This protocols manage, not just the electronic mail, but also contact lists and calendars.

In addition to being a MAPI server, OpenChange is a bridge between MAPI and these Internet-standard protocols (IMAP, SMTP, CalDAV, etc), keeping both sides synchronised. A message in the Microsoft Outlook® inbox is visible in Mozilla Thunderbird's view of the same account via IMAP, and when deleted the message disappears from both sides. Similarly, a calendar entry made in Mozilla Lightning over the CalDAV protocol is visible and modifiable from Microsoft Outlook®.
With every release the product get better. Integrating Samba 4.0 for file shares, now providing AD and Mail services with collaboration, contacts for users up to Outlook 2013, the product is clearly taking the good approach. Small businesses usually have small IT budgets.
Zentyal server brings an interesting alternative to full Microsoft environments as it provides core Microsoft services at a fraction of the costs. And what's usually spent on Microsoft licensing can be spent elsewhere (additional hardware or small virtualization project based on VMware and their offering with vSphere Essentials or Essentials Plus kits.