A new version of popular disaster recovery solution Zerto Virtual Replication 5.5 Update 3 has been released. This new release brings some new features as well as some fixes allowing to stay up to date with latest cloud platforms from Microsoft, VMware, and AWS.
We have reported in details about the version 5.5 of the product, where for example Azure DR you're able to configure automatic failback from Azure. One other enhancement which is worth to mention is a speed increase (up to 12x) when protecting your VMs and applications to Amazon AWS, or an official vSphere 6.5 support.
For newcomers into virtualization, data protection and DR we'd like to suggest to read any other articles about Zerto published on this blog in order to understand the architecture, deployment options or just simply see the how the products look like. We have done the deployment and (or) upgrade processes in the lab in the past.
What's new in Zerto Virtual Replication 5.5 Update 3?
API enhancements – with this release, it is now possible to upgrade several VRAs in parallel, by specifying a list of VRA IDs to upgrade.
Azure New Region Support – Failing over VMs to Azure in the Germany region is now supported.
Ensuring Tolerant IP when Failing Over or Moving to Azure – If any of the VPGs have at least one VM configured with a static IP, but the static IP is in use on the recovery site, the static IPs that are in use are replaced with dynamic IPs.
Default Values of VMs When Failing Over or Moving has Changed – The default values for a VM failing over or moving to Azure have changed as follows:

VM Series: Dv2-series (instead of D-series)
VM Size: Standard D1_v2 (instead of Standard D1)

VMware vCloud Director – There is now improved RTO when replicating to vCD 9, and when Guest Customization is enabled. vCloud Director 9 is supported since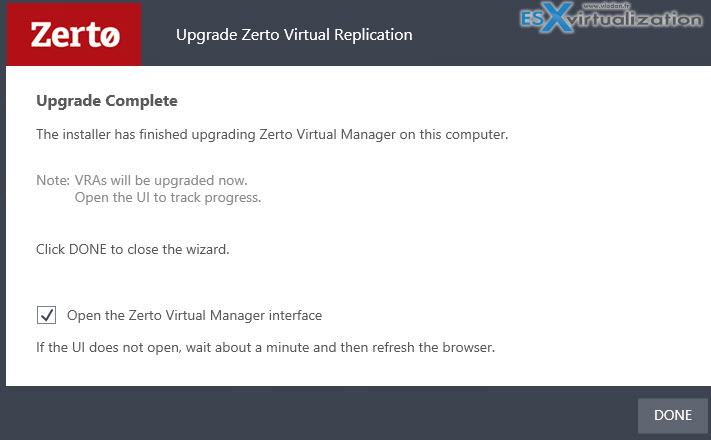 So what's that cool about Zerto?
Well, the fact that the solution does not use hypervisor's snapshot technology does not make any "pressure" on the production environment by generating additional IOPS. The flow of replicated blocks is rather fluid and not in snapshot increments allowing for more granularity in Recovery point objectives (RPO).
Also, you don't need any kind of hardware replication technology or even a shared storage at the remote site. Zerto can use low cost local storage at the remote site. Zerto continuously replicates you VM's blocks to the remote site.
The automated re-IP of the VMs can be orchestrated and handled automatically too so you don't have to worry about re-IP your VMs in the cloud manually.
One of the use cases to use Zerto is for testing patching or for test/dev environments. (other than typical DR which is probably in the first place). You can safely test patching of your production group of VMs at the remote site. (patch the copy). And with One-to-many replication, you can replicate virtual machines locally as well as to multiple disaster recovery sites allowing you test scenarios at the same site without changes to your VMs.
Some Other Recent Features from Zerto
Azure Failback – Zerto supports replication to Azure for Business Continuity/Disaster Recovery and migration purposes now with the ability to automatically failback and reverse-protect VMs to on-premises hypervisor-based datacenters.

Which features are supported?
Test and Live Failover
Move
Offsite Clone
Journal File Level Restore
One to Many
Re-IP
Pre/post scripts
30 days journal and more.
Zerto Analytics
Screenshot from new analytics which can be accessed through myZerto.com portal from any device.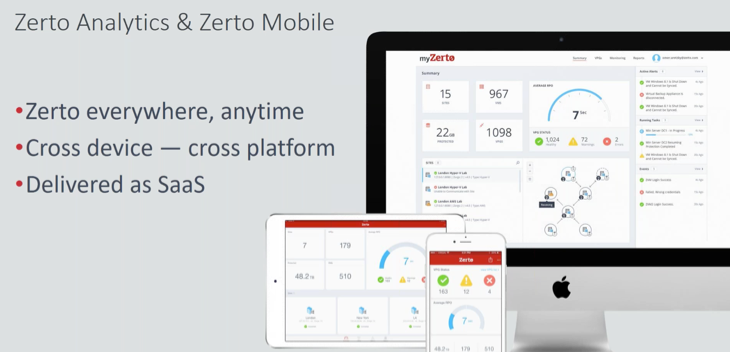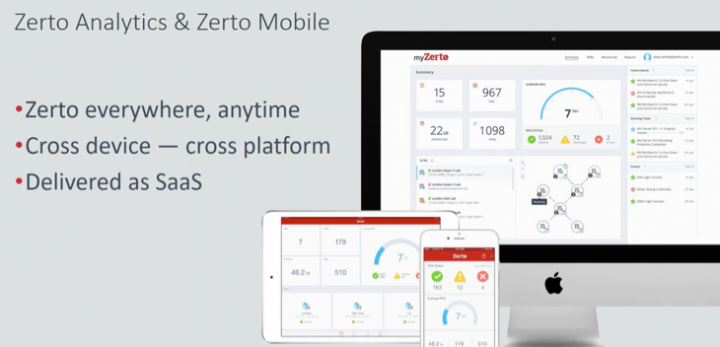 This platform gets you a real-time and historical analytics on the status and health of your environment. This can be an environment which spans multiple sites and uses multiple clouds.
The 5.5 U3 allows upgrading Zerto VRAs in parallel, which means time savings…
Auto-Upgrade VRAs – This option is enabled by default from 5.5 onwards. With this option enabled, the VRA upgrade will run automatically, thus enabling a smooth upgrade of both the ZVM and the VRAs. Zerto recommends that you track the VRA upgrade via the user interface.
Screenshot from the lab.

Zerto uses a journal to store the information about restores. The journal is kind of "point-in-time" history from where you can recover individual VMs or individual files (added in v 4.5). With Zerto you can travel back in time and you basically can choose the exact point in time where you want to land.
The granularity is in seconds rather than in 5-10 or 15 minutes intervals. Zerto does not use snapshots for their technology and that's why they are so different from other BC/DR technologies out there.
The Zerto's Virtual Replication Appliance (VRA) is able to tap into a virtual machine's IO stream causing no overhead or performance problems. The VRA uses the vSphere APIs to see the data flowing from the VM each time there is a read or write operation. Therefore, each time the virtual machine writes to its virtual disks, the write command is captured, cloned, and sent to the recovery site.
You can really create a high-quality test and dev environment which mirrors the production and simulate scenarios which would otherwise take more efforts and time when done other ways.
You can find some more useful posts about Zerto technology and tips. Check it out at Zerto.com
More about Zerto on ESX Virtualization:
More from ESX Virtualization
Stay tuned through RSS, and social media channels (Twitter, FB, YouTube)