3CX Phone System 15.5 launch will be held later today online.(details at the end of the post). The new release has new UI too and more. We have followed with interest over the past few months, the evolution of the product, which can be deployed as a Linux appliance, or installed on a $100 MiniPC (Intel, Zotac, Shuttle or Gigabyte). This post is about 3CX Phone System 15.5 Details.
By allowing the use of appliances that are available worldwide, with local service, and at a far lower price than proprietary PBX appliances, V15.5 is ideal for small offices without an existing server available.
In the cloud, 3CX now supports more hosters, including 1&1 (Now: Google Cloud, Amazon, 1&1 and OVH), and can be deployed using 3CX's popular PBX Express tool.
The PBX Express will help you configure and deploy 3CX on Linux automatically in just 8 steps.
What's new in 3CX Phone System 15.5?
Integrated Web Conferencing – The web client integrates video conferencing. Users can easily initiate a web conference directly from the client, without downloading any additional clients or plugins; making the process seamless and effortless. Most importantly, it's clientless for the remote participants as well. 3CX is the first PBX vendor to include the web conferencing feature free of charge, with no extra licensing or administration, for up to 100 participants.
Easily Manage Calls on your Deskphone or Smartphone – Remote phone control has been significantly improved using the uaCSTA standard for desk phones. Because of this, phones can be controlled reliably regardless of where the extension is or whether you are running 3CX in the cloud or on premise. In addition, 3CX smartphone clients can now also be remote controlled – a great benefit for remote workers.
Overview of the new Web Client below…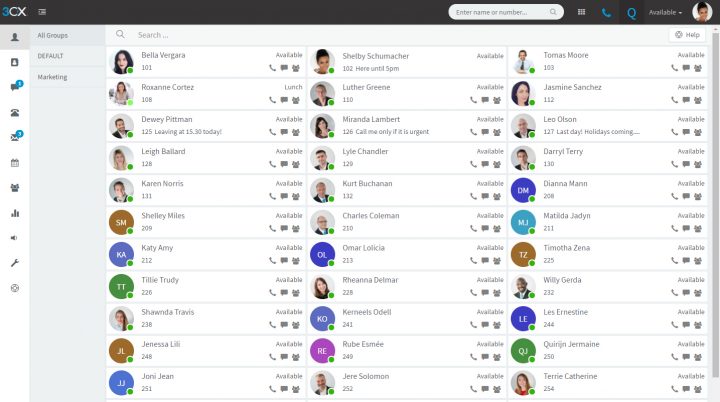 Click2Call from Any CRM – The 3CX Click to Call Extension for Google Chrome allows one-click dialing from popular CRM systems and Office 365 without installing any plugins. The extension also allows users to easily dial a number from any web page.
Nick Galea, CEO 3CX:
"3CX 15.5 further builds on our "Deploy Anywhere" strategy – It can be deployed on premise, in the cloud or even on an appliance, leaving partners and customers in full control of the installation."
More…
Download links
Press Release:
Videos on YouTube:
The Linux appliance is interesting as it avoids you to use a Windows license. You can also deploy the Linux version via USB key. We have covered that in our article here. The steps are fairly simple, we have used Rufus utility for that.
The MiniPC alternative comes with less power than a full-blown server or even a virtual machine (VM) configured with 4 or 8 vCPUs. Yes, the MiniPCs are usually limited to 2Gb of RAM and running Intel Atom (quad-core) or similar.
One of that recommended hardware is the one from Cloudsto which runs Intel Z8300 Cherrytrail. (But 3XC have a page with other recommended hardware). The device is preinstalled already with a Linux, but it can easily be replaced with another installation.
More from ESX Virtualization: