VMware has made finally VMware vSphere 6.0 Generally Available (GA). After the announce roughly about a month ago everyone has thought that this is it, but at that time it was only announced, but not released just yet. The reason AFAIK was to assure compatibility with all the parts of the vCloud suite including Horizon 6.1 released as well, which is obviously dependent on vSphere 6.0.
You will certainly want to grab few PDF documents that I blogged earlier this week plus New Configuration maxiums for vSphere 6.0 PDF as well 

. The documents I'm talking about are documents very useful for VMware VSAN architecting and troubleshooting. Check out VMware Virtual SAN 6.0 Design And Sizing Guide  and also this one VMware Virtual SAN Diagnostics and Troubleshooting Reference Manual.
As for vSphere 6.0 there is also interesting software release from VMware which allows to get the bits simple manner – by using VMware Software Manager.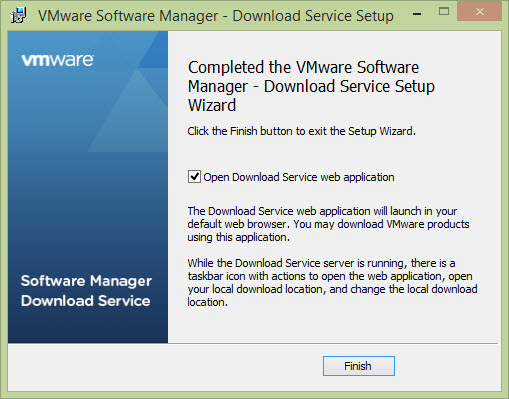 The software grabs the bits for you…

You just specify the download location, and then off you go…
vSphere 6 Configuration Maximums and Platform Enhancements
64 hosts per cluster (vSphere 5.x it was 32)
8000 VMs (previously 4000)
480 CPUs (vSphere 5.x it was 320 CPUs)
12 TB of RAM (vSphere 5.x it was 4 TB of RAM)
1024 VMs per host (vSphere 5.x it was 512 VMs).
2048 virtual CPUs per host (4096 in vSphere 5.5 ???)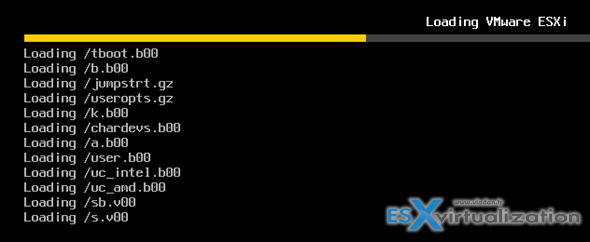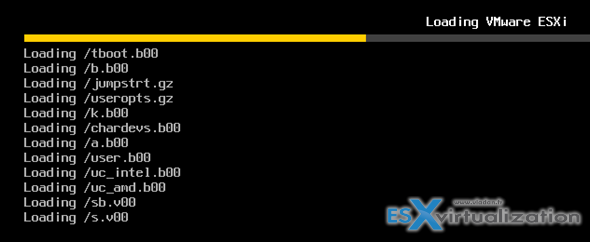 From VM perspective:
Virtual hardware 11 (vmx-11) – newly released on vSphere 6
128vCPUs
4TB of RAM (NUMA aware)
VDDM 1.1 GDI acceleration
xHCI 1.0 controller compatible with OS X 10.8 + xHCI driver.
vSphere 6.0 Fault Tolerance
FT has 4vCPU VM support and 64 Gb of RAM per VM. The host limit with FT protected VMs is 4. From the networking perspective it's required to have 10gig network as single FT protected VM will use 1gb (or a bit more) of network bandwidth. Here are all the features of FT in VMware vSphere 6.
Update: vCenter server will be supported as FT VM in certain scenarios. The details and use cases were not uncovered yet!
FT Features:
4vCPU VMs can be protected by FT
VMs with up to 64Gb of RAM
Up to 4 FT protected VMs per host
Hot configured FT possibility
Enhanced virtual disk format support
VADP support (can backup FT protected VMs now. Previously not possible)
The snapshot feature will however still remain. So no manual snapshots for VMs runing FT.
All those limits are configurable (by admin) via Advanced settings, so override is possible. (but it does not mean that it shall be done…)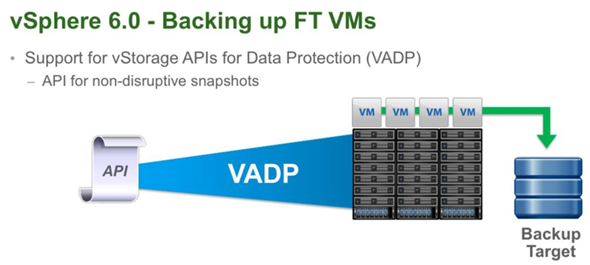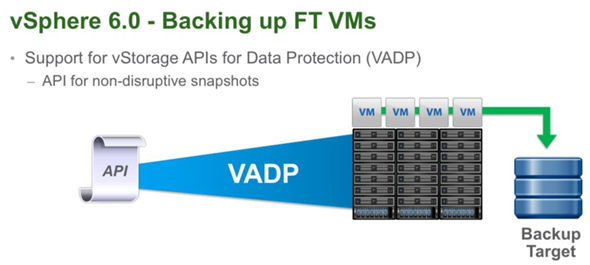 High Availability Enhancements
vSphere HA in vSphere 6 got enhanced as well and introduces the component protection. It detects for example that the underlying storage has problems, so it restarts the VM on another host where it finds suitable storage. It detects All path down (APD), and Permanent device lost (PDL) situations.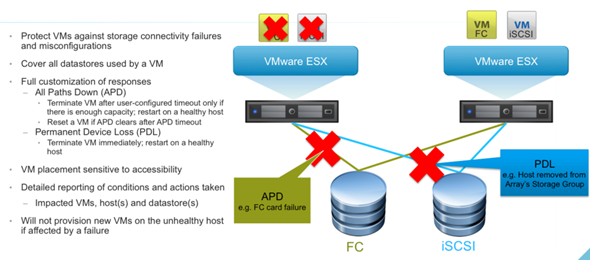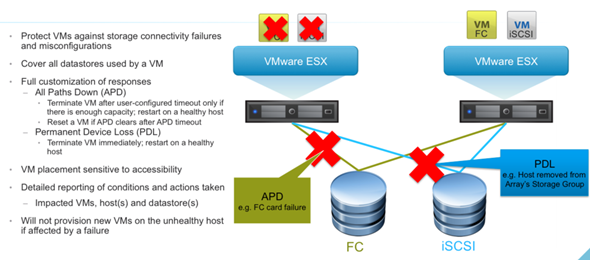 It will be an automated response to APD or PDL situations.
vSphere Client Management
some features in the hardware versions 10 and 11 are read only… see the table below….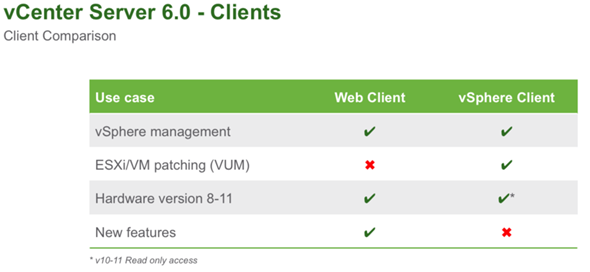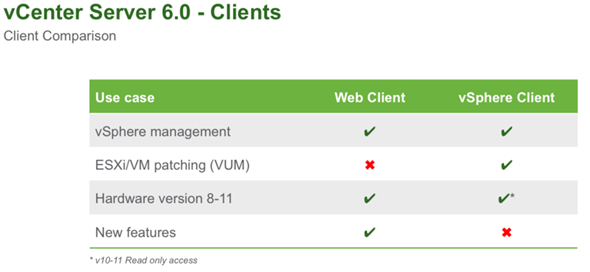 Linux based VCSA has (almost) all functions than Windows based vCenter server 6. VMware want's to get out from the dependency on Microsoft's OS for vCenter server. That's why since several years we have seen the Linux based VCSA improved quite often. What's best is to show which features are (or are not) represented in each version. How each version scales up?
Configuration Maximums vCenter Server 6 on Windows or Linux based VCSA: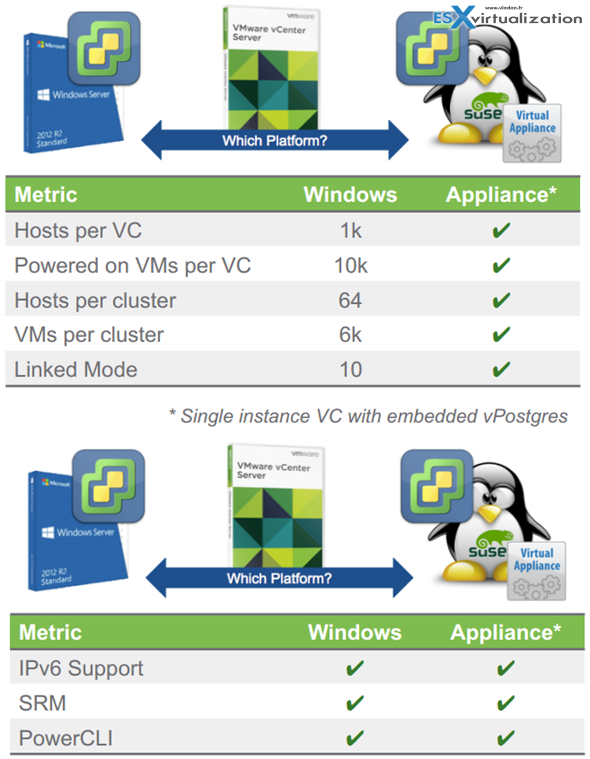 vCenter server on Linux is on SLES SP3 (Suse Linux Enterprise Server). It's bundled with vPostres database, pre-installed.
Then on the following screenshot you'll see which features were not present in VCSA 5.5, but has made it to the VCSA 6.0. As you can see, the linked mode which wasn't supported in VCSA 5.5 is now there, as well as Microsoft ADAM support and Policies and Tags. Tags gets replicated to other vCenters once you have used them in one vCenter.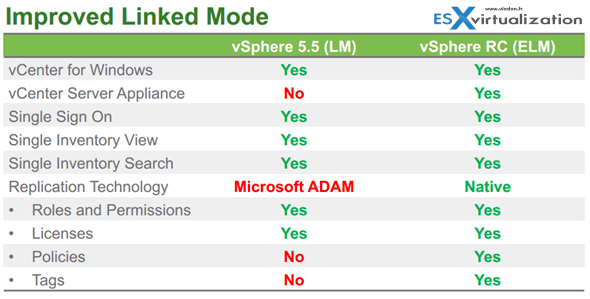 Deployment options of VCSA…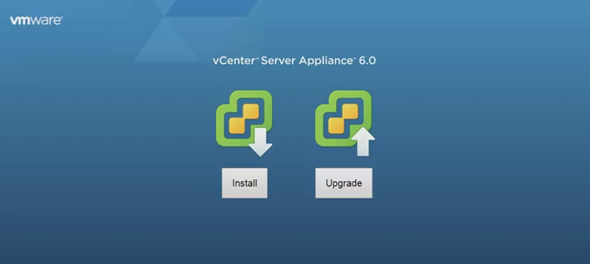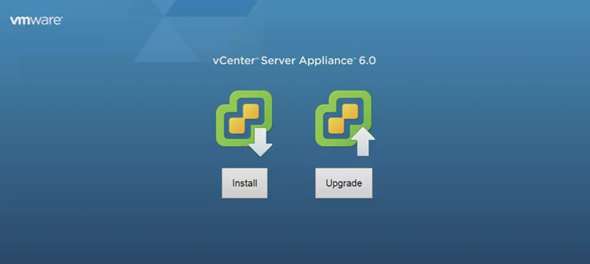 New Platform Service Controller (for both platforms):
This is completely new component which is called Platform Services Controller, which can be plugged into other PSCs for HA or replication purposes. The PSC contains all the necessary services that vCenter needs for its functions. There is a Single Sign-On (SSO) , licensing service or certificate management service.
The different type installation are allowed:
Embedded (in the same VM)
External
The embedded PSC is meant to be used for standalone sites where vCenter server will be the only SSO integrated solution. In this case a replication to another PSC is not necessary.
External PSC shall be deployed in anvironments where there is more then one SSO enabled solution (vCenter Server, vRealize Automation, etc…) OR where replication to another PSC (another site) is necessary.
The Platform Controler Service (PSC) contains:
Certificate Store
Licensing
SSO
Service and Product Registration
Certificate authority
Installation and configuration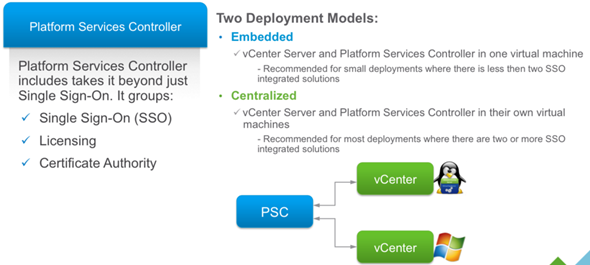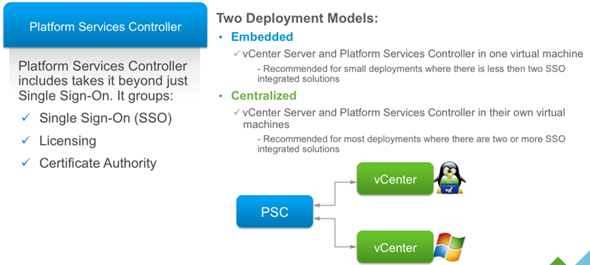 Previously VCSA could manage 100 hosts, now maximum is 1000…. Also the maximum of VMs managed by VCSA based vCenter has evolved. Now it's 10,000 VMw where previously it was "only" 3000 VMs.
Note that the minimum RAM is 8Gb and in this configuration you can run up to 20 hosts with total 400 VMs. Here is a table showing different sizes of the appliance. The size can easily be adjusted during the deployment process.

Certificate Management…
There is a new VMware Certificate Authority (VMCA). This service can be root CA which manages its own certs or it can manage certs from external CA. The VMCA issues new cert for each ESXi host. This is a signed certificate when it is added to vCenter.
Details of the root authority and provisions.


There are two operations modes:
Root CA
Issuer CA – possibility integrate Microsoft Certification authority. In this case you'll create the CSR (request) > Go to Microsoft Cert Server and get certificate and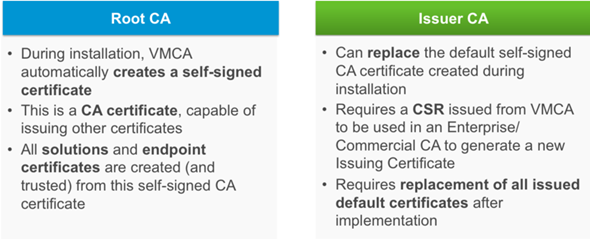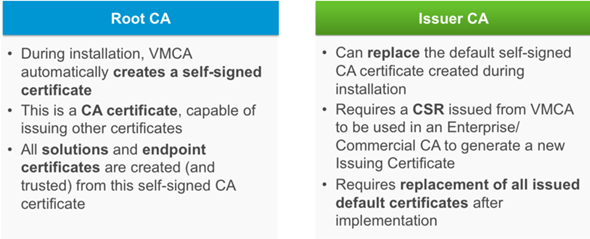 VMware vSphere 6 Features – VSAN 6.0
Faster (up to 5x faster than previous release), if Full-flash mode. In hybrid mode 2times faster.
Scales up to 64 nodes (hosts) which also is due to the vSphere 6 scalability improvements.
Can execute up to 200 VMs per host (previously 100VMs)
Virtual Disk size up to 62Tb
VSAN snapshots and clones with high performance now and larger supported capacity of snapshots and clones per VMs (32 per VM).
Rack awareness to tolerate rack failures with Fault domains
JBOD support (direct attached storage)
HW based checksum and encryption
VSAN with those functions is now ready for business critical applications. VSAN runs on standard servers, it's a software-defined storage built into vSphere. It allows to deliver 2x more IOPs with VSAN Hybrid (up to 40 000 IOPS/host).
The All-flash VSAN 6.0 architecture…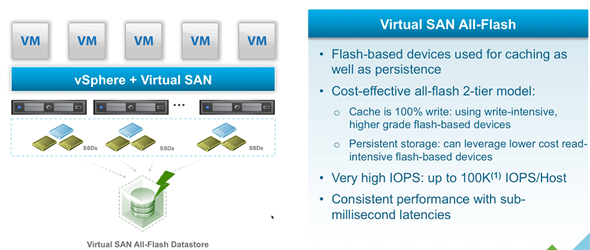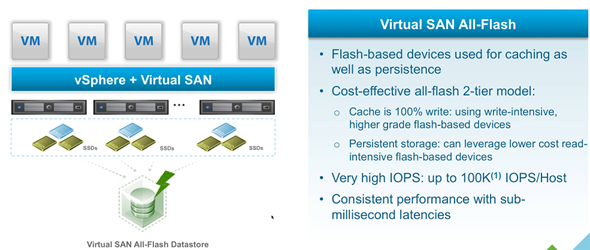 VSAN Enterprise-Class Scale and Performance. A table showing the different performance levels, comparing the 5.5 version to 6.0 whch is divided into All-Flash or Hybrid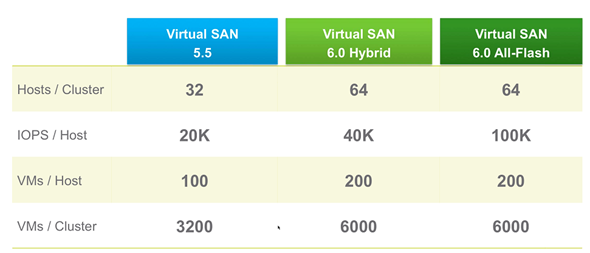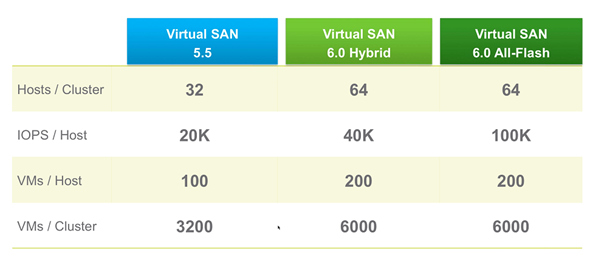 VSAN HCL needs to be followed. This is not unusual as previously VSAN 5.5 had the same requirements, especially the SAS/SATA controllers which needs to have a certain queue depth… (at least 600).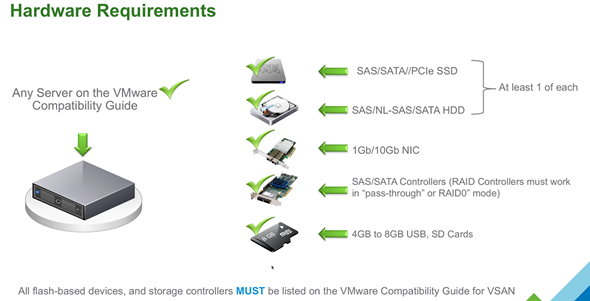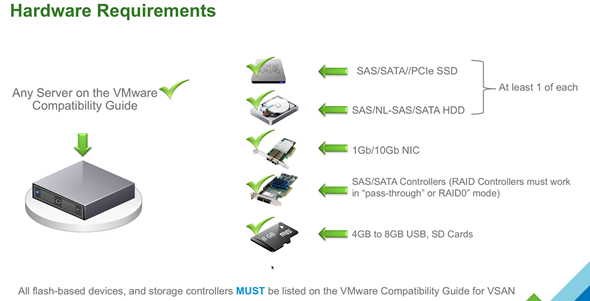 VSAN Hybrid Version – The flash disks are used two ways:
Non-volatile write buffer (30%) – writes are acknowledged then they enter prepare stage on the flash-based devices, which allows to reduce latency for writes.
Read Cache (70%) – cache hits will allow the latency reduction. Cache miss will needs to retrieve data from magnetic disks.
Better hardware you have – better performance you get! Same for both versions of VSAN!
VSAN All-Flash Version
Cache Tier – highly performand and endurant flash devices present on the HCL
Capacity tier – low endurance flash devices present on the HCL
ew On-Disk format
There is new disk format. It's a On-Disk format.
New delta-disk type vsanSparse. It's this disk format which allows the performance gains for snapshots and clones. Why? Because the new delta disk called vsanSparse which shall deliver comparable performance like native SAN snapshots.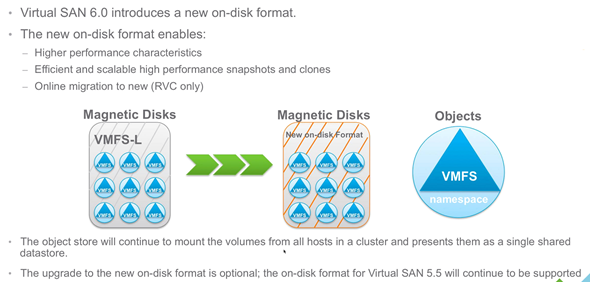 The vsanSparse disk format is more efficient because of new on-disk format writing and extended caching capabilities. It's the Virsto FS…..
All disk in a vsanSparse disk-chain shall be vsanSparse (except base disk).
Get vSphere 6.0:
VMware vSphere 6 Download Page
vSphere 6.0 Resource on ESX Virtualization: