Some of our readers might know Kemp technologies for their load balancer virtual balancer product. Kemp also has management, monitoring, and automation products within their suite allowing you to manage load balancers and other active network devices from a single console. Recently they announced a Kemp Technical Preview Program which allows you to test products that are currently "in the works". As you might imagine, it works in a pretty much similar way as VMware vSphere or Microsoft Windows Server tech preview programs for example, where you can test new features and give feedback.
The Kemp Technical Preview Program was released just a couple of weeks ago and I thought it might be interesting for all ESX Virtualization readers to know about this opportunity. There are several different projects in preparation and so far only the Ansible automation module is active, but expect others to become active pretty soon. So check back to the Kemp Technical Preview program web page often.
Ansible automation is known well within VMware communities allowing automated configuration deployments, VM template and snapshot management. vSwitches, DNS settings, firewall rules, and NAT gateway rules. Ansible modules for VMware vSphere, NSX and vRA are the keys.
With Kemp, it's done in a similar way, where a new module has been developed that can configure all different services and allow NetOps teams to control the systems. The Ansible module for Kemp LoadMaster allows the automation and orchestration of changes of the different application delivery controllers from one place.
As you can see, Puppet, Kubernetes and Microsoft Azure sections are in preparation.
Via the Kemp Technical preview programs you can actually test new products, interact with Kemp product team, and let them know what you would like to find in the next version of their products and influence the next future releases.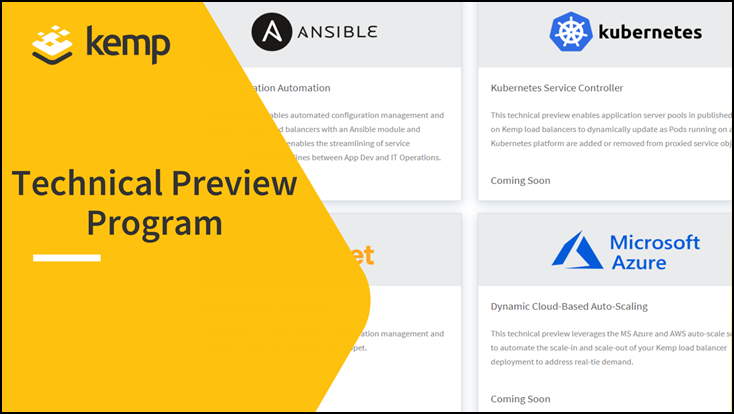 You can register at the portal to start exploring.  The registration is free.
Why register for Kemp Technical Preview Program?
Improve your network skills by testing new products and new features – you can learn and explore how load balancing works, how to use application delivery and how to use and manage load balancers at scale.
Pre-release hands-on – Download and test free pre-releases and tech preview products, where you can test and play with new features.
Shape the future – you can interact and share your thoughts on what would you like to have in the new, upcoming products. You can share which features and functions you would like to find in the future Kemp releases.
You'll be able to have an influence on the architecture and future road map or Kemp products.
Ansible Module
Let's have a look at the Ansible module, which uses the Kemp REST API. As you can see, the Ansible module is "plugged-in" to Kemp 360 Central, which is able to manage the whole fabric of individual application delivery controllers (ADCs).
Here is an overview of the system.

Kemp has some sample playbooks included with examples so it will help you to get started. There is also a demonstration video showing some of those examples. On the Ansible page, you'll find all the requirements you need to get started.
Getting Started Ansible Video
Final Words
If you want to learn new technologies and new products which might help you with your next job or in your career, register at Kemp to get access to the Technical Preview Program. You can also have a look at the Introductory video which shows the insight of the program.
Register for the Kemp Technical Preview Program here.
If you're new to Kemp, check out our post – Download Free Load Balancer for VMware vSphere. If you would like to figure out why would you use a load balancer, you should know that any enterprise application (not only a web server) which is IP based, can be protected against overload, via a load balancer.
More about Kemp at ESX Virtualization
More from ESX Virtualization
Stay tuned through RSS, and social media channels (Twitter, FB, YouTube)