Nakivo has released public beta of their latest software, Nakivo Backup and Replication 10.5 Beta. The product has brought new VMware Monitoring to control the performance of VMware vSphere infrastructure and Hardened Virtual Appliance to protect backup data from ransomware encryption by storing backups in an immutable local repository.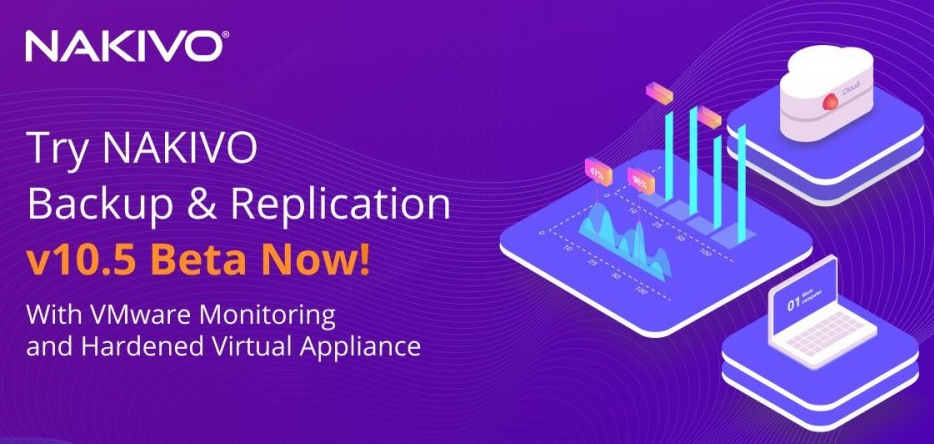 Quote from the product page:
VMware Monitoring
Gain complete visibility into the performance and health of your VMware vSphere infrastructure. Using a single dashboard, monitor CPU, RAM and disk usage of your VMware vSphere hosts and VMs, as well as disk usage of your VMware vSphere datastores. The dashboard provides both real-time and historical data allowing you to analyze performance trends, investigate performance issues, and anticipate future processing and storage needs.
Hardened Virtual Appliance
Hardened Virtual Appliance (VA) offers a simple way to deploy NAKIVO Backup & Replication and protect data against ransomware. Deploy the solution as a pre-configured VA running Ubuntu Server and protect your backup data from deletion and encryption by ransomware. Backups sent to a repository deployed as part of the VA can be made immutable for a specified period of time. Not even a superuser can modify or delete backups or lift immutability.
You can claim an Amazon $20 card by participating in the Beta program. However, you need to act fast…
1. Download v10.5 Beta and proceed with one of the options below.
2. Send the support bundle indicating the option you chose
to [email protected] by October 22, 2021.
3. Share your feedback by filling out a short survey.

Where can I install Nakivo backup?
Nakivo has very flexible deployment options. You can deploy Nakivo on a physical or virtual system, on Windows or Linux. Or on a NAS device.
Nakivo's config is also portable. You can either have a possibility to Self-backup feature to quickly roll-back your system config in case something goes wrong or use system config export when moving your Nakivo backup server installation to another location
Download 10.5 beta:
Download trial:
You can download NAKIVO Backup & Replication Trial.
More about Nakivo on ESX Virtualization
More from ESX Virtualization
Stay tuned through RSS, and social media channels (Twitter, FB, YouTube)