There is a new release of a popular software-defined storage solution from StarWind. StarWind Virtual SAN (VSAN) is a software-based storage solution using local disks in each host to create a pool of shared storage visible by all hosts within the cluster.
StarWind VSAN is the most cost-effective solution where you can lose one node and still be up and running. The underlying OS is now Linux so you don't need a Windows license. You can download StarWind VSAN as a pre-packaged OVA here.
StarWind Virtual SAN is now distributed as a Linux VM (VSA) with pass-through disks, and pass-through NICs to achieve the best possible performance. StarWind VSAN which pulls the local storage of each host and creates a shared storage pool. 
StarWind High Availability (HA) relies on redundant network links between the StarWind hosts to maintain storage resilience. Those links are used for monitoring and failures. If any of the nodes fail or stop processing requests properly, the failover is instantly initiated from the client OS/Hypervisor side.
StarWind Virtual SAN for VMware – What's New?
Core
Linux Kernel updated.
Fixed StarWind Events issue in Management Console, namely the invisibility of events after changing time in the OS.
Added support for iSCSI Header Digest and iSCSI Data Digest. These features provide CRC data control in iSCSI headers and PDUs, respectively, and can be enabled by setting corresponding options in iSCSI Initiator on the client.
Optimized performance when more than three sessions connect to the target.
Added log message for an error on session reinstantiation due to the stuck old session.
Fixed issue in cache deinitialization. In some cases, devices with disk cache could prevent normal service termination.
Here is the view from the management console, which must be installed on a Windows management workstation.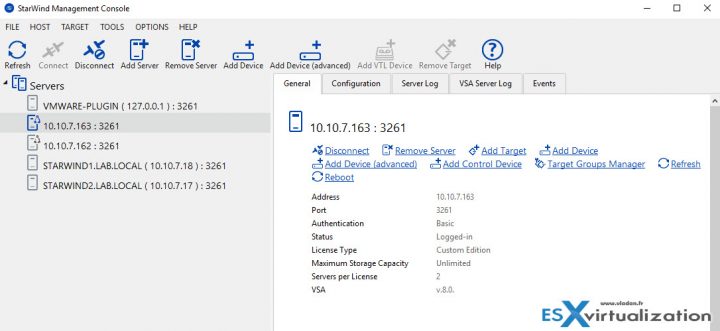 Synchronous Replication
Added option to change ALUA settings of an existing device.
Optimized processing of failover to minimize response time when a partner server has gone offline without proper shutdown. Please, see KB for more information.
Fixed processing of sync channel loss. The failover procedure involved the request of some extended status fields from the partner nodes, which could take long and exceed command processing timeout. This state could occur in some cases when running Windows Server 2019 and could lead to data loss.
Changed failover procedure to process sync channel loss without extended interaction with partners.
Management Console
Optimized UI performance.
Logs
Collect Logs script moved to the StarWind Service directory.
Update Option
Added an ability to update from the previous builds. The update procedure is described here.
Basically, the update isn't very complicated. You can see the details below:
Check that all StarWind devices have the Synchronized status on all nodes
Check that each Datastore on each host has active paths from all StarWind nodes
Login to StarWind Virtual SAN for vSphere web client (https://%VSAN_IP%:9090) on host 1
Go to terminal web page.
Download update using following cmdlet: # wget https://ovf.starwind.com/tmplink/starwind_update.tar.gz
Unpack the updater: # tar -xf starwind_update.tar.gz
Start the update procedure: # ./starwind_update.run
The updater will compare StarWind Virtual SAN version and check if update is needed. In addition, kernel and system updates will be installed.
After the successful update the StarWind Virtual SAN for vSphere will be rebooted. Wait until StarWind VSAN for vSphere starts, and the synchronization process is completed.
Check that all StarWind devices have the Synchronized status on all nodes
Check that all iSCSI connections are restored after the node update
Repeat the steps above on the remaining StarWind nodes one by one
The newest StarWind VSAN build can be downloaded here:
https://www.starwindsoftware.com/download-starwind-products
The complete Release Notes can be viewed by following this link:
http://www.starwindsoftware.com/release-notes-build
Final Words
StarWind Virtual SAN can ensure that your storage keeps being available for VMw within your cluster. The minimum number of hosts is two where most of its competitors needs 3 hosts. However StarWind has also an internal heartbeat mechanism, which ensures proper storage path isolation in the event of synchronization network failures and prevents so-called storage "split-brain".
So the solution is a perfect fit for ROBO and SMB where coupled with vSphere Essentials or Essentials plus license, you obtain performant and resilient platform for a reasonable cost without investing in costly hardware SAN devices.
More posts about StarWind on ESX Virtualization:
More posts from ESX Virtualization:
Stay tuned through RSS, and social media channels (Twitter, FB, YouTube)