StarWind VSAN uses synchronous replication between nodes. It means that VSAN immediately copies data to the second node over the network to ensure instant failover for your mission-critical applications.
StarWind VSAN can be deployed on any commodity hardware that you already have. You'll leverage the internal disks in each host and create a shared storage pool where you'll execute your VMs. If one of the nodes fails, the second node is still up so no downtime for the VMs running on that node. The VMs that died with the first node can be either manually restarted on the second node or if you have VMware HA, those are restarted automatically on the second node.
If you have 3 nodes and using StarWind, then it's even better, because you have more resiliency. You'll need to connect your network via a switch (For 2-nodes you can direct-connect and save on networking costs, and yes, direct-connect is a supported scenario that's perfect for ROBOs).
3-nodes connections are triangles. The replication between nodes forms basically a triangle. Image from StarWind.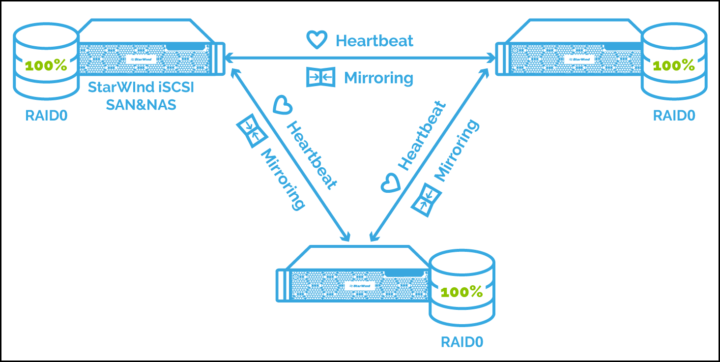 I'd highly recommend reading the full article at StarWind because it discusses the 2-Node vs 3-nodes failure scenarios and also the performance when the underlying disk configuration is either in Raid10 or Raid0. (I know, Raid0 is no tolerance, but performance only. That's only recommended for 3 nodes scenarios as the redundancy is already built with the "per-node" with StarWind).
This is not the only possible configuration. With StarWind, you can create complex topologies and be even more resilient. Example on the Image from StarWind showing that even with 50% of your nodes down you're still up and running…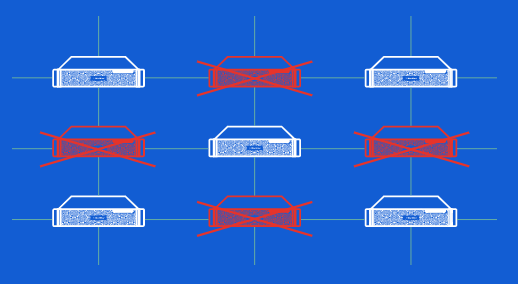 How About StarWind Performance?
And if you have some doubts about StarWind performance, I'd invite you to check out this link where StarWind configured on 12-node hyper-converged appliance achieved 26.8 million IOPS. The underlying hardware was powered by Intel® Xeon® Platinum 8268 processors, primary storage by Intel® SSD D3-S4510 Series drives, Write-Back cache by Intel® Optane™ SSD DC P4800X Series drives, and Mellanox ConnectX-5 100GbE NICs wrapped in Supermicro SuperServers all connected to Mellanox SN2700 Spectrum™ switch by Mellanox LinkX® copper cables.
Sure, NVMe hardware is a must these days… -:), but the whole configuration is interesting. Running on Windows 2019 Datacenter, with Hyper-V role…
They were using StarWind NVMe-Of Initiator that we have written a blog post here.
StarWind NVMe-oF Initiator. NVMe-oF or NVMe over Fabrics is a network protocol, like iSCSI, used to communicate between a host and a storage system over a network (aka fabric) utilizing RDMA to transfer data over the network with RDMA over Converged Ethernet (RoCE) technology. This is an emerging technology that gives data centers unprecedented access to NVMe SSD storage. We develop own NVMe-oF Initiator for Windows using NVMe Storport Miniport driver model.
They've used few tools for the benchmarks, that was split into two phases:
RAW device performance and VM-based performance. RAW device configuration is tested by VM Fleet and FIO. VM-based IO benchmarks run using VM Fleet and DSKSPD.
Check out StarWind. We cannot list all the results here or all configuration options. The solution is very flexible and allows many many different configurations. You can also use StarWind in traditional storage configuration where for example, 2-nodes, which are resilient, will present storage of a separate VMware or Hyper-V cluster.
Again, those 2-nodes will synchronously replicate the data so any downtime on any of the nodes is not "seen" by the hypervisor's clusters.
Whether you planning new deployment with new hardware, you might want to have a look at the All-Flash StarWind Hardware. Now since 2020, it comes as All-Flash only with three editions. Check out this page at StarWind for further details.
Recent StarWind news on ESX Virtualization:
More from ESX Virtualization
Stay tuned through RSS, and social media channels (Twitter, FB, YouTube)