There is a new and certified solution from StarWind. This time, it is able to ensure mission-critical video and security applications – HyperConverged Appliance for Video and Surveillance. A cost-effective platform that can take advantage of the fault-tolerant architecture and proactive support.  StarWind Hyperconverged infrastructure (HCI) has fault-tolerant storage, network, and built-in High Availability (HA). It's backed by Dell and Supermicro OEM hardware.
The solution is monitored and managed via StarWind Command Center which has become standard for all StarWind appliances. It is a central utility through which you're able to manage and monitor the solution. It simplifies management and brings multiple consoles into one single view.
StarWind Appliance for video and surveillance is certified by VMS providers like Milestone and Genetec. The StarWind HyperConverged Appliance for Video and Surveillance product page is here.
Quote from the product page:
StarWind HCA platforms unify server, storage, networking, hypervisor, and a single proactive support umbrella to guarantee hassle-free management experience. Based on your project needs, we will design a solution tailored just for you. We build our systems up to Milestone, Genetec, and Briefcam best practices and test them inside-out to grant you peace of mind by ensuring both customer satisfaction and your reputation.
It is possible to customize the solution depending on the needs. StarWind has a product page where we can see that many models are available with different capacities of storage and retention time.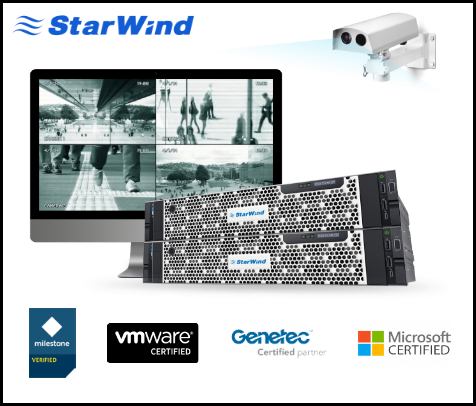 There are several models (22 in total !!!) each with different hardware and storage, for a different number of cameras and with a possibility to store the video files for up to 30 days. The sizing of the storage was calculated for cameras with standard HD 1080p resolution, however, also 8K and thermal cameras are supported as well.
Some of the models are sized for up to 250 security cameras so you can imagine a very large industrial installation where this can be put into production. There is 22 pre-sized specifications for a various number of cameras, amounts of retention time and a number of that require real-time analytics.
StarWind HyperConverged Appliance for Video and Surveillance – Product specifications:
Infrastructure size from <50 to 250 cameras.
8K and thermal cameras are supported.
Recording retention time from 7 days to 30 days or more.
Video analytics capabilities from post-process analytics for select cameras to real-time analysis for all cameras.
The product is based on a resilient architecture with fault-tolerant compute fault-tolerant flash storage. Yes, you're reading right. For a while, StarWind does not use spinning media in their appliances. All StarWind solutions are Flash-Only systems.
Proactive Support can identify and solve issues before they can happen. With StarWind ProActive Premium Support you're covered for the hardware, storage, networking, and hypervisor and monitoring all components 24/7/365. StarWind can help you to size the solution based on your needs to fit your needs.
StarWind HCA provides sustained high throughput, <1ms latency, 99.9999% application uptime.
Check the HyperConverged Appliance for Video and Surveillance product page here.
More About StarWind
StarWind Virtual SAN, a Hyper-Converged storage solution that can function only with 2-Nodes (without witness) and without a 10Gb Switch. (direct connect NICs). StarWind has its own internal heartbeat mechanism which prevents "split-brain" situations. As you know, a split-brain situation can occur after one node went suddenly down or there was a network failure. So the system needs to determine which data are the most recent, and sync them across the nodes.
Why 2 nodes only where competitors need 3 nodes? Good question. StarWind uses an internal mechanism to sync data across those two nodes and doesn't need a third host which usually acts as Witness and runs a tiebreaker code.
StarWind has also a "full package", I mean, an appliance, where you buy one package which fits it all. You'll get preinstalled and pre-configured nodes which simply hooks together and are managed via StarWind Command Center. It is an HTML5-based tool designed to make HCI management much easier. Part of the package is also proactive monitoring and support where StarWind engineers proactively manage your environment from a remote location.
The StarWind HCA is since recently All-Flash Only which is a good move to get the performance it needs. What you get is basically a pre-configured and pre-installed system based on the virtualization layer (VMware or Hyper-V) with StarWind Virtual SAN (VSAN) providing shared storage.
StarWind HA uses redundant network links between the StarWind hosts to ensure storage resilience. Like this, you have a fully fault-tolerant storage cluster with just two hosts. It completely eliminates the need in physical shared storage since StarWind Virtual SAN mirrors the internal resources (internal SSD disks and RAM) between the servers. RAM is used for caching too, together with SSD.
More posts about StarWind on ESX Virtualization:
More from ESX Virtualization
Stay tuned through RSS, and social media channels (Twitter, FB, YouTube)