At StarWind, they offer a free license of their product, StarWind Virtual SAN (VSAN). This license is not for sale (NFR) version of their product which can be used by IT pros for demos and lab environments.
Students, vExperts, Microsoft MVPs, but also all certified people from both Microsoft and (or) VMware can apply. So all VCPs or vCAPS, VCDX or Microsoft's MCPs, MCTs etc.
Other than that, there are also some specialized forum members such as SpiceHeads, Mangolassi or Reddit, but check whether you have the required level to apply. If not, you can always ask via the form at StarWind.
Also if you're none of the above, but you are a consultant, trainer, student, or blogger, get StarWind NFR for FREE.
Quote:
StarWind highly values virtualization specialists and readily assists them in every possible way. We provide professionals and students in this sphere a special free StarWind Virtual SAN license for both Hyper-V and vSphere.
So yes, it's just good to have a license when you want to do a demo or test environment which does not expire after 30 days….. I know how it is for trials. You download a trial, then leave it after installation, and when you really want to get into it, your license is expired…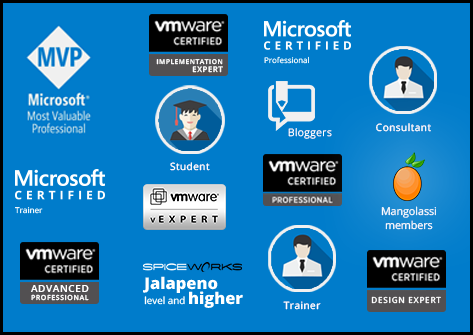 StarWind VSAN for VMware or Hyper-V
StarWind eliminates any need for physical shared storage by simply "mirroring" internal hard disks and flash between hypervisor servers. It basically creates a shared storage pool from those internal disks, from the direct-attached storage (DAS).
It's compatible with the hypervisor of your choice, be it Microsoft Hyper-V, VMware vSphere/ ESXi, Linux KVM, or Xen.
It has a High Availability (HA) built-in and only needs 2-nodes to be fully resilient.
StarWind Virtual SAN is now distributed as a Linux VM (VSA) with pass-through disks, and pass-through NICs to achieve the best possible performance. The free version has only PowerShell management so once you set up your solution via trial, you'll be basically on your own or community support.
StarWind Linux Based VSAN features
Management – Web-based or Thick client management (on Windows management workstation). Also via Powershell
Caching – RAM and Flash cache
Virtual devices – ImageFile, VTL
Replication – 2-way or 3-way replication, VTL replication to the cloud
Hybrid Cloud – Yes
Stretched Clustering – Yes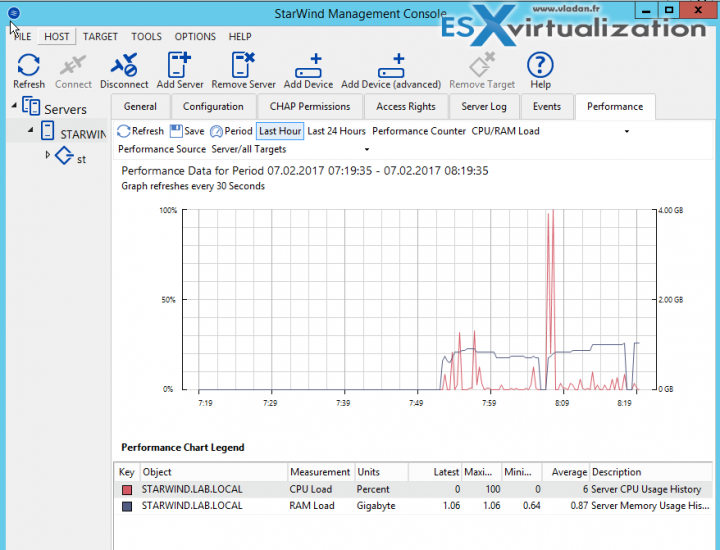 Remote Office (ROBO) low-cost scenarios
You could go and use 2-node clusters for your remote offices, and, you could even use ESXi FREE versions there (without the possibility to have a visibility in vCenter server).
The only drawback when using ESXi free version is the fact that you can't use traditional backup software to backup your VMs. This is because some vSphere APIs are locked down or in read-only mode.
However, there are software solutions with a small, pretty unknown software editor, that is present on the blog as a sponsor. This backup software is Iperius Backup and with their software you can hot backup (with increment backups too) your VMs running on ESXi FREE.
Where to get StarWind NFR?
Go right on this page and fill the form in order to get your StarWind Free NFR license.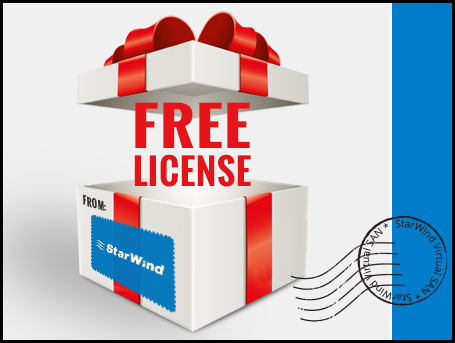 With the StarWind NFR, you will have GUI management, however, this is not the full commercial version which has VTL to the cloud replication or up-to 3-way synchronous replicas (only 2-ways replication setups and 2-nodes setups).
However, this is enough for testing POC setups for 2-nodes (excellent for ROBO scenarios) and have one year time (yes, after 1 year, the NFR expires) for your testing.
As for support, the NFR license owners should contact their account manager directly if support is required.
Compared to the Free version where you don't have GUI management and you don't have support (only via community forums), the NFR allows you to test features and test setups with StarWind GUI console that can be installed on a remote workstation (you'll need Windows laptop/desktop or server) to install it.
Recent StarWind news on ESX Virtualization:
More from ESX Virtualization
Stay tuned through RSS, and social media channels (Twitter, FB, YouTube)