As every year, Eric Siebert from vSphere-land.com organizes a popular voting for Top virtualization blog. Again this year, ESX Virtualization is part of it.
Over the years, this blog continues to be active, continues to deliver news, videos, and tutorials for VMware, Microsoft and IT related blog posts. You have the chance to express yourself and vote for one of the virtualization blogs out there today.
The voting continues until June 30. Vote for TOP Virtualization Blog.
The voting system has changed this year as Eric had to change voting provider as the one he used last year does not allow to pay monthly. He also introduced new factors which count for 20% in the voting. No longer only public votes might be enough, for a blogger to win.
It's a shame that Duncan and Frank stepped out this year as their blogs were up on the list for a long time. Perhaps they're no longer motivated for blogging as it takes a lot of time and efforts to work on new articles, finds ideas, writes, takes screenshots, deals with scrapers and copiers….
To have a successful blog today isn't that easy. To appear in Google SERPS is more and more difficult as Google starts to privilege sites which are updated often, are fast, but also sites with longer posts. While before it was ok to post an article which had 600 words, now, to rank well, one must do a longer post with 800 (see 1200) words.
As being said, the process is complex. A blogger today has to have not only strong technical skills but also be good at SEO, graphic design, marketing or overall blogging strategy. Blogging has become a high demanding job when done with a long-term strategy in mind.
Let's get back and see what's the rules this year?
Quote from Eric:
The total points that a blog can accumulate will be based on 3 factors:

Public voting – 80% – total points based on how many people voted for you and how they ranked you.
# of posts published – 10% – points awarded for how many posts you had in 2016, more posts = more points, aggregators excluded.
Google PageSpeed score – 10% – points awarded for how well your blog is designed and how efficient it is which makes for a better experience for readers, the better you score the more points awarded.
What's most successful on ESX Virtualization blog lately?
Here is a list of posts which were driving the most traffic. We have a winner for social media shares too. it's this post (not even much technical):
The latest most successful posts were about the new release of vSAN 6.6, but the voting is for the work done through 2016 and in 2016 we had a list of posts:
Top 12 Most Viewed Posts of 2016
Recent news about myself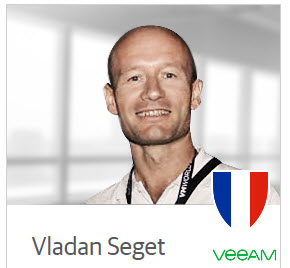 Recently I've done a presentation for few clients here at Reunion Island. The topics were VMware vSAN 6.6 and Veeam Latest news. vSAN drives interest, that's for sure. The sixth version in 3 years is a very fast releasing cycle indeed. Every release is better.
Recent news about the blog
The blog has been migrated to https. Google's privilege is to have more and more sites running on https. It's my hosting provider who did it for me. I'm running on dedicated hosting, managed server hosting at Hostcolor.com. The challenge was not to lose much web traffic by this change. Google Webmaster Tools console, sitemaps, external scripts, external backup system. All this had to collaborate and fit nicely together.
We have some more latest performing blog posts below (It's part of the section you can find on the front page of the blog). The stats are done via WordPress plugin called Most Read in XX Days from Claudio Simeone – Studio404.it. It's configured to show posts with most hits, but with a limit to 250 days. Once the post is older (and no longer relevant) it is automatically replaced by another post. It is one of the oldest plugins we use.
More latest best-performing articles on ESX Virtualization:
The lab
The lab has been updated to latest VMware vSAN 6.6. I had to make sure that a proper combination of the storage controller firmware AND driver, are installed. For example, I could not put the latest firmware (v13) but had to hold back with v12 as the green check box on vSAN was no longer green with v13.
The lab runs vSAN 6.6 as 2-node cluster where the third host has some local flash storage running the Witness appliance. I'm currently looking into a possibility to get more performance out of my caching tier (currently on small 128Gb Intel SATA drive). An NVMe is a way out, I know.
With that said, the voting is live now and you can vote for TOP Virtualization Blog.
I hope you as our readers, are enjoying the content. The content will stay free, with the support of our partners/sponsors. Please give them some love too. Thanks to the partners, this blog can be focused on various technologies, virtualization, data protection, monitoring or general IT.
More from ESX Virtualization:
Stay tuned through RSS, and social media channels (Twitter, FB, YouTube)